Give a Gift: Housewarming Parties
BY: Amelia Buzzell |
Aug 27, 2013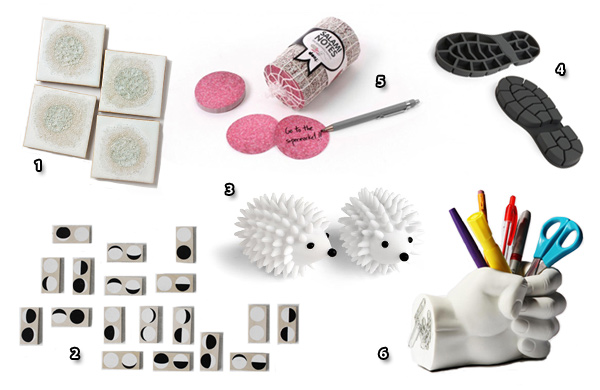 Housewarming parties certainly have their ups (namely, the delicious snacks and cocktails). But there's one huge down: stressing out once you realize everyone else got the host a new corkscrew, too. Avoid that party foul by choosing a less traditional housewarming present, whether it's an objet d'art or a utilitarian yet whimsical household item. Bonus points for bringing something party guests can admire (and covet) right away, like elegant coasters that keep said cocktails from leaving rings on the host's shiny new coffee table. Keep from clashing with the host's as-yet-unseen new design scheme by sticking to classic shapes and neutral colors, such as white, black, and gold. For further inspiration, focus on a single feature of their new home—celebrate a first in-unit washer and dryer with cute reusable dryer balls, or make light of a walk-up with ice-cube trays shaped like shoeprints. 1.
Celestial coaster set
, Anthropologie, $32 for four 2.
Moon dominoes
, Fredericks & Mae, $80 3.
Hedgehog dryer buddies
, Kikkerland, $8 for two 4.
Ice tracks ice tray
, Kikkerland, $8 5.
Salami notes
, Doiy Design, $15.50 6.
Hand pen holder
, Urban Outfitters, $19
BY: Amelia Buzzell
Guide Staff Writer
Amelia is a Senior Writer who owns about 600 houses' worth of housewares. She daydreams about throwing parties and amassing more housewares.