Go Play Outside: The Best Chicago Bars for Live Music When the Sun's Out
BY: Cody Braun |
Jul 18, 2013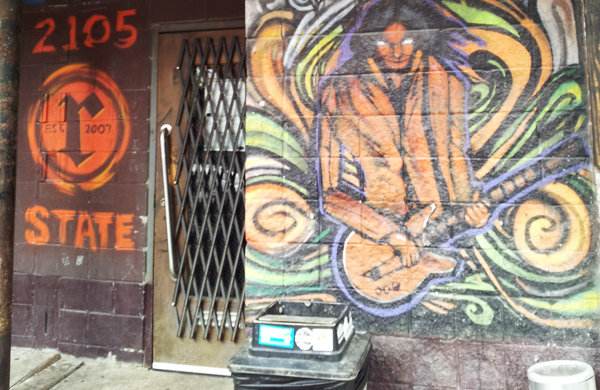 Most music and drinking in Chicago happens in warm, dark clubs that can easily be sealed off from the long winter. You won't find a lot of permanent outdoor stages. A few bars, though, let you get some fresh air and listen to music without having to stand all day next to an insufferable porta-potty reviewer at a music festival.
If you've taught your supercomputer everything except how to look cool:
Three Aces
(Little Italy | 1321 W. Taylor St.) There are probably thousands of gallons of tattoo ink displayed on various limbs at Three Aces on any sunny day. There's also plenty of pomade, and the rockabilly bands playing on the sunny patio hidden by ranks of motorcycles seem right. It can be easy to get distracted from the people watching and music by a menu of pizzas served on warm slabs of wood and fries with bolognese sauce.
When the opener is using the word "heart" way too many times in one song:
Reggies
(South Loop | 2105 S. State St.) You can't really hear whoever's playing inside when you're at Reggies' rooftop bar, and it is easy to let way too much time slip past on a stream of beers from
Three Floyds
and
Solemn Oath
. I've had the sound guy come looking for me there when I was supposed to be tuning up. I even missed seeing half of a set by
Anvil
, the frumpiest Canadian metal band in history. None of that is time I consider wasted among similarly unconcerned folks playing pool and bags with a view that's nice, but not distractingly nice.
When you want your cocktail's ingredients to outnumber the people on the dance floor:
The Whistler
(Logan Square | 2421 N. Milwaukee Ave.) The Whistler feels sort of like a house party, but hosted by someone who makes all of their cocktails with egg whites and homemade bitters and says "sprig" a lot. That's completed by an in-house music label with a selection of artists, from the
Blue Ribbon Glee Club
to
The Hood Internet
, that feels curated like a friend's basement show. The space in front of the little stage will usually be crowded with other sweaty dancers, and you'll definitely want to slip out to the patio, which has an appropriate backyard feel.
When your arms are tired from carrying around large beer lists:
Montrose Saloon (Albany Park | 2933 W. Montrose Ave.) This place is often full of neighborhood locals, but you probably won't be able to offend them by picking the wrong thing from a diminutive selection of beers. A healthy attitude toward day drinking means that you'll probably end up following the sounds of a banjo out to the grassy patio or tossing horseshoes together either way.
When you want to see what Martha Stewart would do with a bunch of crazy paints and garbage:
Weeds (Lincoln Park | 1555 N. Dayton St.) Owner Sergio Mayora told the
Chicago Tribune
pretty honestly how the aesthetic at Weeds came to be. "I went to my family for a loan and they said, 'No way.' So, I decorated the place, the only way I could afford, with garbage." Live jazz, rock, and poetry readings are enhanced by a little scuzziness, but you can easily wander out through open doors to the sprawling patio if you get tired of hanging out beneath a clutter of old bras and Sharpie graffiti.