Going for Bespoke: Where to Acquire a Truly Original Wardrobe
BY: Kelly MacDowell |
Jul 22, 2013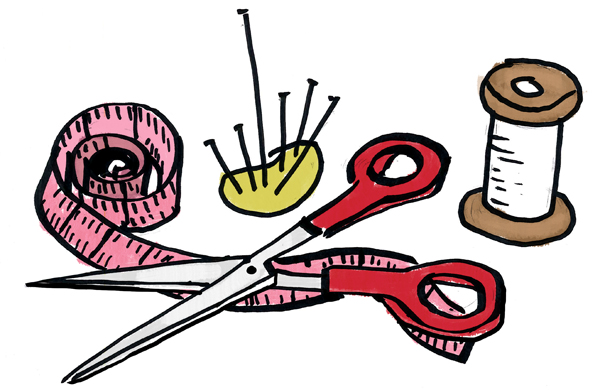 It's not often you see someone wearing a truly unique garment—wherever they got it, there are probably more. But working among Chicago's independent boutiques are designers that still do things the old-fashioned way, taking measurements and learning your style to create bespoke garments that fit not just your body but your personality, too.
De Louice | Suits that Look Good Enough for SportsCenter 
De Louice (1755 W. North Ave.) is just a cufflink's throw from Wicker Park's Six Corners, tucked in among the trendy boutiques on North Avenue. The tidy studio is right at home there; owner Tai Park has created a fashion-forward design house where men can commission suits constructed from lightweight wools and cashmeres. Park's designs have made fans of many professional athletes (including Lance Briggs and Brian Urlacher), but despite the celebrity following his custom projects start at a civilian-friendly $500. Clients can complete their looks by picking up colorful handmade ties, bespoke shirts, and pocket squares—chic touches that make men look ready to drive off on the robin's-egg blue Vespa that's parked in the front window.
Zeglio | Men's Shoes in a Menagerie of Leathers
All of the shoes at Zeglio (306 S. Dearborn St.) are benchmade, meaning they're hand-tooled by the store's own cobblers. The diverse collection includes designs appropriate for walking down the aisle or the fairway, with a choice of leathers such as calf, bison, deer, ostrich, and alligator. Soles are constructed from leather, rubber, or a hybrid of the two, and most shoes can be made with kidskin lining and a cork footbed for added comfort. Clients also choose the welting style (the method used to attach the sole): either Goodyear, a generally waterproof technique that can be resoled repeatedly over years or even decades, or Blake, an Italian method of interior stitching that creates a more flexible, close-cut finish.
Veronica Sheaffer | Romantic Bridal and Evening Gowns
Just like the accessories and apparel she once designed as the creative director for the now defunct label Coco Irene, the custom gowns by Veronica Sheaffer (355 N. Laflin St.) are either made from vintage fabrics or inspired by timeless dress styles. Though based in Chicago, Veronica has acquired an international cult following: she's taken on clients from around the world, and her designs have been featured in magazines as far-flung as
Elle China
. The self-taught dressmaker starts from scratch with each client, but her signature style is so ethereal and feminine that gowns often end up with an almost dreamlike quality.
Optimo | Hats Made to Last a Half-Century
You'd be hard-pressed to find someone who makes hatmaking sound more romantic than Graham Thompson does. In using involved techniques that were the trademark of hatmakers from 50 to 60 years ago, he makes each hat feel as carefully crafted as a sonnet. He's also fond of waxing poetic about a hat's handwoven straw or authentic silverbelly felt. But it's not just Thompson who finds the process fascinating: Optimo
(320 S. Dearborn St.; 10215 S. Western Ave.) was once the subject of a documentary by a local filmmaker. From the initial fitting (and fit it will: Optimo offers three additional sizes between each conventional size) to the hand-sewn finishes, each hat is made to last and improve with age. And though the hats are decatized into a near-permanent shape, wearers can adjust their headpiece by hand with simple flips of the brim or pinches of the crown.
1154 Lill Studio | Handbags with Handpicked Textiles and Hardware
Back in 1999, Jen Velarde was making handbags in her apartment at 1154 Lill St. One day, as she was headed to her booth at a craft fair, she made a last-minute decision to bring along some of her fabric swatches and take custom orders. This became the trademark service of 1154 Lill Studio
(900 N. Michigan Ave.; 904 W. Armitage Ave.), where Velarde now offers more than 40 styles of handbags in more than 130 fabrics. The designs include traditional tote, shoulder, and travel bags, as well as more modern styles, such as messenger bags and tablet and smartphone cases. Once clients complete the design process, either online or in one of the two Chicago boutiques, the finished product is delivered within three to four weeks.
BY: Kelly MacDowell
Kelly's first concert was Fleetwood Mac and her first career was in the beauty industry. Now a style and music writer, she loves Project Runway and her dog, Watson.