Goodman Theatre's Amanda Drinkall Can't Stop Seeing Her Own Face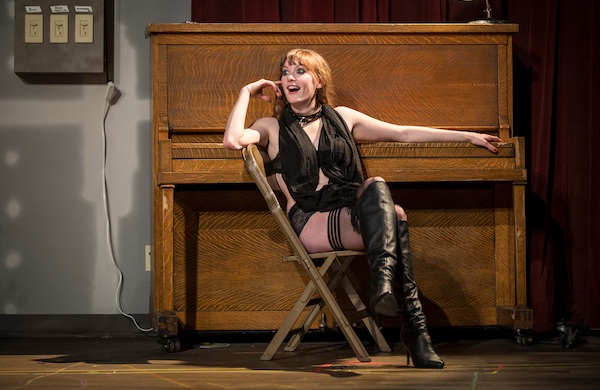 The star of Goodman Theatre's
Venus in Fur
is in the midst of her first big break. And look—there goes a bus with her face on it.
If you live in Chicago and read the newspaper, ride the train, hail cabs, or ever use the internet, odds are you've seen
Amanda Drinkall
already. At the moment, she's everywhere. Of course, that wasn't always the case. Though she's currently the star of Goodman Theatre's
Venus in Fur
—David Ives's two-character dissection of gender roles, power, and submission—Drinkall made her bones in Chicago's vibrant storefront theater scene, acting with renowned in-your-face companies such as
Red Tape Theatre
(where she's an ensemble member) and
Strawdog
. At Goodman, she and costar
Rufus Collins
hold court for a full 90 minutes with a pair of commanding, sexy, and savagely funny performances. It's a dizzying theatrical feat, made more impressive by the fact that the actress spends the majority of the play wearing rather risqué garb. "My brother couldn't look at me for a little bit afterward," Drinkall said. "[My] siblings have been charged with warning my parents about the content. [But] my old pastor from my church…she and her husband came, and they loved it. I've got their blessing." Drinkall's tour-de-force star turn would be enough to catch the city's attention all by itself, but, as with all their shows, Goodman's
Venus in Fur
ad campaign is everywhere, and the striking promotional photos beat Drinkall to the punch. We talked with the actress about her experience of seeing herself—brows arched, shoulders draped with fur, hair blowing like she'd borrowed Beyoncé's wind machine—all over the place.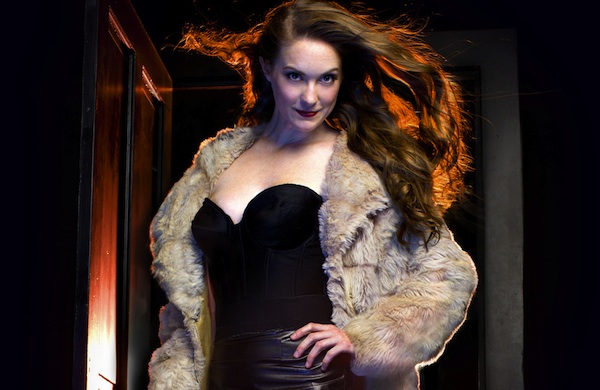 The Internet
"That's where I've seen myself the most, in ads online," she said. "A cousin of mine who lives in central Illinois almost three hours away sent me an email saying she was looking at the weather on her computer in this tiny little town and there I was, staring at her from the sidelines." She laughed. "It's like, oh! That's me!" "I mean, it's any time I go on any website. The ads are always me. Or shoes."
The Marquee
"[When I first saw the ad on Goodman's marquee], I think I laughed out loud. They never told me I was going to be on the marquee, and it sort of didn't cross my mind…it's so weird and so funny to see your own face so big." But the most surreal element of Drinkall's
Venus
experience thus far is walking around near the theater after the show. "Even if it's an hour [later], there's usually some older ladies or groups of people who will kind of be giving me that side eye, and say"—at this point her inner actress took over and she whispered dramatically—"'is that…I think maybe that might be…is it?' Then they might come up to me and say, 'Are you that actress who was in that Goodman play?' It's funny how strangers have felt the need to introduce themselves or to treat me like a fancy star of some kind." She laughed. "I've signed some autographs, which is weird. It's really cool. It's weird-cool. [It's] strangers, obviously. It's not like my friends are asking me."
The CTA
When we first spoke with Drinkall, she had yet to catch a glimpse of one of her bus, train, or cab ads. But she was on the hunt. "I was at a reading last night and a bunch of people were talking about seeing me on stuff, and they said I need to go [to] Sheridan. Apparently I'm driving up and down Sheridan all the time." It was a good tip. The next morning, it happened. When she saw the bus roll past, "I audibly gasped." Then she did what anyone might do when they'd just seen themselves on public transit: she posted about it on Facebook. "You all haven't been photoshopping those pictures like I thought," she wrote. "They're really REAL. BUS FACE!" Venus in Fur
runs through April 13 at Goodman's Albert Theatre (170 N. Dearborn St.). To peer further behind the curtain of the production, check out this video with Drinkall, costar Rufus Collins, and director Joanie Schultz:
Photos courtesy of Goodman Theatre. | Shameless plug: Groupon has more ideas for things to do in Chicago than the CTA has busses.
BY: Allison Shoemaker
Allison Shoemaker