Goodman Theatre's "Luna Gale" Asks Questions That May Not Have Answers
BY: Will Landon |
Feb 13, 2014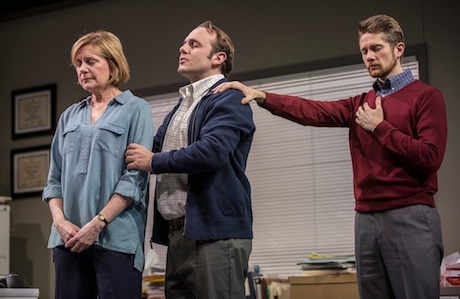 Rebecca Gilman's tense play confronts its audiences with human desperation and unearthed family secrets.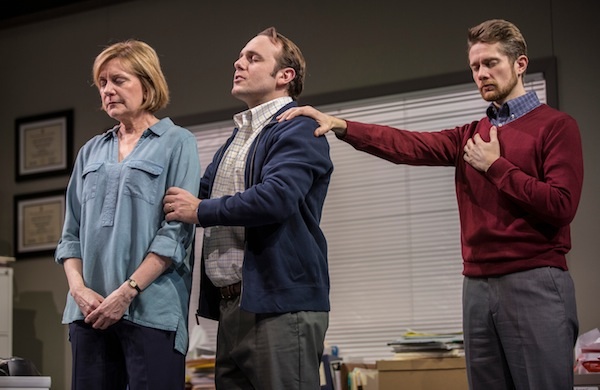 Rebecca Gilman
has never shied away from tackling tough issues in her plays. She's dissected racism on a college campus in
Spinning Into Butter
and weighed in on the pros and cons of having children in
The Crowd You're In With
. These scripts succeed—as does all of Gilman's strongest work—because they ask questions rather than provide answers. The
Goodman Theatre
's world premiere of
Luna Gale
is no different. On the surface, it's about a social worker named Caroline (played by
Mary Beth Fisher
) who must grant custody of the titular 6-month-old to one of two parties: her meth-addicted parents, Karlie (
Reyna de Courcy
) and Peter (
Colin Sphar
), or her fundamentalist Christian grandmother, Cindy (
Jordan Baker
). But what seems like a cut-and-dried decision is made complicated by bureaucracy and baggage—Caroline's own prejudice and a dark family secret from Karlie's past. And this is where the
Luna Gale
puts its questions in a headlock. Can a drug addict be a suitable parent? Can religious fanaticism be as dangerous as substance abuse? Should one person get to decide the fate of a child? Such heady themes can be overwhelming in the wrong hands, but Gilman pulls off a balancing act with her fast-paced script, pinballing between moments of intense debate, poignancy, and humor. Caroline often fires off sarcastic retorts to her ineffective boss (a perfectly slimy
Erik Hellman
), while Peter finds moments of unexpected tenderness when trying to calm Karlie or sing Luna to sleep with the Sooner fight song. Gilman never writes Peter and his wife as stereotypical junkies. Under the direction of Goodman's long-standing artistic director,
Robert Falls
, the actors' performances achieve the complexity that the story demands. Fisher enlivens Caroline with a wry, assertive attitude that never quite manages to conceal her vulnerability. De Courcy and Sphar, meanwhile, bound across the stage with a manic energy that not only conveys their characters' reliance on a steady high but also the anxieties that push the couple to make their biggest mistakes. Luna Gale
runs Tuesday–Sunday until Sunday, February 23. Click here for tickets. For a deeper look at the play, attend the pre-show discussions on Friday, February 14 or 21, or the post-show discussions on Wednesday and Thursday.
Photo courtesy of Goodman Theatre.
BY: Will Landon
Will Landon is a Chicago-based writer who sings punk rock songs with the Blue Ribbon Glee Club and occasionally works for free as an assistant stage director.