editors Weigh in on Five New Holiday Albums for 2013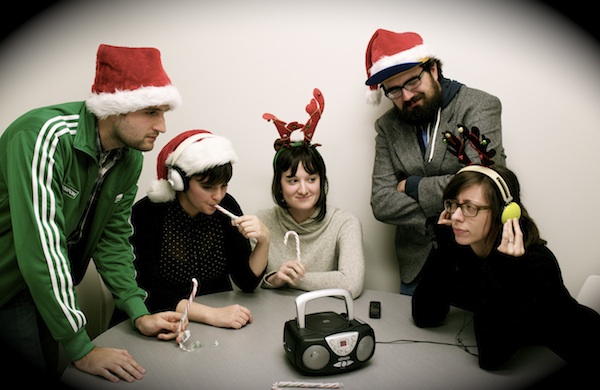 Stockings, sleigh rides, and SantaCons. All are worthwhile holiday rituals, but none can rival the special blend of cynicism and self-promotion that fuels the season's most revered tradition: the Christmas album. On a snowy day in late November, the The Guide's Arts & Leisure editors locked ourselves inside a conference room to pass judgement on five new albums for 2013. It proved a trying task, with only dollar-store cookies and candy canes to distract us from the sounds of
Duck Dynasty
's Robertson family singing themselves out of fame. We emerged with letter grades based on two songs from each album, and we now present those grades alongside commentary that illustrates our exacting critical method. –
Collin Brennan
Bad Religion, "Christmas Songs"
Released at the height of the hardcore-punk movement in 1982, Bad Religion's first album asked a simple question:
How Could Hell Be Any Worse?
The band's latest offering, a by-the-books Christmas album courtesy of Epitaph Records, may hint at the answer.
Courtney:
I feel like this was written specifically for the people who do light shows in their front yards. It's perfect for that. Tyler: I guess those people can leave the Trans-Siberian Orchestra CD in its case this year. We've got a new contender. Courtney: If there was a movie about Melissa Joan Hart going to a Christmas dance and everything came together at the dance, this would be the band playing. Dan: I know what you mean. It's kind of weird because I think Bad Religion still has some street cred, but now that they're a little older they've fallen into that glossier, pop-punk thing. Tyler: They got mortgages. They got kids. You've got to pay for braces somehow.
GRADE: C+
The Robertson Family, "Duck the Halls: A Robertson Family Christmas"
Reality television and holiday albums both smack of self-promotion, so it was only a matter of time before the two eloped. Their malformed offspring arrived this year in the form of
Duck the Halls: A Robertson Family Christmas
.
Duck Dynasty
's Robertson family no longer needs to rely on their duck-hunting business for income, as their album currently sits atop the holiday charts.
Tyler: I find nothing ragin' nor Cajun about this song. Collin: There's a lot of redneck in there, though.
... I sure do like those Christmas cookies, sugar … 
Collin: I suspect there's a lot of innuendo in this song.
... The ones that look like Santa Claus, Christmas trees, and bells, and stars ...
Collin: Nevermind, I think he's just talking about cookies. Emily: I was pleasantly surprised by both of these songs. Their voices sound good, it's catchy, and the spoken-word part is charming. Dan: I did like it a lot more when it became clear that it was about cookies and not cookies plus sex.
OVERALL GRADE: B- 
Mary J. Blige, "A Mary Christmas"
Mary J. Blige's soulful R & B offered a welcome respite halfway through our listening party. That said, it's a little disconcerting to hear Blige refer to herself in the third person on tracks such as "Mary, Did You Know?"
Dan: The instrumentation here is pretty much identical to every other version of the song. … I'd just as soon listen to the Harry Connick Jr. version. Collin: This is the first song we've heard that I didn't immediately want to turn off. I think that has to mean something. Dan:
Her voice does more for me on this one. She puts much more of a stamp on this track. I wish the whole album had this kind of sparse instrumentation because it really lets her voice shine. Collin: I imagine her looking into the mirror while singing this song. Dan: How many self-reflective references can she fit on one album?
OVERALL GRADE: A
Neil Diamond, "The Classic Christmas Album"
Whoever said "diamonds are forever" must be unfamiliar with the latter portion of Neil Diamond's career. Although his sparkle has faded over the years, the singer can't be faulted for his effort.
The Classic Christmas Album
is not Diamond's first foray into holiday music, but let's hope that it's his last.  
Courtney:
I like Neil Diamond, but I'm going to go with
Duck Dynasty
over this one. That's something I never thought I'd say. As someone who loves "Sweet Caroline," this sucks. Lindsay: He just sounds like a sad old man talking into his whiskey. Dan: All I can think of when I hear this is Will Ferrell playing Neil Diamond on SNL. Courtney: I would rather hear Will Ferrell do a Christmas album as Neil Diamond. Tyler: That would be amazing.
OVERALL GRADE: D (for "Diamond")
Nick Lowe, "Quality Street: A Seasonal Selection for All the Family"
Having emerged from Elvis Costello's shadow in the late 1970s with hits such as "So It Goes" and "Cruel to Be Kind," the self-proclaimed Jesus of Cool doesn't have much left to prove. Which makes his latest offering—a tasteful, surprisingly experimental holiday album—even more remarkable.
Courtney: I admire that he's trying to make us feel warm about going to the airport on Christmas, but it's really just bringing up anxiety. Tyler: This one is really making me confront my mortality. That's something I wasn't ready to do over holiday cookies. Collin: Very beautiful harmonies in this one. I'm also digging the bossa nova vibe. This is only the second song I haven't actively wanted to turn off. Lindsay: This is what happens when an adult writes a Christmas album. A real-ass adult. Emily:
I like his boldness in going against the whole "Snow is great, I love winter" thing. Tyler: He's the "Jesus of Cool" for a reason.
OVERALL GRADE: A–
Photo: Collin Brennan, Groupon