Getaways Makes Finding and Booking Vacations Simple
BY: Connie O. |
May 22, 2015
I remember the thrill of pouring over the vacations listed on the Getaways website just a few months ago. I was excited as I tried to choose between rustic outdoor vacations and fabulous city excursions to places I've always dreamed of visiting. I'd like to think that the time spent dreaming about where to go and what to see was almost as satisfying as actually taking the vacations I chose.
I spent hours reading descriptions, planning excursions, and wondering why I'd never gotten my passport. So many wonderful international opportunities were available, at prices that were affordable, and none of them were open to me because of my shortsighted thoughts on the cost of applying for a passport.

However, I didn't let that discourage me from finding a perfect vacation for the two of us, one that we could both enjoy, and to a location we've never had the chance to visit. In fact, I found not one, but two getaways that we've now taken, and while they were quite different, we created a lifetime of memories during both.
Of course it doesn't take hours to make a reservation, for those who know where they want to go, it's a simple process that is completed in minutes. Groupon makes purchasing your dream vacation so easy and simple and many times, it can be done completely on the Groupon website.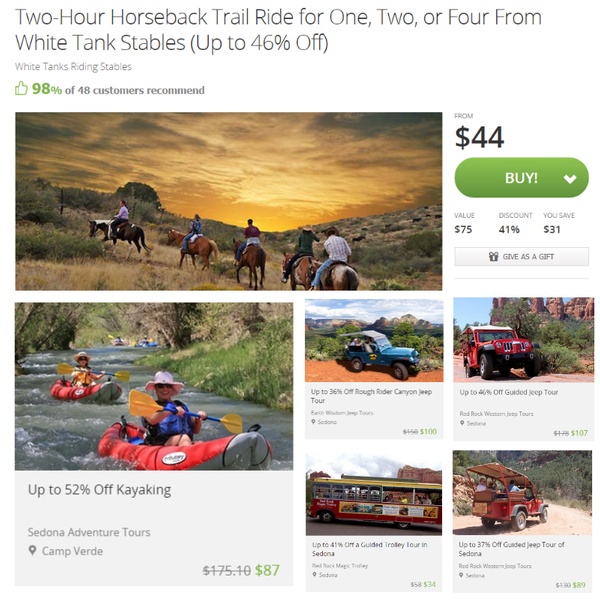 Getaways: Sedona
Our first Getaways location was Sedona, Arizona. We were smitten with the city from the moment we saw it. The hotel we booked through Getaways, the Sedona Summit Resort, turned out to be in the perfect place for exploring the surrounding area. Plus it had features and amenities that made our visit very comfortable.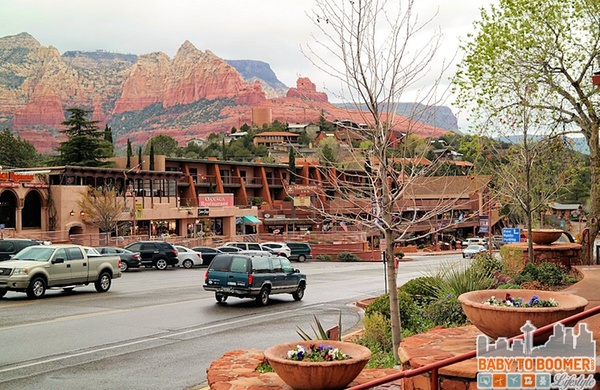 Unfortunately, an unexpected late winter snowfall kept us from taking advantage of Groupon discounted activities in the area; however, now we know that they're available so we'll look for them anytime we travel. Using a Groupon means saving a great deal of money while on vacation – who doesn't love that?
Getaways: Robin Hood Village Resort - Union, WA
Our second Getaways destination was closer to home. Located in Union, Washington, an easy two-hour drive from Seattle or ferry ride to Bremerton, we discovered the Robin Hood Village Resort. Originally built in the 1930's and created by the set designer from the original Robin Hood movie, this themed resort is set in a rustic forest location but includes amenities like private hot tubs and luxurious beds and linens.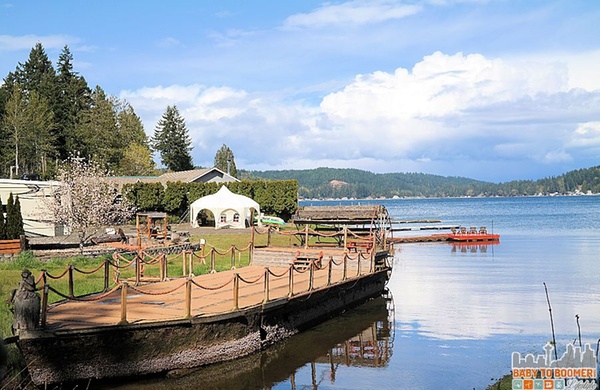 Touring the area gave us wondrous views of the Olympic Mountains, Hood Canal, and more. We spent time relaxing, walking the trails of the resort, and since it is a pet-friendly location, we were able to enjoy it with our two dogs. Not having to them behind made it easier to get away and more fun for us all.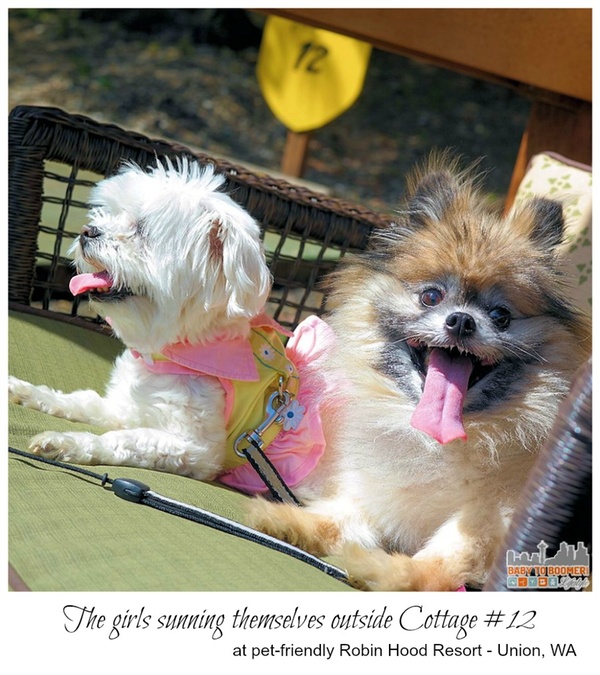 Our trip to Union was quite a different trip from Sedona but fantastic in its own way. To pick which of the two was our favorite would be like asking us which of our children we love more. We enjoyed each of the getaways for different reasons. But what they both have in common is that booking them through Groupon was easy and saved us a significant sum of money compared to booking directly.
Where Will Getaways Take You?
I can't wait to plan our next Getaways vacation. Maybe we'll just have to get those passports this year and get outside my husband's comfort zone and explore the world. It's time to make the leap to international travel destinations, and Groupon makes it so easy to travel the world with confidence, maybe that will make him ready to go. If not, I'll be looking for a new travel partner because there are just too many marvelous things to see and do out there in the world and Groupon makes it too affordable to stay home.

What Groupon Getaway would you take?
Photos courtesy Baby to Boomer; Groupon screenshot courtesy Groupon
BY: Connie O.
Connie traveled to Sedona, Arizona, and Union, Washington as part of the Getaways World Tour.