Grown-Up Field Trip: Canyons, Waterfalls, and Hiking Trails in Starved Rock State Park
BY: Jorie Larsen |
May 6, 2013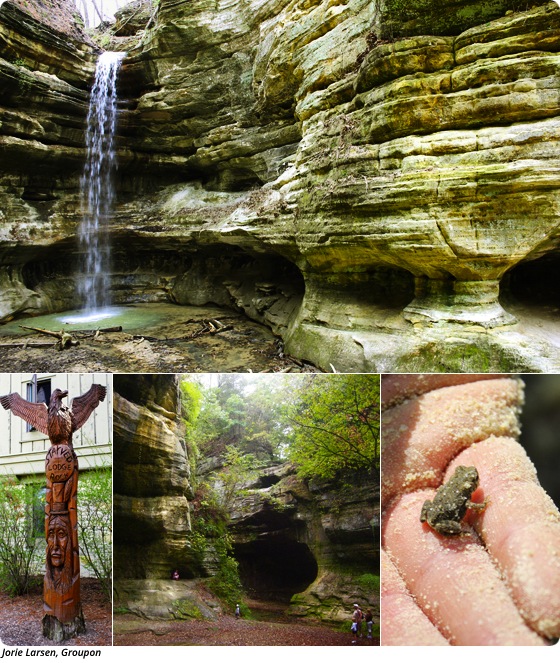 "This doesn't feel like Illinois" is a common refrain overheard on park trails. As a native of the Prairie State, I can attest that waterfalls and canyons don't top the list of state attributes. So with more than 2,600 acres of forested sandstone bluffs, 13 miles of hiking trails, 18 canyons, and waterfalls freshly formed after a rain,
Starved Rock State Park
might not feel like Illinois—but isn't that kind of the point?
What to Do: Hiking, Hiking, and More Hiking
Most hikers swing by the Visitor Center to get oriented and learn a bit about the park history before heading out; volunteer rangers will also tell you if and where the waterfalls are flowing. Beyond the center lies a 13-mile network of well-marked trails, which wind through tree-covered sandstone bluffs and down sandy paths near the river. A popular 2-mile, one-way trek takes you to Wildcat, Basswood, Lonetree, and Tonty Canyons, with a final stop at LaSalle Canyon. I recommend taking the bluff trail out, then hiking on the river path back to the Visitor Center. If your legs are feeling strong at LaSalle, continue on to Hennepin and Ottawa Canyons before returning. When you're at river level, be sure to hike into the photogenic canyon interiors when you can—it's the best way to get a feel for their sheer size and ropy layers. During your journey, also keep a lookout for resident wildlife, including foxes, deer, and bald eagles. One of the best vantage points for eagle-watching is the Starved Rock bluff, which overlooks Plum Island, an annual nesting site for the great birds of prey. This past weekend, I glimpsed a majestic mother eagle guarding her nest of eaglets.
Where to Eat: Casual Fare at the Lodge or Local Restaurants in Utica
Not far from the Visitor Center is the wood-trimmed
Starved Rock Lodge
, an eatery built in part by the Civilian Conservation Corps in the 1930s. The lodge dresses the part, with exposed pine logs and a stone fireplace crowned by a mounted buffalo head peering over the great hall. While in the casual dining room—often while still wearing their hiking boots and shorts—hikers peruse a menu of hearty American entrees including barbecue baby back ribs, tilapia parmesan, and pot roast. Adjacent to the lodge dining room, the Back Door Lounge and veranda overlooks the river. Sample one of the 10 beers on tap, such as the Starved Rock Signature Ale or Leinenkugel's Canoe Paddler. The Back Door's menu consists of pub grub such as brick-oven pizzas, beer brats, and salmon burgers. Beyond the park, you can find more restaurants in the small village of Utica, known as the gateway to Starved Rock. Utica is mercifully free of the tourist ilk that plagues other park-adjacent towns but isn't cloying or precious about it. You'll find a spate of mom-and-pop restaurants—and not much else—where you can fuel up on your way in or out of town.
Cajun Connection
is particularly good.
When to Go: Depends on What You're Looking for
In spring, the canyons are often flowing with waterfalls thanks to melting snow and frequent rain showers. But there's a flip side: too much precipitation can flood some of the trails, thus closing a portion of the park. Be sure to call ahead after a torrential downpour. Summer is likely the most popular time to visit, as trees, wildflowers, and mosses are in full bloom with their boldest colors. Most waterfalls are dried up by this time, though you might get lucky if you visit right after a big rain. Autumn is an ideal time to visit, thanks to crisp air, fewer crowds, and colorful fall foliage. Come winter, Starved Rock is an icy adventure. Many of the waterfalls freeze over, turning into monolithic ice sculptures. Overall, weekends are more crowded than weekdays, and the earlier you go, the more likely you are to beat the rush.
How to Get There: By Car Is Easiest, But There Are Other Ways
A lot of people fuss about how hard it is to get to Starved Rock without a car. Unfortunately, they're right. But hey, it could be worse. In 1911, a typical Chicagoan visitor would have to board a train in the Windy City, transfer to the electric interurban railway in Joliet, then take a ferry across the Illinois River. Here are some modern-day alternatives to using your own automobile: 1. Take the
Amtrak
to the town of Mendota and then hop in a taxi for the 25-mile drive to Starved Rock (call ahead to reserve a cab). 2. Board a
Greyhound
bus bound for LaSalle, then cab it to the park about 10 miles away. 3. Create a
Zipcar
account.