Grown-Up Field Trip: Historic Galena's Lead Mines, Ulysses S. Grant Home, and Horseback Riding
BY: Jonathon Schaff |
Apr 10, 2013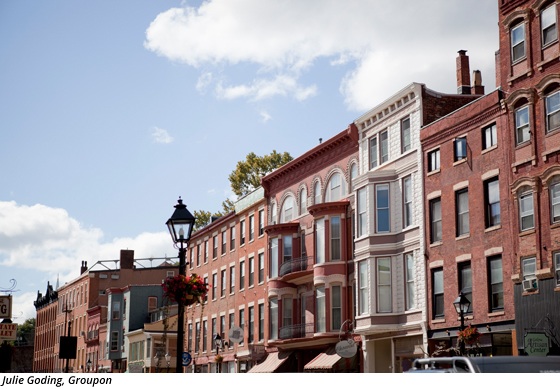 Straddling the Mississippi River in the northwestern corner of Illinois, Galena is a small town with an illustrious past. President Ulysses S. Grant made Galena his home, as did eight other Civil War generals and once-prominent entertainers and politicians, who built beautiful Colonials up and down Main Street. In the late 19th century, Galena was one of the most vibrant cities in Illinois.
Vinegar Hill Lead Mine: Travel Deep Into Galena's Past
The city owed its initial popularity to the rich lead veins buried beneath the riverbed. Lead mining in Galena dates back to the Sac and Fox Native American tribes, who used the raw ore for body painting. In the early 19th century, mines began to sprout up all over the area. Galena's lead could easily be shipped by steamboat down the Mississippi, and by 1845, the county was producing 80% of the lead in the United States—nearly 27,000 tons of ore per year. When demand for lead declined, so too did Galena. Inevitably, the mines were all boarded up and shut down, with one notable exception. The
Vinegar Hill Lead Mine
functions today as a shaft-mining museum. Visitors can tour the real mine, going as far as 220 feet inward and up to 60 feet deep. In the museum section, you'll find antique tools of the trade and minerals extracted from the earth below.
The Ulysses S. Grant Home: A Mansion Fit for a War Hero
The story of Ulysses S. Grant in Galena can be divided into two chapters: before and after the Civil War. Already an accomplished soldier before the war, Grant worked as a clerk in his father's store. It paid enough to rent the simple brick home that Grant and his wife, Julia, leased for approximately $100 per year. Then, in 1861, Grant left to join the war effort. He would return in 1865 a hero, welcomed home with a parade. Grant was also awarded an impressive new home, constructed in the Italianate style with columns, bracketed eaves, and balconies with balustrades. Grant would, of course, go on to serve as President of the United States in 1872. After serving his term, the Grant family went off on a world tour, returning to Galena in late 1877. He would stay put for most of the next decade, until eventually retiring to a cottage in upstate New York for the remainder of his life. His home in Galena is now a historic landmark that's open to the public. Tours are offered Wednesday through Sunday; large group reservations are recommended.
Shenandoah Riding Center: Clop through the Hilly, Creeky Countryside
Just 20 minutes outside of town, the
Shenandoah Riding Center
offers a horseback-riding experience that rivals the best in the Midwest. Their professionally trained horses—quarter horses, Appaloosas, Connemaras, and crossbreeds—will escort riders across 30 miles of trails, past rolling hills, sparkling streams, and flowering valleys. Beginner and intermediate routes cater to all skill levels. The center offers day passes, weekend passes, and even has options to camp nearby. Call ahead for more information.