Hair Haute Couture: Meet the Wig-Making Collective at Penny Lane Studios
BY: Emily Wachowiak |
Jul 25, 2013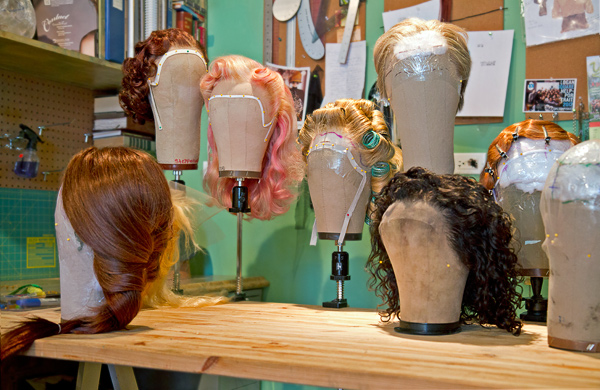 It takes a full workweek—40 hours—for the stylists at
Penny Lane Studios
to make a wig from scratch, but when your client is the
Steppenwolf Theatre
and your work is going to be seen by thousands, there's no sense in rushing. That's the attitude of Coral Gable, Christine Conley, and Sam Umstead, the three DePaul costume design grads who started the combination salon, makeup studio, and wig-making shop in late 2012. The process the three follow in producing each wig is painstaking. They start by measuring the client's head, drawing an exact outline of his or her hairline on a plastic bag and placing it on a head-shaped block. Then they add a foundation, usually a type of mesh netting, on top of this. Finally, it's time to thread synthetic or natural hair into the netting with a needle, a meticulous process that requires attaching clumps about 1 centimeter thick all over and individual strands along the hairline.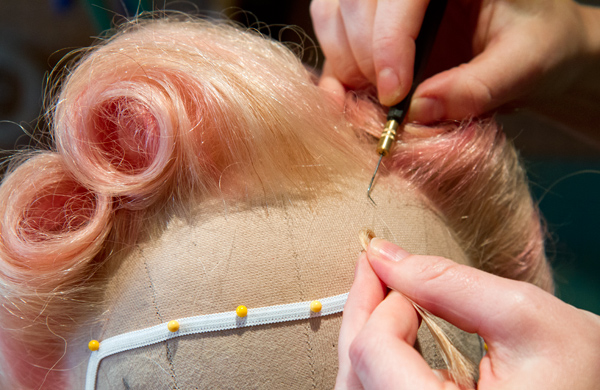 Taxing as all that work is, at least it's paying off. Not only has the studio's handiwork appeared in shows at many of the area's most renowned theaters—Steppenwolf,
TimeLine
,
Chicago Opera Theater
,
Light Opera Works
—but the entire Chicagoland theater scene seems intrigued by the novelty of the wig-making collective. "We're the first studio," Christine said. "There are wig makers, and they're amazing, but they either work at
Lyric [Opera]
, and then there's a few that are freelance. … I think theaters are discovering what we do, and they like that it's a team atmosphere." Word seems to have spread fast: Penny Lane currently has at least four shows lined up for the end of summer, in addition to serving the regular salon clientele. Often they can't do the job alone. "When we have big projects, we call on other wig makers to help us finish," Coral said. "We're trying to make this into a big space for local artists, especially wig makers, to come in and finish a project together, so theaters don't feel like they have to scrounge around." Curious about the details of their work, I sat down with Christine and Coral in their charming workspace—which features salon stations set on library-style rolling ladders, vintage suitcases reclaimed as towel shelves, and the entire wig-making operation on display—to talk more about their craft.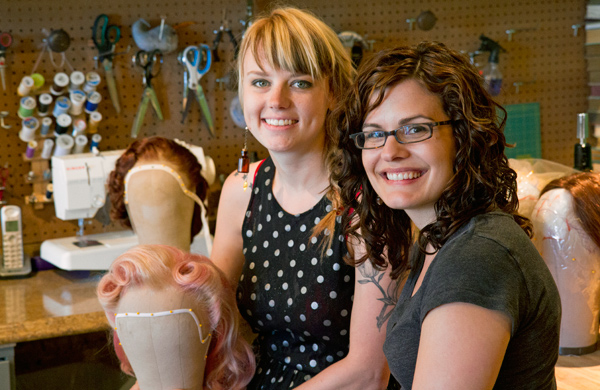 GROUPON: What has been your favorite show to design wigs for?
CHRISTINE CONLEY: I liked
Annie
, as hellish as that was. CORAL GABLE: It was a very big show—there were like 22 wigs—but it was period so it was nice to have that 1930s kind of feel because then you can do more with style. CC: It's also the first show that we worked on together as Penny Lane. The shop wasn't quite open yet, so we were working out of my apartment a few blocks away. Half the day we'd be building wigs in my apartment, and then half the day we'd be here painting and building and staining and stuff like that.
G: If you could design wigs for any play, musical, or movie, what would it be?
CC: I built wigs for
Wicked
, but I'd like to style them. Doing anything that has structure underneath it is fun. You can build cages out of wire and netting, and you build that into the wig and you put the hair over it. You can do all sorts of different shapes. CG:
Seussical
, that would be a fun one. Something where they have something a little out there and crazy that's not like a conventional shape or a very specific time period. Those are always fun because you can get a little crazier. CC: Building wigs out of [something that's] not hair is fun too. Like sometimes you'd need [to build] it out of yarn. Like kid's shows, generally.
G: Do you often do bald caps?
CC: Not recently. We did them in school a lot. But luckily we haven't had the need to do them lately. They're kind of a pain. … The biggest pain about them is [that] we can build them and get them to work, but training a crew member to do it every night without ripping it is the hard part. If we can avoid it at any cost, I would prefer to do that.
G: You'd rather have a bald actor?
CG:
[Laughs]
Yeah, or shave their head.
G: Tell the truth: have you ever made a merkin—a wig that covers the private parts? 
CC: I have! I think I have it here. ... Where's my merkin? ... It was for a photo shoot. Some photographer needed it for something. I can't even remember what it was. It was years ago, but I kept it because it's so funny, and now I don't know where it is. CG: It looks like a sideburn. CC: It's awkward. It's really awkward to make it because when you make a wig, you hold it up to see if it looks natural. So I was standing in the mirror like this
[demonstrates]
. Is that too much hair? Is it not enough?
G: Were they going for a certain effect?
C: Yeah, they wanted it to be very full. So it was a very full merkin. … I made it out of yak hair.
G: Back to traditional hairpieces. Who has better wig style: Cher or Dolly Parton? 
CG: I like Dolly. CC: Dolly! A Cher wig would be pretty boring to make. It's just straight, straight black hair. It's more fun when you build a wig to get to put it into a fun style later.
G: Are wigs part of your regular wardrobe?
CC: No! I wish. … I have hair extensions in right now—I just have clip-ins. We make clip-ins for lots of shows because it's easier than giving them full wigs sometimes. So that's the thing—we all wear fake hair every now and then.
[Laughs]
CG: It's so funny, though, because we spend very little time on our own hair and makeup because we're doing it all day long. So it kind of becomes the same thing with wigs. We're like, "I just can't be bothered right now." CC: Yeah, I don't like styling my own hair. CG: I washed my hair this morning and I was like, eh, forget it.
[Laughs]
G: I guess wigs aren't really a regular part of the average person's look. And a wig-making workshop isn't a regular fixture in the average hair salon. How do your salon clients react to the workspace?
CC: Our salon clients really love to see what we are working on. Most people ask at least what's going on, but many clients will ask several questions and love to see the work up close. I think having the workshop out in the open really gives our shop another dimension and lets our clients know that we see hair as an art.
Photo: © Michelle Klosinski, Groupon
BY: Emily Wachowiak
Guide Staff Writer
Emily Wachowiak is a Chicago-based writer and editor.