Half Acre Expands from a Microbrewery to a Big Microbrewery
BY: Shannon Jewitt |
Apr 14, 2014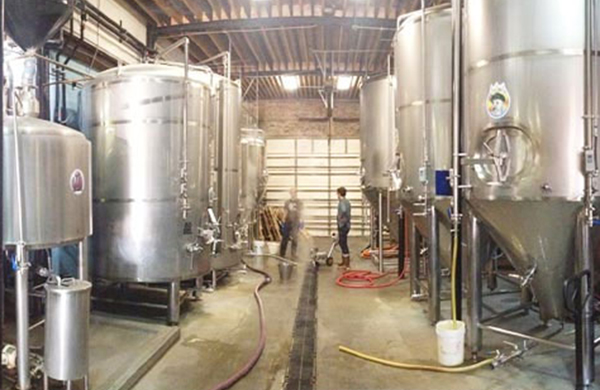 They grow up so fast. From Orange County to Baltimore, craft breweries are outgrowing their spaces. Some of them had more orders for beer than they could handle. Others wanted to move out of garages, acquire space for barrel-aging beers, or put in taprooms. For Half Acre Beer Company, based in Chicago's Northcenter neighborhood, it was a combination of these things. It was only eight years ago that the brewery was borrowing a Wisconsin brewery to make beer. But in March, the 7-year-old brewery purchased a new 65,000-square-foot location.
Improved Distribution
Half Acre plans on moving most of its brewing operations to this new space, where the company will produce its perennial brews. As a result, Half Acre will be able to produce significantly more beer, a move many microbreweries are anxious to make in part because that's where they see immediate outcomes. "You, as a consumer, will start to see a difference starting at phase one," said Maurizio Fiori, the hospitality manager at Half Acre and one of its founding partners. One of those differences is availability. Half Acre, which is not currently distributed on Chicago's South Side or in some of its western suburbs, will be available throughout the Chicagoland area after the expansion. Retailers will also be able to purchase more of the brewery's beers, so they'll be less likely to run out.
A Better Taproom
"This place," Fiori said, referring to Half Acre's current taproom, "is going to be the one that really benefits from the new location being added to our business." There, seasonal beers will be served for a longer time period. The extra room frees microbreweries to add taps beyond their year-round offerings and branch out into more adventurous beers. That can also mean more space for a kitchen—Half Acre will serve food in its new digs.
The Extras
Finally, Half Acre plans to add a tasting room and outdoor beer garden at the new location. These additions are popular as microbreweries start to come of age: Michigan's Founders Brewing Co. and New Holland Brewing both recently added beer gardens. With Half Acre's expansion, "we're in a place now where we can really let our creative juices flow," Fiori said. Moving lets breweries take on things they've always wanted to do, whether that's aging sours and lagers, smoking malts, or trying experimental recipes.
The Barriers
Creative experimentation aside, "it really is all about permitting," Fiori said. Illinois is well-known for the hoops craft brewers must jump through to receive the proper permits. One example: the Brewers Association defines a craft brewer as a brewery manufacturing 6 million barrels of beer or less each year. The state of Illinois, however, defines a craft brewer as a brewery manufacturing up to 930,000 gallons, or 30,000 barrels, of beer each year. Half Acre currently produces 15,000 barrels each year. Fiori was unsure how much production would increase with the new location. Regardless, "at the end of the day, it's about beer," Fiori said. "There is definitely a thirst for good beer out there."
Photo courtesy of Half Acre