HalfWit Coffee Roasters Builds a Business from the Grounds Up
BY: Collin Brennan |
Sep 3, 2013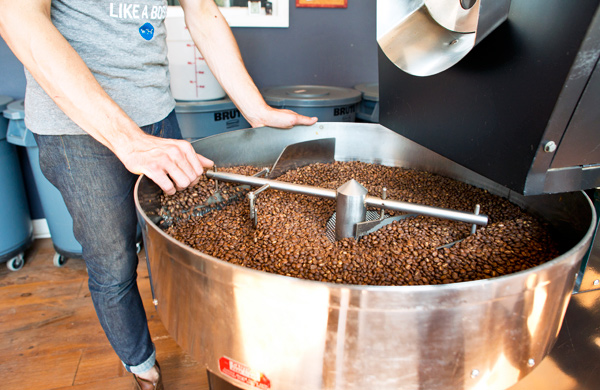 Andrea Otte, coffee expert and general manager of
HalfWit Coffee Roasters
, is known to her coworkers simply as "Otter." It's a nickname that suits her nervous energy and self-effacing sense of humor. Both qualities were on full display when we met at
Gaslight
(2385 N. Milwaukee Ave.), a Logan Square coffee shop that doubles as the location of HalfWit's tiny roasting space. Hunched over a laptop and peering through oversize glasses at an Excel spreadsheet, Otte seemed to have no trouble blocking out the white noise of whirring blenders and tableside chatter. It takes this kind of focus—plus the occasional shot of caffeine—to steer a new company through
Chicago's increasingly crowded coffee landscape
. Now that she's preparing to celebrate HalfWit's first birthday, Otte can take a minute to reflect on what she's learned. Just a minute, though—then it's back to the spreadsheets.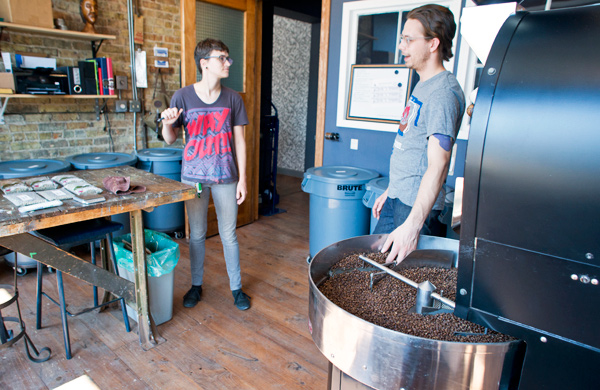 GROUPON: It seems fitting to talk about HalfWit's relationships with local coffee shops, seeing as how we're sitting inside one. Have your relationships with places like The Wormhole (1462 N. Milwaukee Ave.) and Fritz Pastry (1408 W. Diversey Pkwy) been crucial to getting off your feet as a new roaster?
ANDREA OTTE: Yes. To give you a little background, we're part of the same group of companies as Wormhole and Fritz. Part of the idea was to have that network in place to help us expand.
G: So HalfWit was started as a way to supply those shops directly?
AO: Yeah, that's the idea. I was a barista at Wormhole from the beginning, and we worked with
Metropolis [Coffee Company]
(1039 W. Granville Ave.) for the first couple of years. But they're a big company, and if we ever had quality questions or an interest in learning more about what they were doing on the roasting side, there was a little disconnect. We wanted to bring things full circle and get rid of that.
G: What's Chicago's coffee culture like in terms of cooperation? When you're the newest roaster on the block, do places like Metropolis try to help you out, or is there an element of competition?
AO: There's definitely competition. In the last three or four years, there's been a big growth in new roasters, so standing out from the pack can be kind of difficult. At the same time, we've all been in the industry long enough to have moved around and worked with a lot of other people. I'm good friends with a lot of people in the industry, and we get together for events like kickball on the weekends.
G: With some of these other roasters already entrenched, why did you see the need for a new roaster in the city? What are you trying to bring to the table that other places haven't already?
AO: Well, Wormhole has always had this kind of "approachable science" aspect to it. We really care about tracking and understanding what is happening within our coffee, and we have one of the most proven and excellent training programs in the city. The people who work at Wormhole and HalfWit have one of the best foundations in terms of knowledge—before they even get to the bar, the baristas train for six months. I think having that in place sets us apart.
G: It's interesting that you highlight your expertise, because the name "HalfWit" implies a certain modesty about what you do here. You're obviously professionals with a lot of experience, but do you perceive something snobbish or pretentious about coffee culture that you're trying to work against?
AO: Yeah. I think words like "artisanal" and "craft"…you have to be able to afford those types of words. Being a broke barista for many years, I saw that it was really a class-based system. Things are marketed as "down to the roots" or "for the little guy," but then it's so expensive that it isn't realistically approachable for the average person. We want to make coffee for the average person.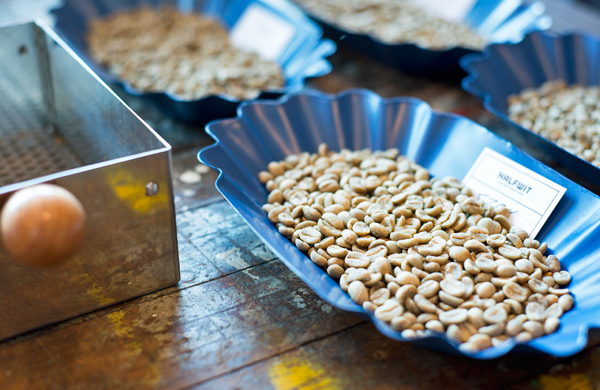 G: Is that attitude reflected in what you charge for the coffee? Do you aim for the market rate, or something lower?
AO: I actually think we charge a little more than the average company, but we're really realistic about why we charge that much. We spend a little more on our raw product in order to pull in some really excellent coffees. We're also trying to sustain this idea that "barista" or "coffee producer" should be a professional title that you can make a living off of. That's one of the reasons why it's worth paying more money in a service-based economy—you're actually helping someone survive.
G: How big is the team at HalfWit, and who gets the final say on which coffees you purchase?
AO: Right now, we have two full-time employees, one part-time employee, and a general manager over at Wormhole who helps out. We do have a head roaster, and it's his job to set the profiles in the coffee and decide how we want that coffee to taste. He technically has the final say on what we purchase, but we roast as a team and every day we sit down and talk about what we like and don't like. If somebody at the table really hates something that the other people really like, we'll have a really long conversation about that.
G: I noticed a lot of Central and South American varieties on your website, but none from places like Sumatra. Is that a matter of taste or seasonality?
AO: It's seasonality. Different regions have climates that allow for different development times. Central and South American coffees were in harvest during the spring, so those are arriving this summer. Our Indonesian coffees come in the winter. Some companies want to have something consistent on their shelves all year round, but by doing that you're also negating a quality aspect. You can't have a fresh product all year round.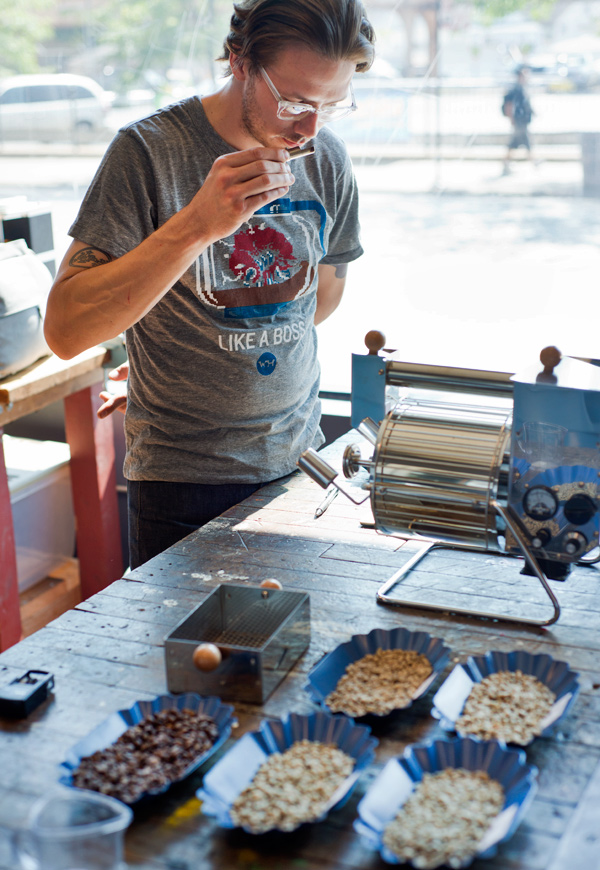 G: It seems like a lot of smaller roasters and microbrewers want to expand to a certain point, but not necessarily to the point where they become a huge and impersonal operation. HalfWit is celebrating its first birthday soon, so this next question seems fitting: in an ideal world, where you do see yourselves at your second birthday? Your fifth?
AO: I would love to see us pick up a few more solid café accounts that we can work with intimately. That would give us some more stability, just because we wouldn't have to continually go out and look for new places all the time. In five years, I'd like to have a HalfWit café. I think all of us just want to be comfortable. We want to make enough money to do what we do and bring in the kinds of coffee people want. Having the ability to really develop relationships with our growers would be nice.
G: Let's talk some more about that aspect of your business. As a newer company, how do you go about sourcing and importing your coffees?
AO: We work with a company called Café Import. They're the number one importer in terms of their investment in on-the-ground relationships, and they're also able to get exclusivity on a lot of things that direct trade would not be able to.
G: If you already have a good relationship with an importer, is it even worth it to go straight to the farmer?
AO: In some situations, it's not. There are certain places in the world that are maybe never going to be profitable or that would be a much bigger investment to have direct relationships with, such as places in rural Sumatra, where just physically getting there is such a troubling excursion. But if you were able to actually be there and see how detailed the farmer is and how much care they're giving to their plants—there's a lot that goes into the process of growing coffee that affects the quality at the end of the day.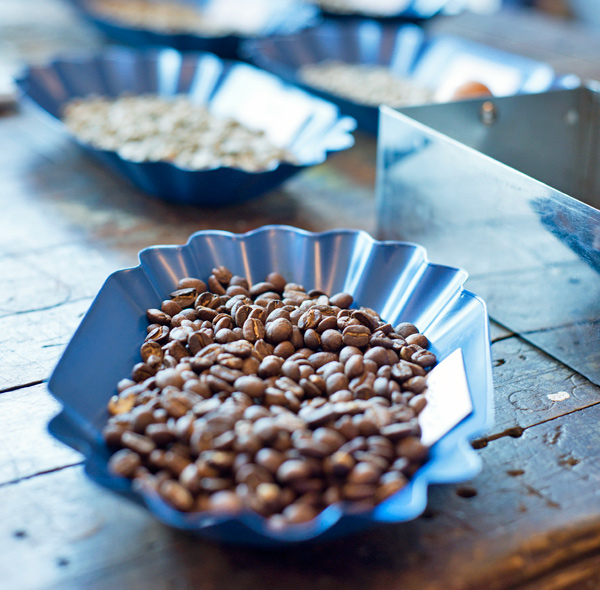 G: Do you see any conflict in being a small, locally focused business but also having to go to places like rural Sumatra to get your beans?
AO: Yeah. Most coffee comes in on a giant freighter boat, which will go from Indonesia to Africa to South and Central America and then up to the United States. It's not entirely sustainable. The industry itself is not sustainable. It's one of those marketing words. People talk about "sustainably grown" coffee, but it's grown thousands of miles away, so sustainable is kind of this word that means what you want it to mean.
G: I never thought of it that way. What's another thing that people who aren't knee-deep in the industry don't really pay attention to?
AO: The fact that good coffee is so widely available right now, and this wasn't the case even 10 years ago. These relationships behind the scenes have really been nourished and there's been a lot of work on the part of the people at origin to improve what they do. People will only pay $3.50 for a cup of coffee, but they'll pay $18 for a nice glass of wine. That's something I'd like to see change.
HalfWit Coffees are available at Gaslight Coffee Roasters, The Wormhole, and Fritz Pastry. You can also purchase them directly from the online store.
Photo: © Timothy Burkhart, Groupon