Hanging on the Porch: Vertical Gardens and Sustainable, Small-Scale Design with Kaisa Dille
BY: Daphne Sidor |
Jul 29, 2013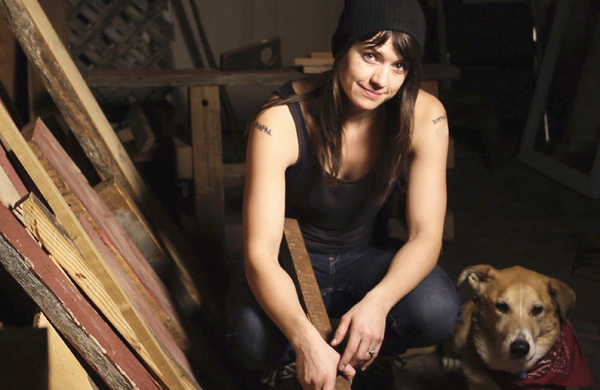 The name and brains behind
K. Dille Designs
, Kaisa Dille is an in-demand landscape designer and woodworker. But she started small. Her creative talents grew through "designing some pretty small backyards or back decks and trying to figure out how to beautify it without taking up too much of the human livable space," she says when I catch up with her in the middle of hauling lumber on a 95-degree day. That makes her the perfect consultant for the apartment dweller who wants to create some green space without a lot of square footage or gardening expertise. With a little planning, she says, you can easily build a porch garden that will see you through fall—and even be resurrected in the spring. Here's how to begin:
1. TAKE IN THE VIEW
For a porch with the feel of an outdoor room, Dille suggests treating plant placement as a kind of architecture. "One of the things that I like to do is consider perspective," she says. "Where do you like to look out to? What do you
not
like to look at?" Any part of the view you don't want to see is a prime spot for greenery, whether it's a hanging piece or a bushy tree. In fact, some of Dille's signature pieces, her picture frame–style
hanging planter boxes
, "were birthed from just that," she says. "There was a building with really crappy siding and wires everywhere, and at first I thought, 'Well, how am I gonna cover this?' At the time there was a kind of craze for hanging stained-glass windows or old beveled glass, and I didn't want to do something that everybody else was doing, so I built one of those boxes." Potted trees or hanging baskets can fill in as well.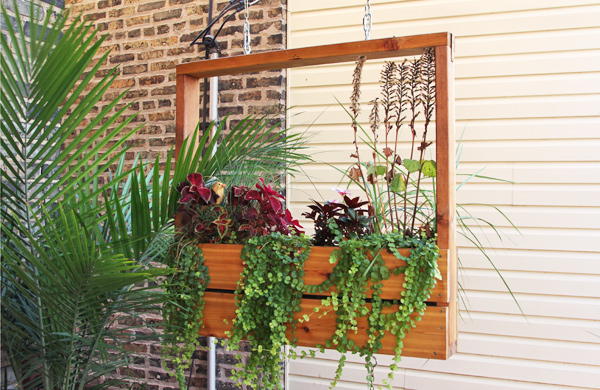 2. CONSIDER LIGHT AND LIFESTYLE
Next, figure out how much light you'll be getting. Dille sees one complication of urban gardening as an asset: "The thing that's nice about a porch is that unless you're on the top floor, you do get a bit of shadow." Ferns thrive in low-light conditions and create a lush look, but you might also consider turning a long, narrow rail planter into a personal salad bar. "I'm always sort of pushing the edibles," Dille says, noting that kale, arugula, and mesclun can all get by on limited light. These plants can be surprisingly bountiful: the growing cycle of most edible greens is only 30–35 days, so gardeners can expect to harvest several crops over the course of a season. Of course, plants can't live on sunlight alone. If you often travel for work or are just plain forgetful, "you're going to want to get some succulents, something that requires minimal watering," Dille says. That was her strategy on a recent project. Her client had an apartment in the Trump Tower but didn't spend much time there, so she created an emblem of living, low-maintenance luxury: an
octagonal hanging wall
composed of scores of succulents, framed by ostrich-leather upholstery.
3. STOCK UP ON SUPPLIES
Dille gets many of her plants and materials from
Fiore Nursery and Landscape Supply
, which caters to landscapers but welcomes nonprofessionals. For dramatic bits of reclaimed architecture and inspiration for nontraditional plant containers, there's
Rebuilding Exchange
—or you could just take a drive into the country and see what you find. Dille's sourced much of her wood by knocking on farmers' doors, sometimes saving it from a fiery fate: "Where I grew up in Minnesota, if there was a building that was about to come down, a lot of times they'd set it on fire and all the neighboring volunteer fire departments would come in. I luckily intervened on a church that was just down the road from where I grew up. I knew there was all this gorgeous maple flooring in there and other nice timber, so I got to get in there just a handful of days before they torched it." If a custom wooden bench isn't in the cards, you can always pick up a hammock instead: "You can hog up the whole space with it if you want, but it can easily be stashed away if you need extra seating," Dille says.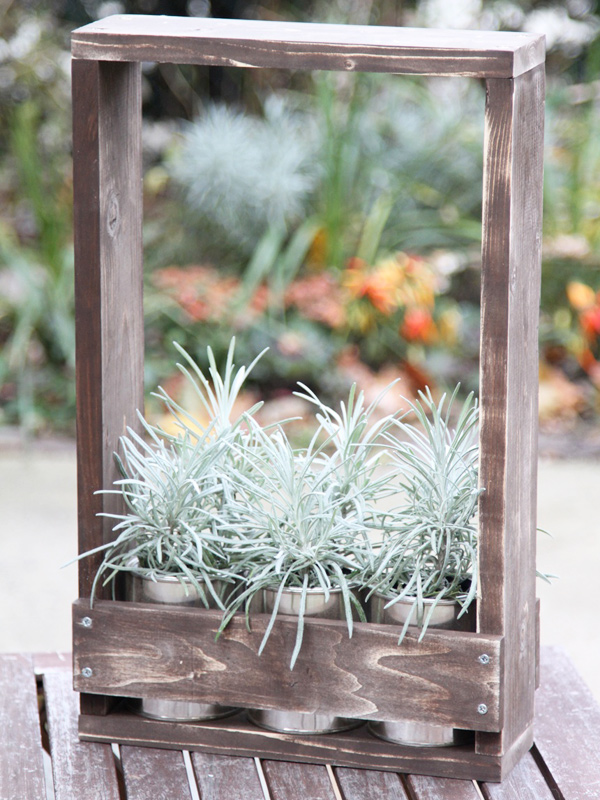 4. PLANT FOR THE FUTURE
Beyond saving space, vertical designs can double as living indoor artwork. Dille's planter boxes can easily be hung from the ceiling or wall when the weather turns cool, as can her
herb boxes
, sized for perching in the kitchen so the chef can snip off a few leaves at a time. Many of the planting pockets available from
Woolly Pocket Garden Company
are similarly versatile. Some perennials can even tough it out outside. "If you put in perennials, you have to make sure they're going to be a little bit more hardy," Dille says, noting that their roots won't be insulated by the ground. She identifies mint, chives, grasses, and the trailing vine known as creeping jenny as plants especially likely to make it through the winter. Then, "in the spring, if you're going to keep containers up and reuse the soil, extract the top quarter or so," she says. "You can fill in with some good potting soil, or you could add some compost. Mushroom compost will help your plants rock out in the summer." This step replenishes depleted nutrients. As for larger plants, a Chicago porch and apartment can be a surprisingly hospitable environment for small fruit trees, especially fig, meyer lemon, and lime. "They can come and live with you inside in a bright window and be totally happy and healthy in the wintertime—and then go back out to fruit in the next season," Dille says.
5. SHOW OFF YOUR SPACE
These days, Dille has much more than a back porch to work with: she and her wife recently began turning their North Park home into an urban farm, and they have big plans for it. "It's called Staden Farm, which means 'the city' in Swedish," she says. "We're going to try to pair artists of different genres with a meal for the evening. I've been in charge of building the farm part of it." But even a less ambitious gathering can show off your new green space to advantage: invite a few friends over for dinner and cocktails centered on the herbs, greens, and fruit you've grown, and give them a chance to taste the decor.
BY: Daphne Sidor
When she's not busy writing, Daphne is an indie-pop musician, year-round bike commuter, and newbie gardener.