GROUPON GUIDE TO WASHINGTON-DC
"Flight Time" Lang of the Harlem Globetrotters Talks Trick Shots, Slam Dunks, and Special Moves
BY: Collin Brennan |
Apr 11, 2016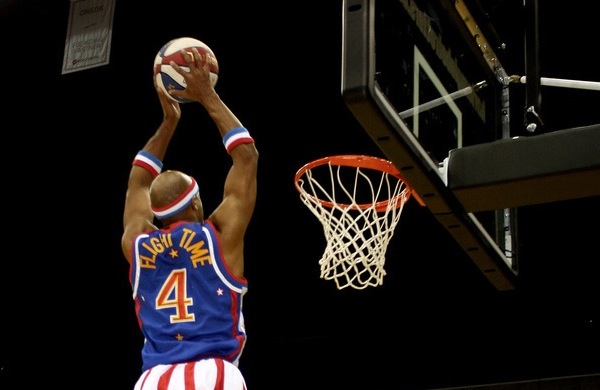 "Like any other kid my age growing up, I was a big Michael Jordan fan," admits Herbert "Flight Time" Lang, the 16-year veteran guard of the world-famous Harlem Globetrotters. "I can't say I could ever do all the stuff he could do … but my thing was always just to get up as high as I can and have people amazed at how close my head would be to the rim."
These days, Flight Time doesn't have much trouble amazing people. Sure, he can effortlessly spin a ball on his finger (a skill that's required of all Globetrotters), but he can also flip a shot off his neck and bounce one between his legs from the three-point line.
Flight Time's skills and effusive personality have landed him on reality TV shows such as The Amazing Race, but we were interested in finding out more about his life on the court. We asked him to give some shout-outs to his fellow Globetrotters (as well as himself) and name who on the team has the best trick shots, dunks, and special moves.

Best Trick Shot: Herbert "Flight Time" Lang
The Move: The Neck Flip Shot
Flight Time doesn't hesitate when asked about his go-to move. "That would be my flip shot off the neck," he says. "On that shot, I stand underneath the basket, throw [the ball] up, catch it on the back of my neck, and try to flip it in." And how often does it actually go in? "It depends. Sometimes I can make it four or five times in a row, and sometimes I might miss it five times in a row, but it's definitely something people like and remember when the show's over."
Best Dunk: William "Bull" Bullard
The Move: The Swinging Dunk
Flight Time has seen a lot of difficult shots in his day, but none more so than Bull's swinging dunk. "He swings from the rim and flips the ball to the other side of the rim, and then catches his dunk. He flips it with his feet," Flight Time says in awe. "I would probably say that's the most difficult dunk I've seen. That's something I know I can't do, and I won't even try it [laughs]." Bull's freakish athleticism doesn't just help him on the court. In 2012, he used his long arms and crazy hops to make it to the finals of American Ninja Warrior.
Best Handles: Anthony "Ant" Atkinson
The Move: The Rapid-Fire Dribble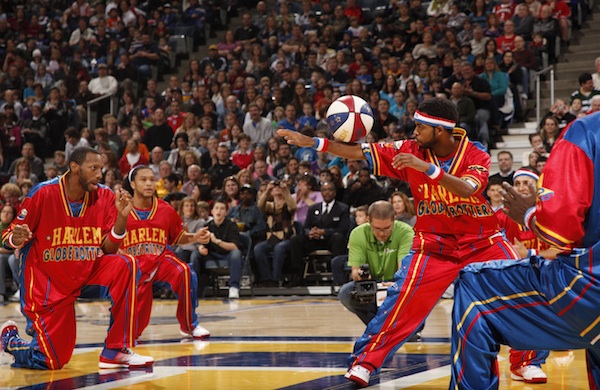 "I think the most impressive dribbler that we have right now is Ant [Atkinson]," Flight Time says. "He's going into his seventh year, but he's 5'10" and basically started out as a dribbler. Being so low to the ground, he's able to dribble really fast and make it almost impossible for the opponent to take the ball away from him."
Ant is also one of the team's newest showmen, which means he's hooked up to a microphone and also responsible for entertaining the crowd with some non-basketball-related antics. "It just shows that you can start out with the Globetrotters doing one thing, but if you work on your craft and develop it, you can develop into the star of the show."
Best Half-Court Shot: Nate "Big Easy" Lofton
The Move: The Half-Court Hook Shot
Big Easy's half-court hook shot may be impressive, but it's not entirely his own. "It's something that most of the showmen—all of the showmen, actually—work on," Flight Time explains. "[George] 'Meadowlark' Lemon and 'Sweet' Lou Dunbar and all those guys from back in the day made it popular, and it's one of those things the shows are known for."
But all that doesn't stop Big Easy from adding another degree of difficulty. "It's kind of funny, because he's actually left-handed, but if you watch him shoot a hook shot, he shoots 'em with his right hand. In practice, he's always trying to impress us with how he can shoot the hook shot blindfolded or shoot it from three-quarters court." He doesn't make it all the time, but when he does, "it's definitely amazing."
Longest Range: Corey "Thunder" Law
The Move: The Record Breaker
It's difficult to top a shot that earned a world record, even if it's a blindfolded hook shot from half court (sorry, Big Easy). "Corey Law was in the College Dunk Contest in 2012, and [now] he's in the Guinness Book of World Records for the longest shot ever made," Flight Time says. So how long is the longest shot ever made? The final measurement came in at 109 feet and 9 inches away from the basket.
Best Assist: Anybody Hoisting Up Jonte "Too Tall" Hall
The Move: The Elevator Dunk
At 5'2", Too Tall bears the (dubious or honorable) distinction of being the shortest Globetrotter in history. His huge personality, as one might imagine, makes up for whatever he lacks in height. "He's definitely a crowd favorite," Flight Time says. "A lot of times after games, we have autograph sessions, and you see all the kids hanging around Too Tall. I always tell him, 'It's 'cause they think y'all in the same grade!'"
Too Tall can't quite dunk on his own, but that doesn't stop him from throwing one down every once in a while. "The only way Too Tall is getting up to the rim," Flight Time explains, "is if we pick him up and put him there [laughs]. And we have been known to do that."
Photos courtesy of the Harlem Globetrotters.