Heart of Glass: Glassblowing in Seattle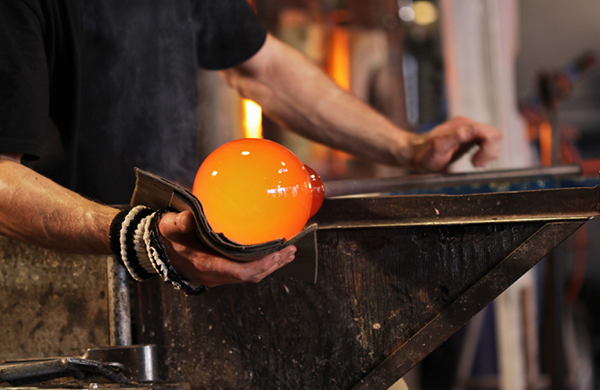 The Northwest is home to a thriving art glass movement, launched largely by Dale Chihuly, a glass artist known for his colorful and large-scale sculptures, and for co-founding the Pilchuck School for glassblowing outside Seattle. Visitors who possess even a passing interest in glass art owe themselves a visit to the area's several museums and galleries dedicated to the form, where Chihuly's work stands tall alongside a new generation of glass blowers. The Museum of Glass, 30 minutes south in Tacoma, is a great place to start the journey. Kids and adults alike flock first to the Hot Shop – "hot shop" is glass-speak for a studio with kilns for glass – which hosts an ever-changing roster of artists. Along with their assistants, these skilled workers blow glass before an audience, while a museum guide narrates the process and takes questions from the crowd. The general takeaway: Shaping molten glass into usable or beautiful forms is dangerous, physically demanding and time-consuming, but ultimately a fun team effort that produces exquisite results. Outside the hot shop, revolving gallery exhibits display work from around the globe, and the well-stocked gift shop markets everyday glasswares and topical books on the subject. Next up is Chihuly Garden and Glass, opened on a large patch of land in Seattle, directly west of The Space Needle. The museum and gardens showcase Chihuly's work, organized thematically in all its varied forms. There are sea shapes, Native American displays and a room whose central focus is a clear ceiling topped with dozens and dozens of overturned vases in bright colors. Eventually, the gallery leads guests outdoors to a glasshouse of floral shapes and a garden walk where spiky flora and fauna in splashy colors protrude from or blend in with plant life. Want to try your hand at the art yourself? Seattle Glassblowing Studio offers guidance for one-time experiences as well as multi-week classes from its downtown hot shop. Or perhaps you want to see it up close and personal, and then go home with a gift? Try Glasshouse Studio or Avalon Glassworks in West Seattle, both of which combine gallery shopping with onsite glassblowing demonstrations. Glassy Baby, a boutique glass blower that makes dozens of colors of decorative glass candleholders also operates a hot shop and store in Seattle's Madrona neighborhood. Shoppers can feel good about their purchases, since the company gives 10% of the revenue from glass product sales to philanthropic organizations that focus on cancer and other healthcare issues.
BY: Gayot
GAYOT.com serves as a leading worldwide authority on the good life. Millions of readers turn to Gayot's savvy, professional reviews on dining, travel and lifestyle. From "Best of" lists and travel guides, to a searchable restaurant and hotel database, Gayot provides dependable coverage while keeping up with the latest trends and news.