Heat and Eat: Wholesome Ready-Made Meals
BY: AIMEE ALGAS ALKER | 6.17.2013 |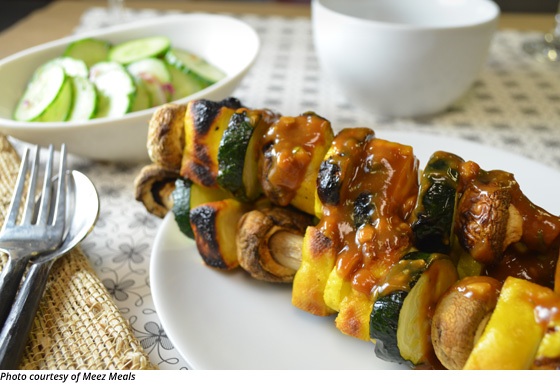 I knew that going back to work after maternity leave would be tough, but neither my husband nor I was fully prepared for how crippling the transition would be to our cooking routine. After putting in eight hours at the office, picking up the baby from my mom's, changing the baby, feeding her, then putting her to bed, we rarely had any time or energy left to throw together a good meal. Since I think about tomorrow's breakfast before I've even had today's lunch, this was not okay with me.
For weeks we relied on delivery, drive-thrus, and frozen pizzas, but the plan quickly took a toll on our bank accounts and carb counts. In an effort to find a middle ground between home cooking and convenience, I stumbled across these local businesses that are making wholesome dinners easy for people with busy schedules.
Dream Dinners (Roscoe Village and Ukrainian Village)
Not only can I put together an Ikea bed frame with little to no help, but I'll enjoy the task. That's why Dream Dinners might work for me and my husband. Upon arrival at the kitchen, customers receive color-coded directives for meal assembly, with each color representing a different measuring tool (tools are also marked with colors). Then, using the shop's equipment, recipes, and ingredients, customers get to work preparing up to a month's worth of freezable meals. Though the instructions are foolproof, staff members are also on hand to assist every step of the way.
Pros: Good family activity; final at-home prep is usually as simple as heating in the oven or a skillet; staff members handle cleanup; customers can adapt recipes to their preferences (e.g., more sauce, less cheese)
Cons: Travel time to and from their kitchen could counteract the convenience
Meez Meals (Delivery)
When it comes to kitchen duties, my husband, Jamie, who grew up working in his father's restaurants, loves the sautéing, the searing, and the braising—and I help out with the tasting. Neither of us enjoy the tasks of the sous chef: the measuring, the chopping, the peeling. Meez Meals solves this conundrum by delivering the ingredients for creative meals prepped and ready to cook. And the all-veggie menu works for us; as a former vegetarian, my husband doesn't eat much meat.
Pros: Ingredients procured locally when possible; recipes rated by difficulty level; customers can call a dinnertime hotline for support or suggestions for adding meat to the recipe
Cons: Dinner only; you still have to cook and clean up
The Green Gourmet Chicago (Delivery)
The Green Gourmet model is what I think of when I hear meal delivery service. The company does daily drop-offs of breakfast, lunch, dinner, and snacks; all you have to do is heat 'em up and eat 'em up. Though the meals are on the healthful side—salmon with asparagus and quinoa, blueberry buckwheat pancakes—the entrees look anything but bland.
Pros: Food for the full day; meals are easy to heat; consultants work with customers to craft menus beforehand
Cons: You're locked into the day's preset menu
Real Kitchen (Lakeview and Delivery)
Procuring a meal from Real Kitchen requires almost no preliminaries except for finding a parking spot. Each day, the shop's trio of chefs—hailing from honored eateries such as Charlie Trotter's and North Pond—crafts meals onsite using seasonal ingredients. The website lists its most current offerings of comfort food and hearty sandwiches. They'll also deliver pretty far and wide, making it a great choice for nights when I thought I might want to cook but then decided I'd rather catch up on Breaking Bad while the baby slept.
Pros: No subscription fee or commitment
Cons: Apps, entrees, and desserts are offered à la carte in single-serving portions, which could get pricey
BY: Aimee Algas Alker
Guide Staff Writer
Though Aimee stays up to date on the latest food trends for the Guide, most of her meals are served cold and cut into tiny, toddler-sized bites.