Here's Looking at You, Kid: A Conversation with Goat Farmer and Soap Maker Gretta Winkelbauer
BY: Dan Caffrey |
Aug 12, 2013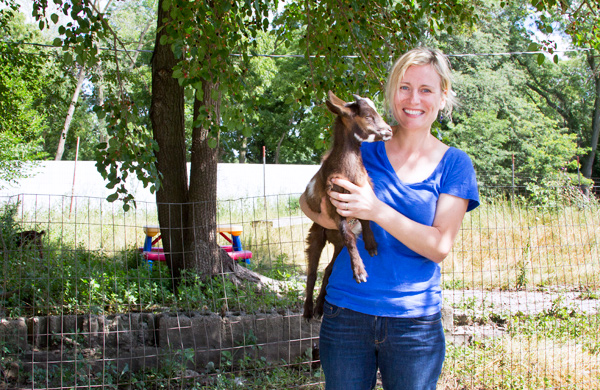 "I love them—they're my family," Gretta Winkelbauer says about her 25-goat herd. "They gave me a whole new life, so I owe them a lot." Even though she grew up on a small farm, Gretta never imagined she'd make a living as a goat farmer. But after teaching visually impaired children for more than a decade, Gretta found herself emotionally drained. Her heart led her to working with animals, and inspiration struck: by farming goat milk, she could do what she loved while also funding a program to support the children she used to teach.
Gretta's Goats
was born. I spoke to Gretta on the organic grounds she leases at
Prairie Crossing
, a conservation community in Grayslake, Illinois. Here, Gretta and a few friends oversee the entire soap-production process, from raw milk to completed bar.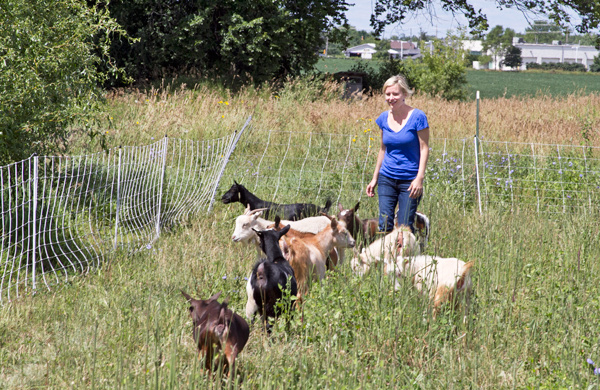 GROUPON: How did you first get into goat farming?
GRETTA WINKELBAUER: I grew up on a very small hobby farm as a kid, so I have a lot of experience with animals and livestock. I guess I always wanted to get back to that lifestyle. I found myself just daydreaming all the time about being with animals. I taught blind children for 15 years, and I really saw the benefits ... when I would take my students out for real-life experiences. Their mood just increased being around animals. I eventually want to do a therapeutic farm for kids. That's part of the reason I chose mini goats—they're easy to handle, and they're cute!
G: What's a typical day on the farm like?
GW: Around 6 a.m., I milk the goats. We milk the goats twice every day, seven days a week. We muck the stalls every day, feed everybody, give everybody water, do a wellness check, and trim feet and hooves. I also do four markets a week. We make soap in the afternoon and package and send orders out. Around 5:30 p.m., we milk again and finish up with all the chores around 8:30 or 9 p.m.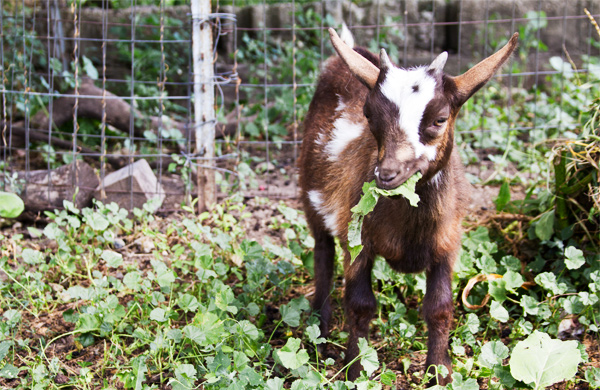 G: You only live about a half-mile from the goats. Do they ever try to snuggle with you in bed?
GW: [Laughs] Goats are really affectionate! They're very similar to dogs, and they are very social. They love to be with people. So they would. It's never happened, but they would.
G: I also hear that goats can be pretty vocal. Are any of your goats pursuing singing careers?
GW: Violet, one of my pygora goats—half pygmy, half angora goat—she knows me and goes "AHHH!" When I first got her I thought "Oh no! there's something wrong with her!" but that's just her saying "hi."
G: Tell me about the milking process.
GW: My husband built me some milking stands. Basically, the goats know their order of who goes first. They come up [to the stand], they eat grain, and I make sure their udders are very clean to prevent mastitis. We hand-milk—I feel like that's the best way to monitor [the goats'] health and well-being. It's a bonding time, too. They really get used to the person that milks them.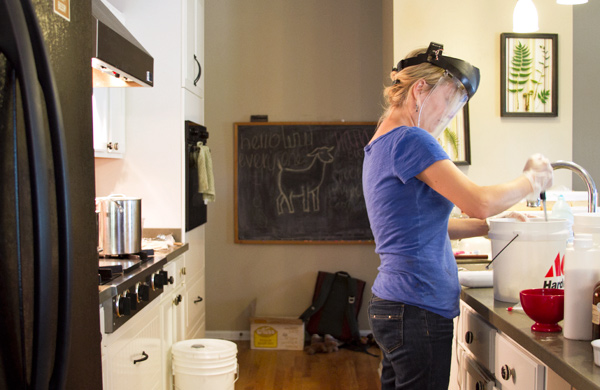 G: So now that you have the milk, it's time to make the soap. Walk me through the cold-process method of soap making. 
GW: First we milk the goats, and then bring the milk home and strain it for any impurities. We chill it down. [Then I] add sodium hydroxide [to the] milk and let it cool. Through saponification, [the mixture] goes through a chemical reaction, and you're just left with whatever oils you add and the milk. So it's still a natural soap. After it cools, I add the organic oils. I use coconut oil in my recipe for its cleansing properties and lather, olive oil, and sustainable palm oil. We don't use water or powdered milk in our soap. That's why I feel like our soap is so wonderful and moisturizing—because the main ingredient is milk, it's just supercreamy.
G: How long does production take, from milking the goat to ending with a bar of soap that's store-ready?
GW: [The soap] sits for a couple of days in the fridge or the cold basement. Then we cut it, and it cures for four to six weeks. We print our own labels, but because of the amount of soap we're selling, my neighbor—a screenprinter—has been making labels. But we still do a lot on our own. Mostly [my colleague] Erin and I do it all by hand.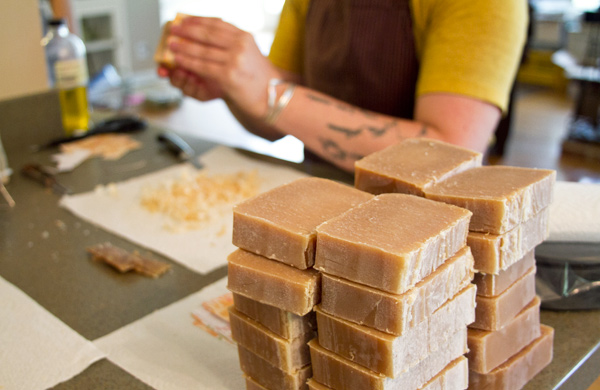 G: Do you have any favorite scents?
GW: Rosemary-mint and lemon and basil. The basil is grown by our farm friends, Midnight Sun Farm. Whenever I can, [I] use herbs from them. It all comes from the farm.
G: Which soap do you recommend for someone with sensitive skin or for children or babies?
GW: They're all really good for sensitive skin because of the goat milk. Almost half of my sales go to moms with kids with eczema. It really helps with the symptoms.
G: You're moving soon! Will you be expanding your business?
GW: I bought the farm [in Pecatonica, Illinois,] specifically because it has a huge industrial-sized building that'll be able to be USDA-certified for making cheese. It also has a separate area for a workshop. I'll be on farm with the animals and my workshop will be right there. [I'll] be able to look out the window and see their faces and know they're OK.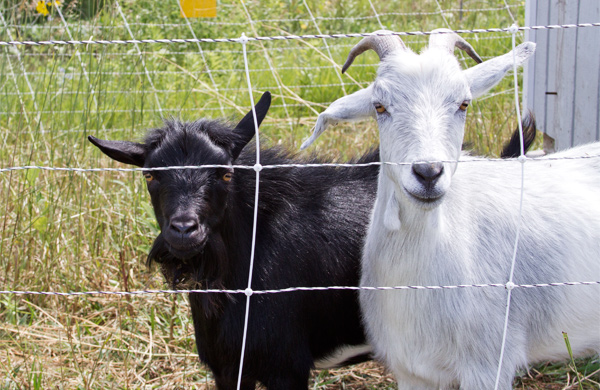 G: Tell me about the program that Gretta's Goats supports.
GW: [My husband and I] helped to start a
program
in Romania for visually impaired children. I was trying to think of ways to raise money, and that's where the goat-milk soap came in. I wanted to give back to blind kids without having to ask people for money. I thought, "What do I love to do? What are my favorite things in life?" Farm animals. So I started this business.
Gretta's Goats products can be found at several Chicagoland shops and farmers' markets or online at the company's Etsy store.
Photo: © Michelle Klosinski, Groupon
BY: Dan Caffrey
Guide Staff Writer
Outside of Work, Dan is a playwright, Senior Staff Writer for Consequence of Sound, and contributor to The A.V. Club.