Hibernate Like a Champion: Time-Consuming Media Experiences to Get You Through a Long Winter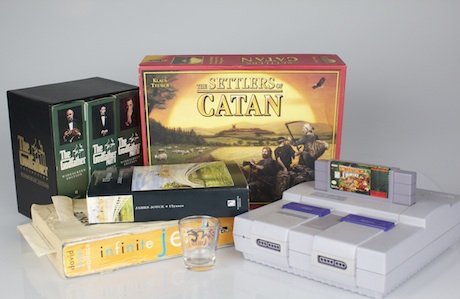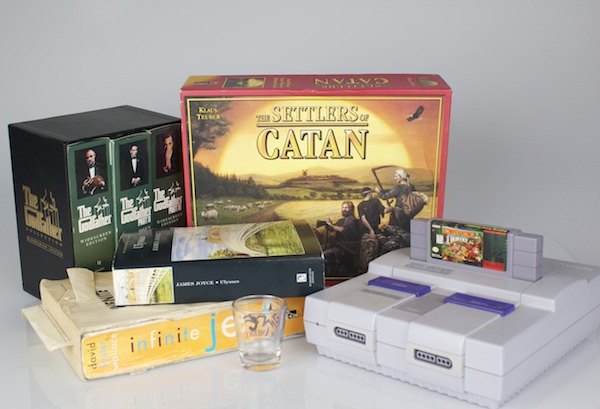 Against my better judgement, I braved last weekend's snowstorm to see a show at
Beat Kitchen
on Belmont Avenue. The turnout was impressive, considering the temperature had dipped into the single digits and the National Weather Service had just adopted the Twitter hashtag #Chiberia for Chicago. But things nearly took a turn for the worse when the singer of a touring band asked a question none of us wanted to think about:
"How can you people live in a place like this?" 
Like any good Chicagoan would, we wanted to beat him up and chase him out of our fair city. Maybe it was the freezing water in our socks or maybe it was the general sense that we have to conserve energy for a long winter, but we let him slide on that one. As a belated rebuttal—and with the help of the rest of the Guide staff—I offer up this list of sure-fire ways to get through the season without going stir-crazy. –
Collin Brennan
"Home Alone" Drinking Games
I survive winter by playing the
Home Alone 2
drinking game. The rules are simple: you take a shot every time a character should be dead. The problem is, this game can kill you. You'll have to lay down some ground rules. Don't drink for every brick Daniel Stern takes to the head. One is enough. And if you're still standing, the much-ignored
Home Alone 3
offers plenty of fodder for shot slams, including two electrocutions that make
The Green Mile
seem mild and the pièce de résistance: a moving push-mower landing on a villain's head. –
Roy Ivy
The Settlers of Catan
To paraphrase William Tecumseh Sherman, "I am sick and tired of [the board game Risk]. Its glory is all moonshine. [Risk] is hell." As a peaceable alternative to Risk, I recommend The Settlers of Catan. Instead of waging war on your fellow players, you trade commodities such as wheat, sheep, and lumber in a race to establish the most settlements and develop them into cities. It's the perfect wintertime board game because the land of Catan is a land of eternal summer, with all its harvestable, non-dead wheat, sheep, and lumber. And since gameplay is about two to three hours, there's more than enough time to get a little toasty from all that red wine your fellow settlers brought to share, er, "trade." Buy your own game (or sign up for a tournament) at Bucktown's
Cat & Mouse
. –
Lindsay Moore-Siegel 
Trilogy Box Sets on VHS
I was at a rummage sale in Milwaukee last summer when I stumbled across a gold mine: near-mint VHS copies of the
Star Wars
,
Godfather
, and
Mad Max
trilogies. As soon as I returned home, I ran out and bought a used VCR to replace the one that broke during my last move. The new one isn't great—you literally have to punch it in the mouth to get the tracking right—but it's helped me weather winter's colder days with hours of mob shootouts and Thunderdome battles. –
Collin Brennan
A Movie and a Drink at the Logan Theatre
If you don't mind waiting an extra few weeks to see a current blockbuster film (or revisiting an old cult classic at midnight while surrounded by a bunch of complete strangers), I'd suggest visiting the Logan Theatre. An in-house bar adjacent to the concessions stand can supply you with the booze to make either sort of viewing experience just a little cozier. Just let your bartender know you're seeing a movie, and they'll pour your drink into a plastic or paper cup and wave you on through. As an added bonus, they won't even call your parents. I'm also quite partial to the theater's spacious leather seats, and I haven't even fallen asleep in one—yet. –
Will Landon
"WTF with Marc Maron" and "We Hate Movies" Podcasts
Last year, my fiancée and I did the
Breaking Bad
binge-watching thing over Christmas break. It was great, but I also didn't get anything done. So I switched it up with podcasts this winter, catching up on
WTF with Marc Maron
and
We Hate Movies
while I wrapped gifts, wrote, and did housework. Recommended Maron interviews: Michael Keaton, Mel Brooks, and Jakob Dylan. Keaton seems so nice and so funny, Brooks is a class-act legend, and Dylan gets real passive-aggressive any time Maron brings up his more famous and talented father. There's also some great Michael Keaton crossover in
We Hate Movies
when the hosts tear apart the awful 1998 holiday film
Jack Frost
. –
Dan Caffrey
"The Secret History" by Donna Tartt
If you're a fellow bookworm, I'm probably the thousandth person to sing you Donna Tartt's praises. If you're not, then please, get thee a copy of
The Secret History
, her debut about a group of classics majors who commit a murder (don't worry—that's revealed in the first paragraph). The book clocks in at more than 500 pages, but rarely has a writer earned the heft. Each scene is more suspenseful and wickedly funny than the last. –
Sam Krowchenko
Vintage Video Games
On one otherwise unremarkable day in October, I received a refurbished Super Nintendo in the mail along with the
Donkey Kong
game trio. I shoved the plastic square into the console's trap door and started up the familiar organ-grinder theme song. It felt like the sixth grade all over again. Although modern first-person shooter games appeal to some, I have always felt the allure of solving a quest. Nothing answers that call better than whomping on nefarious monkeys who have stolen my hoard of bananas. –
Stephanie McDaniel
Guy Delisle's Graphic Travel Novels
Last winter, I binge-read all of the
Game of Thrones
books. If you haven't done that, then do it. If you have, then I recommend a quicker binge-read: Guy Delisle's graphic travel novels. Graphic novels and comics are usually a fast read compared to novels, and each of Delisle's explores an area of the world that you might not get to vacation to anytime soon. In them, he illustrates and recounts his lengthy stints working in a North Korean animation studio and witnessing the Gaza War while traveling with Doctors Without Borders. So, from the couch next to your radiator, you get to visit destinations like Burma, Jerusalem, Pyongyang, and southern China. –
Courtney Ryan
Political TV Dramas
Last winter, my boyfriend and I digested the entire
West Wing
series on Netflix Instant in an embarrassingly short time span. This year, we're keeping our couch warm while binge-watching
Scandal
, another DC-based drama with Aaron Sorkin–paced dialogue, familiar
West Wing
carryovers such as Joshua Malina, and the one thing the Bartlet White House was missing: lots and lots of murder.  –
Emily Wachowiak
Photo by Collin Brennan.