Hitchhiking Ghosts and Devil Babies: Halloween at the Chicago History Museum
BY: Tyler Clark |
Oct 30, 2013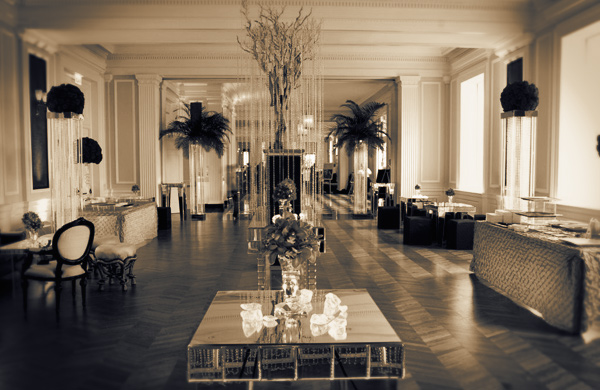 Tonight, the Chicago History Museum hosts Boo: A Halloween Ball, its swanky-yet-spooky celebration of the city on All Hallow's Eve. DJ sets, exclusive cocktails from Chicago mixologists, and live magic demonstrations support the night's main event: Chicago ghost stories, retold by a quintet of professional actors. Admission is $50 for the public and $40 for museum members, and includes hor d'oeuvres and two cocktails; purchase tickets here. Boo: A Halloween Ball runs from 7 p.m. to 11 p.m., and is intended for ages 21 and older.
She's been out there for years, standing on the lonely stretches of Archer Avenue that snake through the South Side. Wearing a party dress, she tries to hail any car that passes by. Most drivers don't notice, or don't stop if they do, but there are always the good samaritans willing to give someone a ride home on a dark night. Mary needs that ride, needs home in the worst way. However, as the car approaches the solemn gates of Resurrection Cemetery, she always returns to the deserted sidewalks, leaving nothing in the car but an empty seat and a wide-eyed, disbelieving driver.
Resurrection Mary
doesn't use the door.
NEW FRIGHT FROM OLD STORIES
Mary's story has circulated in Chicago since the 1930s, but, like the other yarns spun at Boo, it takes on a new life when told to visitors in one of the museum's secluded corners. Lurking in these shadowed nooks and crannies, the five storytellers beckon guests to them so they can share haunting tales of the Windy City's supernatural side. The performers aren't specters tasked with one more show before slipping off to their eternal reward. Rather, they're actors under the command of director Jessica Thebus, the Steppenwolf veteran and Northwestern University faculty member who first brought Chicago's ghost stories to the stage in 1999's
Whispering City
. Along with collaborator Michelle Volansky, Thebus helped add heft to the stories, all of which were a bit narratively thin. "As a theatrical adapter, ghost stories are weird, because they're not structured like stories," Thebus said. "When you're making one into a story, you're sort of taking that incident, and imagining what could've happened or what might've happened, and putting those into the mouths of different storytellers. As artists, we've added our own voices, and embroidered the stories a little bit. That's all part of the process. That's what everybody does who's telling these."
DEMON BABIES, MURDEROUS MOTHERS, AND WATERY DISASTERS
The five tales—each one told multiple times throughout the evening—represent some of Chicago's most enduring legends, some of which have been around for nearly a century. In addition to conjuring Resurrection Mary, storytellers will summon "
The Devil Baby at Hull House
," the alleged demonic child that terrorized the minds of Hull House's residents throughout 1913. An incarnation of the Devil himself resulting from blasphemous statements made by the father (his words vary depending on which version you hear), the baby was said to be born with horns, cloven hooves, and a pointed horn, as well as a profane vocabulary. The reported sightings of The Devil Baby were so frequent that Hull House founder Jane Addams took to investigating them. Thebus notes that, although the story boasted no evidence, the rumors persisted for months, gaining power as they spread to other parts of the city. Other tales draw upon different parts of local lore and history: "The River" replays 1915's
Eastland Disaster
from the perspective of the apocryphal circus performer who might have helped cause it. "The Night the Devil Danced at Kaiser Hall" recounts the story of a big-band concert visited by an underworldly dancer, and "The Weeping Woman" transports
La Llorona
—the ghost of a mother tormented by the children that she murdered in life—to one of Chicago's Mexican-American neighborhoods.
OTHER HALLOWEEN SPIRITS
Of course, scary tales and a chance to wander one of Chicago's eminent museums after dark aren't the only things attracting partygoers to Boo. After getting spooked by the ghost stories, guests can encounter spirits of a different sort: exclusive cocktails from renowned Chicago mixologists that include
Scofflaw
's Danny Shapiro,
Moët Hennessy
's Justin Cochren, and
Drumbar
's Paul Bastien. The drinks themselves reflect the darkening night in both flavor and theme. Bastien's Highwayman blends a warming glug of Laird's apple brandy with the essences of averna amaro, lemon, and raspberry, and Cochren's El Diablo plays to Old Scratch's love of the hard stuff with a blend of Olmeca Altos Reposado tequila, creme de cassis, Fever Tree ginger beer, and lime. Elsewhere in the galleries, eerie music emanates from the speakers of Gold Noise's
DJ Nix
, whose sets at
The Bedford
, Studio Paris, and the
Hubbard Inn
regularly draw throngs of dancers. There's magic, too, courtesy of local tricksters
Benjamin Barnes
and
David Kovac
. As the clock approaches the witching hour on Halloween night, the party begins to wind down. Having inspired some gasps and put their own spin on some timeless Chicago legends, Thebus's performers will fade back into the shadows, leaving audiences with the only thing any ghost ever truly leaves behind: a great story.
Photo courtesy of Chicago History Museum
BY: Tyler Clark
Tyler is a writer, storyteller, and musician from Chicago. His stories have appeared on stage at shows including Mortified, Story Club, and Lethal Poetry.