Holiday Agenda: December 23–25
BY: TYLER CLARK | 12.23.2013 |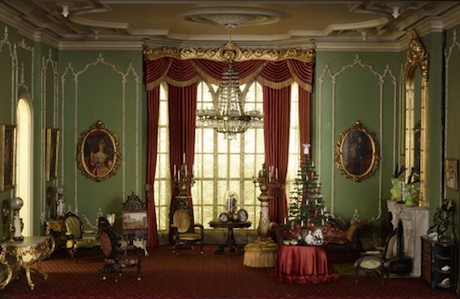 Christmas at the Art Institute
August art museum celebrates Christmas with a Neapolitan crèche, holiday decorations in the miniatures room, and normal hours on Christmas Eve
By Christmas Eve, everyone who's leaving the city should be well on their way to their far-flung destinations. If you have the day off, take advantage of the (relative) empty city and head downtown for a leisurely trip to the Art Institute of Chicago (111 S. Michigan Ave.). Under the watchful eye of the museum's wreath-bedecked lions, you can check out holiday-themed installations including the fascinatingly intricate Neapolitan crèche (which made its Art Institute debut earlier this year) and the impossibly tiny period decorations that brighten up the miniature Thorne Rooms. The museum also features some tempting (and soon-to-close) temporary exhibitions, including Art and Appetite: American Painting, Culture, and Cuisine. (Monday and Tuesday, 10:30 a.m.–5 p.m.)
Delilah's Rockin' Christmas Eve Party
Wait for Santa with DJ Ivana Riot, $2 High Lifes, and a screening of Johnny Cash's 1979 Christmas special
For parents, Christmas Eve is often spent frantically putting bikes together, wrapping last-minute presents, and grabbing 20 minutes of sleep before being awakened at 5 a.m. by gift-crazed kids. If you find yourself with such obligations, be brave. If not, head over to Delilah's (2771 N. Lincoln Ave.), where $2 High Lifes and shots of Zachariah Harris bourbon await to envelop you in the warm glow of kid-free cheer. While you're there, raise a glass to a Christmas classic: the bar will be screening 1979's Johnny Cash Christmas Special, in which the Man in Black learns the true meaning of the holiday with a little help from comedian Andy Kaufman. DJ Ivana Riot will also be on hand to lay down some saccharine-free tunes. (Tuesday, 7 p.m.; admission is free)
Leonardo DiCaprio and Martin Scorsese explore the origins and excesses of greed in the story of stockbroker Jordan Belfort
Leonardo DiCaprio is never as magnetic as when he's taking direction from Martin Scorsese. The pair renews that powerful partnership for a fifth time with The Wolf of Wall Street, which chronicles the rise and fall of disgraced stockbroker Jordan Belfort during the free-wheeling days of the '90s investment world. Fueled by ill-gotten cash snagged in a penny-stock swindle, Belfort and his compatriots indulge in the bacchanalian excesses of the rich and morally unsound. Underneath the frequent sex and flamboyant drug use lies a message deeper than "greed is good," though: as the excesses pile up and the punishments seem less and less likely, you'll find yourself questioning how the system sustains itself and at the expense of whom. Occupy populism never looked so stylish. (Opens Wednesday; click here for a list of theaters and showtimes.)
Most of the cool stuff's closed on the 25th, so catch your breath with a lazy day inside your own cozy house
, we're normally obsessed with helping you discover the wide wonders of the city beyond your own front door. On December 25, though? Stay in. Bake some cinnamon rolls. Build a fort out of wrapping-paper tubes. Maybe catch up on your Netflix. Even if you don't celebrate Christmas, just take some time to rest up in your best pajamas. 2014 is just around the corner, and if you're going to keep up with us all year, you're going to need all the energy you can muster.
Photo courtesy of the Art Institute of Chicago
BY: Tyler Clark
Guide Staff Writer
Tyler is a writer, storyteller, and musician from Chicago. His stories have appeared on stage at shows including Mortified, Story Club, and Lethal Poetry.