Homespun Haven: Milk Handmade's Hallie Borden on Putting Local First
BY: Sarah Gouda |
Mar 27, 2013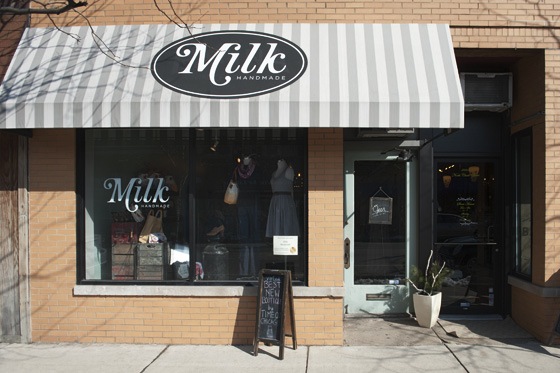 It's fitting that Hallie Borden chose a storefront in Andersonville when she opened
Milk Handmade
, the 100% handcrafted women's boutique deemed one of 2012's best by
Time Out Chicago
. The North Side neighborhood is notorious for its near lack of chain stores and fervent support of local shops and restaurants. The result is a charming enclave of thriving small businesses situated up and down Clark Street, including Milk, the Women & Children First bookstore, and some of the city's best antique and home stores. Here, Hallie shares her take on why the local-first movement matters.
Q: What's your reasoning behind selling strictly handmade goods?
A: Handmade clothing is really underrepresented in brick-and-mortar shops, and I wanted to make it easy for people to support independent designers rather than giant corporations. The fast-fashion industry isn't good for the environment, the economy, or your closet, and more people are trying to pare down their wardrobes and buy only high-quality, ethically made pieces. I agree with that philosophy, and wanted Milk to reflect it.
Q: Do you make a point of featuring Chicago designers in the store? 
A: I always start local and then spread out. The Chicago handmade fashion scene is flush with amazing jewelry designers like Dallas Maynard, Michelle Starbuck, and Nicki Jean, and everyone's favorite dresses in the store are from Squasht by Les, a local clothing label.
Q: How do you feel about the Chicago fashion scene in general?
A: Chicago is a really safe, nonjudgemental place to experiment with your personal style. I love that I feel comfortable wearing jeans or a cocktail dress to almost any restaurant—there are fewer fashion rules to play by here.
Q: What advice do you have for someone looking to support the local business community?
A: Buy from your neighborhood businesses! You might pay $0.50 more for that bottle of Advil at your local pharmacy, but that money cycles right back into your community. For every $100 in consumer spending at small businesses, $68 goes back into the local economy, compared to $43 when shopping at chains.