How a High-School English Teacher Assembled One of Chicago's Coolest Modern Furniture Collections
BY: Emily Donelan |
Apr 25, 2014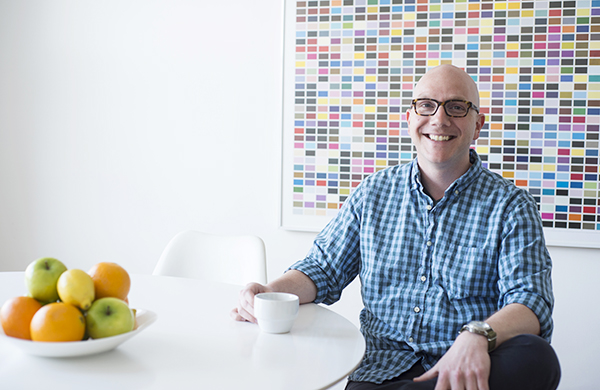 Nick Roux has a knack for finding Eames lounge chairs and Saarinen tables for cheap. Peek inside his striking Lincoln Square apartment and find out how he does it.
It only took one rocking chair to make Nick Roux fall in love. Eight years ago, Nick, now the head of the English department at the Chicago Academy for the Arts, was living with a friend who had single-handedly furnished their apartment. Nick wanted to buy his own furniture, but there wasn't much room, so he started small: a fiberglass Eames shell chair with a rocking base for his bedroom. "That hooked me, and as soon as I had my own place, I decided to not buy anything I didn't think I'd keep or value."
Soon he was stalking Herman Miller, George Nelson, and Jasper Morrison pieces, slowly building the furniture collection that now fills his Lincoln Square apartment—not to mention a pair of storage units in the basement.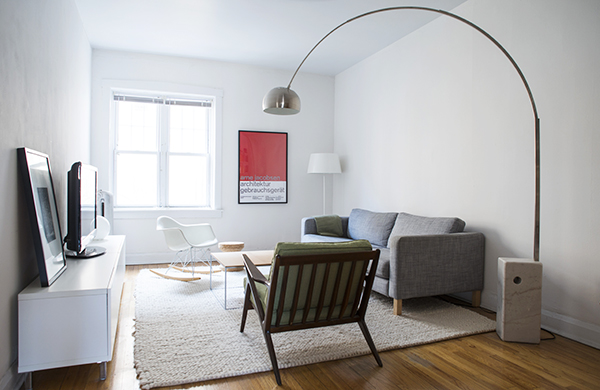 The process Nick follows to grow his collection is disciplined. When he's on the hunt, he searches eBay, Craigslist, and higher-end online auction houses twice a day—once with his morning coffee and again right before bed. He even checks Craigslist postings from around the country and has developed a strategy for items that have been sitting awhile. "[I'll] say: 'Hey, if I coordinate shipping, can I mail you a check or PayPal you?' I would say 75% of the time the answer is 'Yes.'" Is it weird to mail a check to someone he's never met? "Maybe, but I've only had good luck."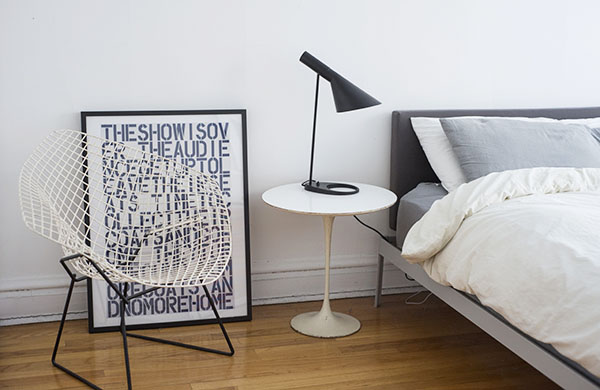 These techniques scored Nick the green upholstered Selig Z-Chair in his living room, as well as an iconic Eames lounge chair and ottoman that's currently in storage awaiting minor repairs. The lounge chair, with its molded plywood shell, tufted leather seat, and matching ottoman, is Nick's best deal to date. He got the set, which often retails for $3,500–$4,000, for about $150.
The lounge chair was actually listed as part of an eBay auction for two chairs; both were in bad shape with failed shock mounts and ripped leather seats. After three auctions, the seller dropped the price substantially and Nick swooped in, having negotiated inexpensive shipping through uShip, a website where carriers bid on moving jobs. "It's usually people with trucks who have extra room on a normal route or just coordinate multiple-delivery trips that are worth their while," he said. Once he got the chairs home, Nick fixed one up and sold it for nearly the purchase price for the pair.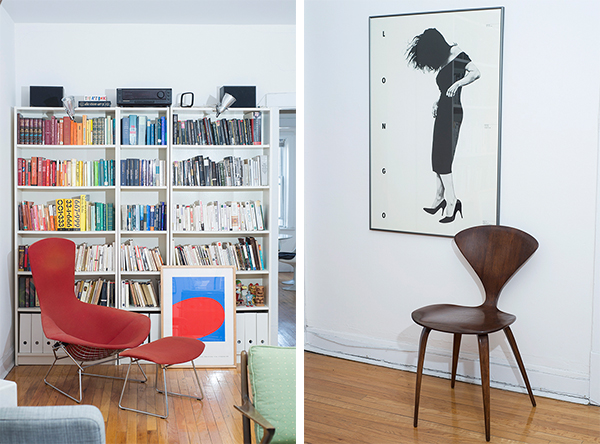 Although the lounge chair he kept still needs a little love, he's glad to have it, naming it one of his favorite pieces. "I know it's cliché and ubiquitous, but I think that's for a reason—the combination of wood, leather, and metal is so great. Plus it has a homey feel. It looks modern but exudes comfort."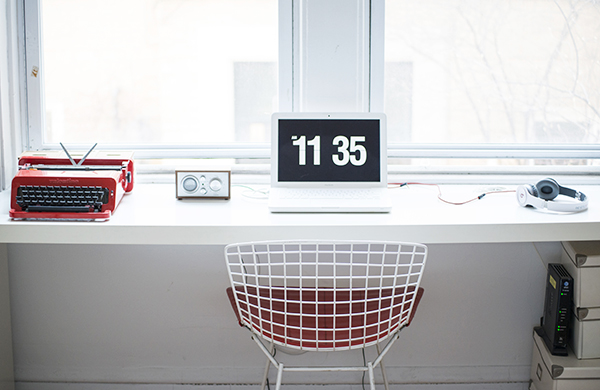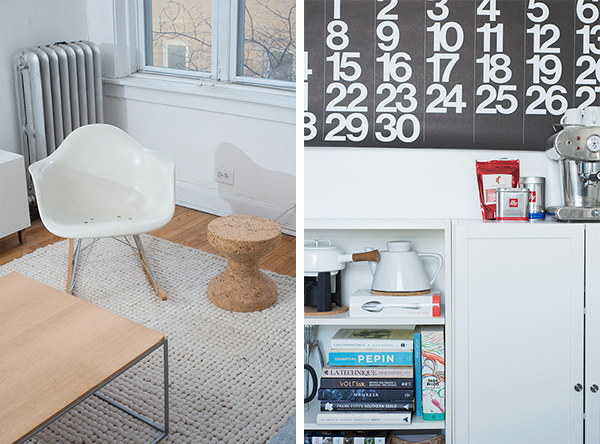 The same could be said for Nick's home: modern yet comfortable. The fear with a modern apartment is that it will feel too minimal or cold, but in Nick's case, pops of bright color and soft textures warm every room. There's a bright red typewriter on his desk in the bedroom and a colorful Gerhard Richter print hanging in the dining room. In the living room, an orangey-red Bertoia Bird chair and ottoman, a soft white looped West Elm rug, and a Jasper Morrison cork side table sit proudly next to Nick's first love: that Eames fiberglass rocker.
Over the years, Nick has branched out from Eames and other midcentury American designers, adding variety to his collection with Danish midcentury pieces and contemporary designs. But looking around, you might not be able to tell the new from the old. For instance, in the dining room where he spends most of his time—reading, grading papers, and entertaining—a Random Light by Bertjan Pot hangs above a Saarinen table and chairs. Nick delights in the juxtaposition. "To me, it's cool that a light fixture from 2002 can hang above a table-chair set from 1958 and they look like they belong together."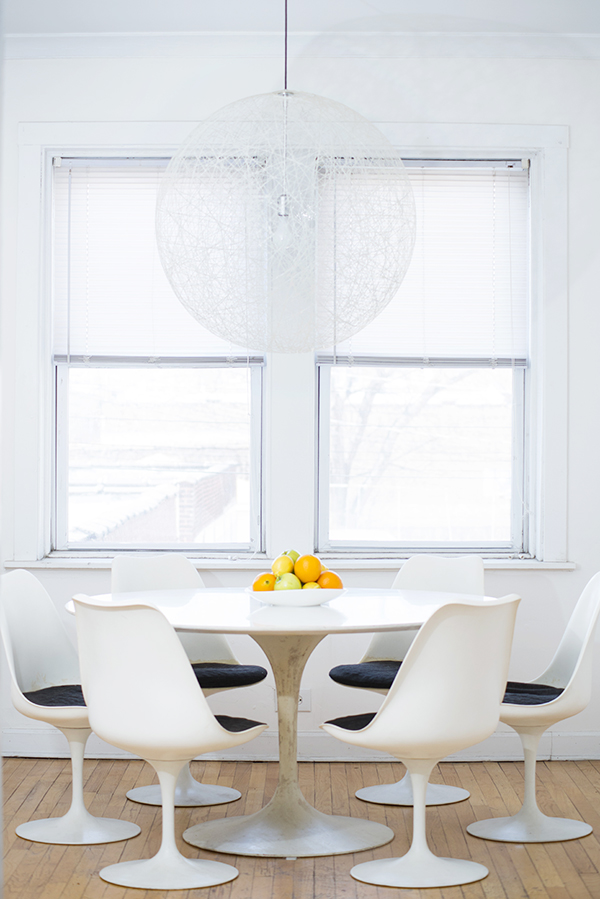 Part of what unites these pieces is that they are driven by the same ideas, which permeate modern design: that functionality is as important as appearance and that simplicity can be beautiful. Nick is drawn to the pieces' smooth lines, which stand in contrast to the intricate carvings and ornate patterns of art nouveau and Victorian furniture. "I'm interested in the convergence of furniture that is aesthetically appealing, comfortable, [and] without needless adornment," he said. "Where all of this comes from, I'm not really sure. My parents' house is a mix of English and French country, so who knows."
Shop items for home and garden on Goods.
Photos: Tm Burkhart, Groupon