GROUPON GUIDE TO WASHINGTON-DC
How Afrobella Blogger Patrice Yursik Learned to Love Her Natural Curls
BY: Mae Rice |
Mar 14, 2016
When Patrice Yursik was first picking a name for her blog, she knew it had to have "bella" in it somewhere. She liked that it was an internationally recognized word for beauty, and she "wanted the whole framing of [the blog] to be, 'Traditionally, we have been told we aren't beautiful, but we are.'"
Celebrating beauty of all shapes and shades is what Afrobella is all about. In covering topics like natural hair, plus-size fashion, and makeup for women of color, Patrice gave voice to an often-overlooked demographic in the beauty world. Nowadays, her expertise is sought out by everyone from Glamour to Essence to Target. But while Afrobella spreads the message of self-acceptance—and hair acceptance—Patrice hasn't always found it easy to love her hair. Before she was a champion for natural hair, she was a 3-year-old with a boy's haircut and a college student using drugstore relaxers. To find out how she got where she is now, I chatted with her to put together a timeline of her landmark hair moments.
1982: Bullies Who Braid
When Patrice was 3 years old, she was playing on the swing in her yard with some older neighborhood girls who offered to braid her hair. It seemed fun! But then they ran away. When she tried to get off the swing, she couldn't—her hair was braided into the chain. Her parents ended up cutting off all her hair to free her. "I remember feeling like a little boy," Patrice said. "And feeling unhappy with my appearance at such an early age."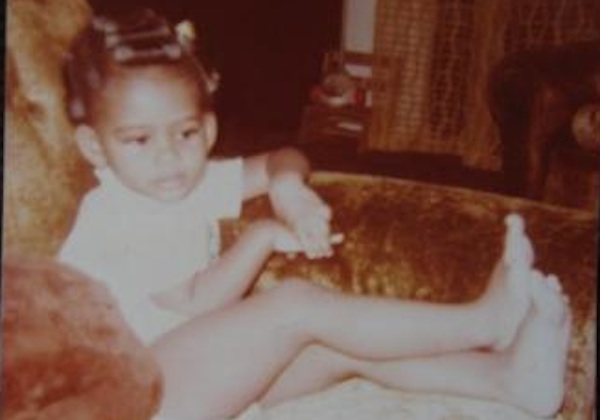 1985: Burned by Relaxer
After the swing incident, her hair grew back into thick, coarse curls that she hated shampooing. By the time Patrice was 6, her mother was at her wits' end and took her to get her first relaxer. Afterward, Patrice's hair was silky and soft. She remembered thinking, "Oh my God, I have this Barbie hair now!" She also remembered the relaxer leaving scabs all over her head—but she thought that was normal. Now she realizes that her childhood stylists often skipped steps, like putting a base on her scalp to keep the chemicals from burning her.
1991: Dennis, Hairstylist and Teacher
Patrice thinks of Dennis as her first real hairstylist. He was the first person to ask Patrice what she wanted her hair to look like, and the first who treated hairstyles as a form of self-expression. This sometimes led to a few surprises when Patrice's mom picked her up from the salon. "She'd be like, 'I didn't tell him to put a red streak in your hair,'" Patrice said. "And I was like, 'Well, I did.'"
1998: New Country, New Hair
Patrice moved from her native Trinidad to the US to attend the University of Miami—without Dennis. Her first purchase of drugstore relaxer came with rubber gloves. "I have to put gloves on my hands to protect them from this thing I'm about to put on my head without any protection?" she remembered thinking. Patrice did it, though, thanks to a couple of friends who helped her reach the back of her head.
2000: Not Quite Natural
After a few years, the DIY relaxer was starting to wear on Patrice's hair. So her sophomore year, she cut it all off and resolved to go natural. That promise was tougher to keep than it seemed, though. Every once in a while, she would crack and relax it again, then let it all grow out—a process akin to yo-yo dieting.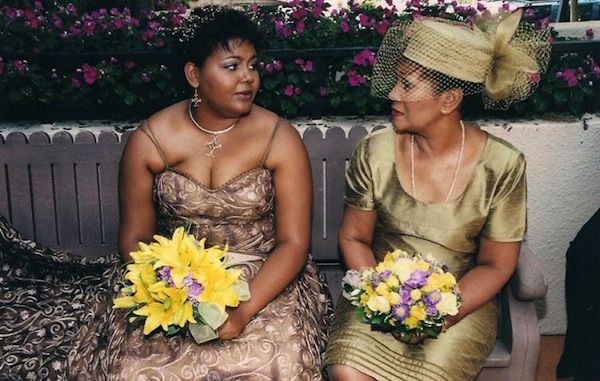 2002: Wedding Hair and White Lies
Patrice and her husband got married three weeks after their college graduation. Before the ceremony, she went to get her hair relaxed with her mom in tow. She had recently cut her own hair and was trying to hide that fact from her salon-devotee mother. When the stylist asked Patrice about the weird cut, she blamed a terrible stylist who didn't exist. "Why am I living this lie of hair on so many levels?" she thought. It was the last time she got her hair relaxed.
2002–2006: Natural Hair, Take Two
Patrice was determined to finally learn about natural hair, but it wasn't easy. In the beginning, she used only the "very limited products in the African American hair section" at the drugstore. Over time, though, she graduated from greasy products to her current favorites: Shea Moisture, Oyin Handmade, and Karen's Body Beautiful, all of which are available at Target. (For detangling, she also loves the huge and heavy Ouidad Double Detangler).
2006: Afrobella Is Born
Patrice started her blog because she couldn't find anyone online who looked like her. "When I say look like me, I mean natural hair, brown-skinned, loves makeup, plus-size," she explained. She didn't think she could be the only one who wanted to see this—and she was right. Today, she has thousands of readers thanks to her signature mix of practical product tips and philosophical advice. For example: "You have to learn how to love [your hair] and not compare it to somebody else's," she said.
Photo credits: Childhood photos courtesy of Patrice Yursik; top image courtesy of Chuck Olu-Alabi.