How Christine Petric (5'2") and Kacy Karlen (6'4") Find Clothes They Love
BY: Mae Rice |
May 6, 2014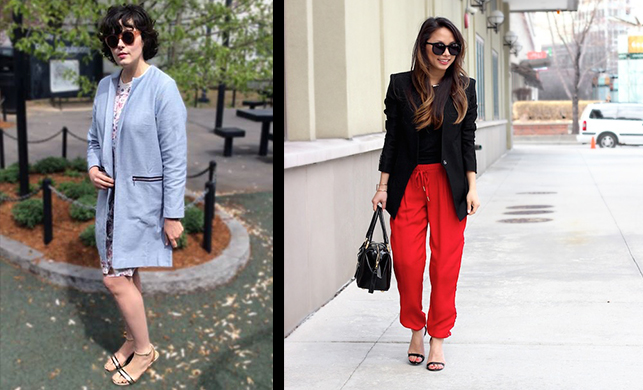 Christine Petric and Kacy Karlen both started fashion blogs in 2010, and over the past four years, they've both attracted serious media attention. Christine has been featured everywhere from
Glamour
to
New York
magazine's The Cut; Kacy has enough of an international profile that she landed a spread in
Elle Finland
. The similarities don't end there. Both bloggers love slim-fit, slouchy pants and struggle to find shoes in their sizes, which means they would both marry the shoe section at Nordstrom in a heartbeat (the women's sizes there go from a 4 to a 14!). And yet, there will always be a big gap between Kacy and Christine—a 14-inch height difference, to be exact. Christine runs
The View from 5 ft. 2
, and Kacy, who is 6'4", runs
The Height of Style
. I wanted to find out more about how Kacy and Christine's heights affect their fashion philosophies, their shopping habits, and their day-to-day lives. I also wondered about the similarities and differences between their experiences in the fashion world. So, I arranged an online Q&A with the two of them.
GROUPON: What's the best thing about your height?
CHRISTINE PETRIC: It's easy to maneuver around! You can always find your way in and out of places easily, and you can duck under things that most other people can't. KACY KARLEN: See, Christine, I wish I had that! Everyone hears and sees me coming, but my height is great for finding friends in airport crowds, having a clear view of the band at standing-room-only shows, and reaching groceries on the top shelf for little old ladies. Little old ladies love me—that has to be the best thing about being this tall.
G: What about the most annoying thing?
CP: Not being able to see many, many things. Living on your tippy-toes! KK: I've accepted the daily and inevitable "how tall are you?" questions, but that doesn't mean I enjoy answering them ad nauseum. Some inquisitive (and likely well-meaning) people have gotten the brunt of my pre-coffee irritability, I'm sorry to say.
G: What do you think about the "rules" for what's flattering on tall and short people (e.g. "tall people should avoid heels")? Both of you seem to experiment way more than you follow these rules, but I'm still curious what you think about them.
CP: Typically, I've heard that tall people should avoid really short bottoms/skirts, and short people should avoid cropped items and things that are too long because they engulf your legs. I think it really just depends on your proportions. A petite with longer legs and a shorter torso can likely get away with some of those supposed faux pas. KK: Well said, Christine. I find that it's less about height and more about body type. I also just don't think there are rules anymore—save for the rules of figure-flattery and dressing in a way that feels comfortable and right.
G: We're all about forcing people to compliment themselves, so can you tell us about your favorite look you've posted on your blog so far?
CP:
This
is my favorite as of late, because it shows a way to style something that many petites would be afraid of. You see pants on leggy tall people and think, "I couldn't pull those off." But you can! KK: I love that outfit, Christine—super elongating! For me, the first look
here
, with the tuxedo blazer, jacquard skinny pant, and sequin tee, is one of my favorite outfits to date. I've met a lot of tall women who have been nervous about wearing overtly masculine styles for fear of being mistaken for a guy, especially if they have a short hairstyle, but I felt super empowered (and very feminine) in my take on tuxedo dressing.
G: That's awesome! I feel like you guys constantly surprise your readers with how versatile fashion for tall and short people can be. Can you talk about a time when you surprised yourself with a fashion hack for your height?
CP: I originally thought I could never wear full skirts. I just thought they were better suited for long legs. But I figured out that I can wear them—I just have to proportion them for my height. I take the hem up, raise the waistline, and wear mine high-waisted. KK: I never thought I'd wear a crop top. Not only do I have a less-than-flat midriff and a very short waist for my height, I figured wearing one would truly ensure that I looked like I was either top-heavy enough to fall over or growing out of my clothes, Incredible Hulk–style. What I discovered is that by pairing cropped tops with high-waist, slim-slouchy black trousers, I look surprisingly lean and intentional (no stomach baring required).
G: Where are some of your favorite places to shop?
CP: Nordstrom, because they carry so many different sizes and shoes that always meet my needs. I also love Zara, Anthropologie, ASOS, and Ann Taylor, because they fit petites well. All of them except Zara have sections or lines devoted specifically to petites! KK: I certainly echo Christine on the Nordstrom shoe selection. I also love
Barefoot Tess
for shoes. For clothes, I love
Long Tall Sally
, ASOS, and J.Crew. For splurges, I like
Yoox
; for basics, I love good ol' Gap. All of those have dedicated, if not extensive, tall lines and large-size footwear—save for Yoox, but certain designers tend to run long. (Some examples off the top of my head: Valentino, Cacharel, Vivienne Westwood.)
G: Where do you get fashion inspiration? Fellow bloggers? Readers?
CP: I follow Jean of
Extra Petite
and
Wendy's Lookbook
, and get ideas from them. I also know of some other petites here in Chicago, and their feedback has been great! KK: I've found the web community of tall women to be inspiring, articulate, and supportive, and I tend to borrow select blogging cards from the playbooks of my peers, including Alicia Jay of
Tall Swag
and Laura of
All the Tall Things
. As with most niche communities, there's automatic and easy rapport between tall style bloggers and readers—we run in the same vertical circles.
This interview has been condensed and edited.