How Raw-Foods Expert Karyn Calabrese Is Making Wrinkles Look Good
BY: Kelly MacDowell |
Apr 23, 2013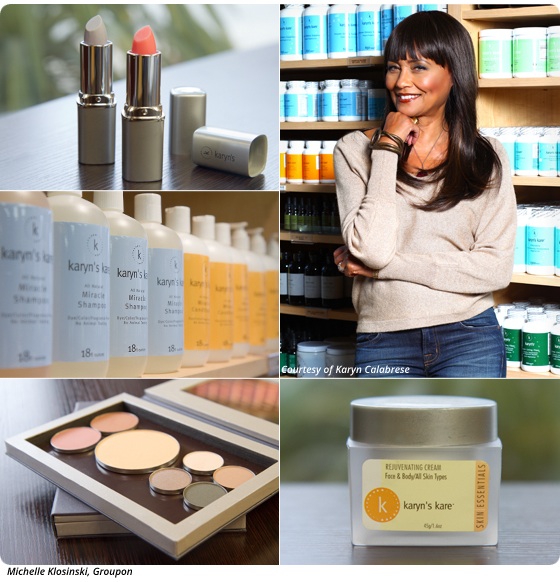 When Karyn Calabrese saw the preview for the cover of her first book,
Soak Your Nuts: Cleansing with Karyn
, the raw-foods expert and restaurateur was unhappy with how perfect she looked. "They had it so retouched at first I was like, 'That doesn't look like me, so I can't do that.'" A former model, Karyn didn't always hold this point of view: there was a time when she refused to check the mailbox without being completely made up. Today, it's only natural that Karyn's adherence to raw foods would lead her to embrace natural beauty. At 66, she readily admits that her skin shows age ("I'm not wrinkle-free. You can tell things are moving."), but that's not the point. Her skin is an anomaly—underneath the fine lines, it's bright, clear, smooth, and really,
really
soft. (Yes, she let me feel it.) The secret, apparently, is coconut oil. She's not trying to look 26. But she also doesn't look 66. She just looks great.
Skincare Treatments Good Enough to Eat
Karyn's philosophy is simple: "I don't put anything on my body that I wouldn't put in my mouth." She puts her words into action at free seminars, which she holds twice monthly at
Karyn's Raw
. Though the seminars cover a range of topics, she's been known to lead a demonstration where she turns raw foods into skincare treatments, and then makes a salad from the leftovers and eats it. At Karyn's Inner Beauty Center, her aestheticians use a similar approach. Inside treatment rooms, they have jars of hemp seed, seaweed, and natural clays. They also have food processors, and after performing a skin analysis, the experts might hit up the adjoining Karyn's Raw kitchen for fresh, organic, whole foods, which they then transform into therapeutic facial treatments. But this is a luxury spa after all, so the services aren't entirely homemade. The raw-food treatments are used in conjunction with professional-grade atomizer facial steamers, IPL machines, and microcurrent Myopulse technology.
The Real Hero Beauty Products: Antioxidants, Botanicals, and Minerals
As a complement to her all-natural facial treatments, Karyn also has a line of private-label skincare products. Creamy Cleanser bars ($23.95) are made from cold-pressed essential oils infused with white tea, kombucha, or ylang-ylang. Her top-selling product is the Replenishing cream ($39.95), which has a complex anti-aging blend that includes organic coconut, aloe vera, vitamin E, essential oils, and co-enzyme Q10. For her makeup line, Karyn enlisted the help of Lori Meltzer Design, a private-label cosmetics consulting company in Chicago. Together, they worked to create a collection that does more than just cover flaws—each product is formulated with ingredients that aim to improve skin's tone and texture. Loose and pressed foundations ($28–$40) are made without fillers such as talc; instead, they use 100% minerals that have naturally occurring pigments. They're also infused with antioxidants such as vitamins A and E, as well as skin-soothing green-tea extract and lavender, and have an SPF of 20. The tinted face primer ($24) makes foundation and concealer go on smoother, but the product's slight tint and ability to fill lines and pores also make it great to wear on its own. Mascaras with plant-based lethicin ($18) can help lashes grow, and vegan makeup brushes ($10–$32) are made from birch wood and synthetic fibers.
To Each Her Own
Though Karyn is committed to an all-natural approach, she's quick to clarify that this is simply her chosen method of maintenance. She's not a staunch opponent of cosmetic injections or plastic surgery; it's just not her cup of tea. "Whatever you can afford and you're happy with, I'm all for that. I'm just here to show you there's another world to step in, and you can do it this way, too."
BY: Kelly MacDowell
Kelly's first concert was Fleetwood Mac and her first career was in the beauty industry. Now a style and music writer, she loves Project Runway and her dog, Watson.