How the Strangest Minor League Baseball Mascots Are Made
BY: Collin Brennan |
Mar 27, 2015
The Montgomery Biscuits recently won a title, but it's not the kind of title that most baseball teams vie for. In January, the Biscuits were crowned champions of Sporting News' Minor League nickname bracket, which featured such fierce competition as the Toledo Mudhens, the Batavia Muckdogs, and the Vermont Lake Monsters. It may not come with a trophy, but for Sherrie Myers of Professional Sports Marketing, it's the stuff of dreams.

Myers and her company own the Biscuits as well as the Lansing Lugnuts, but ownership in the Minor Leagues is a tricky thing. For one, your team's Major League affiliate has complete control over the players on the roster. "You don't know whether you're going to win or lose," Myers explains, "so you can't even really promote that."

Instead, Myers and her Minor League counterparts have learned over the years to focus on what they can control: the team names, the mascots, and the general fan experience. Here's how they do it.

Step 1: Embrace the Weirdness
"Around 20 years ago was when we knew we needed to start making it entertaining," Myers remembers, and so she and her associates began to embrace the "fun, wild, wacky" side of the sport. They started by branding their Lansing team the "Lugnuts," a name that pays homage to the city's automotive history while also sounding kind of funny.

Though Lugnuts seems relatively tame compared to some of the weirder team names out there today, it was nothing short of revolutionary at the time. "The idea was always that [the name] had to be something like the 'Senators,'" Myers explains. "It had to be serious. It had to be tough. Lugnuts? Well, everybody's going to make fun of you." And that's precisely what everyone did.
Step 2: Convince the Community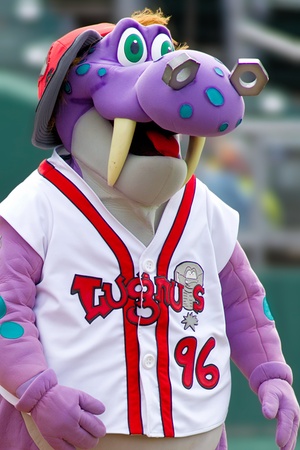 "Everybody thought it was atrocious," Myers remembers with a laugh. "The newspaper articles were horrible. You literally wanted to go hide, because everybody was mocking it."

But she also noticed something curious: people were lining up around the corner to get their hands on merchandise. Even David Letterman got in on the fun, wearing a Lugnuts hat on his show and pronouncing it "the best name I've ever seen."

The Montgomery Biscuits were met with similar jeers when they debuted in 2004. By then, people had grown accustomed to Minor League Baseball's more off-putting names, but nobody had seen anything quite like the Biscuits.

"Montgomery is the heartbeat of Civil Rights and the Deep South and all of that stuff—there's a million things we could have done," Myers explains. In the end, "we wanted something that did represent the South but also represented diversity. We wanted something [everyone] could relate to." And what's more relatable than a warm, buttery biscuit?
Step 3: Invent the Mascot
Of course, the naming isn't even the hardest part. The real trick is coming up with a living, breathing mascot that fans can engage with. "The mascot is the face of the fun," Myers explains, and it has to have its own identity to play off. "A lot of people would say, 'Well, why don't you just have a walking lugnut or a walking biscuit,' but it doesn't really work that way."

You might notice that a lot of Minor League mascots defy characterization. The Las Vegas 51s have an elephant-alien hybrid named Cosmo, and the Albuquerque Isotopes have an orange monster named Orbit, but what do they have in common? Both mascots are zoologically ambiguous—they're creatures, rather than animals.

According to Myers, this is by design. "It can't be something too specific," she says, "because then it's not mystical. The kids don't have a reason to be curious about it. I mean, look at Barney. What is Barney?"

It's no surprise that the mascots for both the Biscuits and the Lugnuts defy characterization. The Biscuits' mascot, Big Mo, is something Myers describes as "kind of a biscuit-eating, ant-eating, kind of aardvarky creature."

The Lugnuts' Big Lug is similarly ambiguous, a purple dinosaur with messy red hair and two sabre-like teeth that come across as more goofy than scary. In the Minor League, success all starts with the face of your team. And history seems to say that the weirder the face, the better.


Photos courtesy of Professional Sports Marketing.
BY: Collin Brennan
Guide Staff Writer
Collin is a senior editor and a staff writer for Consequence of Sound. He self-publishes zines and moderates writing workshops for The Chicago Publishers Resource Center (CHI PRC).