How to Can Tomatoes and (Hopefully) Avoid Botulism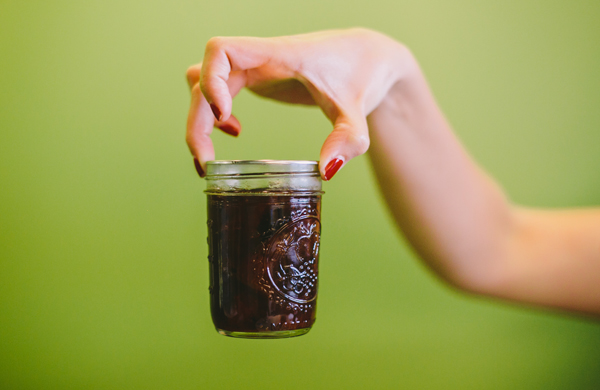 Kelsey
(semi-experienced canner): When my CSA,
Lake Breeze Organics
(Benton Harbor, MI), began deliveries, succulent produce piled up. My husband and I could only eat so much, unless we gave up potato chips...or something. And so, with the help of cookbooks and blogs, I learned how to make some jam. My culinarily courageous friends, Leah and Peter, demanded a free lesson after inhaling a jar of my spicy tomato jam alongside a bottle of vodka. Their slurred language belied their seriousness. They remembered the request the next day.
Leah
(confident home cook): Honestly, I've never had any desire to jam, because it sounds like a giant pain in the ass. And when I asked Kelsey how she made her jam, she delivered a gruesome account of hours spent in a hot and sticky kitchen wrestling with pans bubbling over with molten fruit, negotiating industrial-size pots of boiling water, and risking limbs with unfamiliar kitchen tools that could double as surgical instruments. It sounded like a casual romp in a corner of hell.
Peter
(peckish sous chef and ersatz DJ): The thing is...her jam was just so good—it tasted like actual tomatoes, but sweeter, spicier, and better.
Leah
: We figured, how bad could jamming be?
And so, on a pristine afternoon in early autumn, we gathered in Leah's narrow urban kitchen, dusted off her pots and pans, and began to jam.
Peter
: When do we eat?
Leah
: My kitchen is not that narrow. It just lacks counter space.
Kelsey
: First, we prep the ingredients: tomatoes, bought in bulk from the
Lincoln Square Farmer's Market
(at the Western Brown Line station). Lime juice...wait, don't we have a better way to show these?
Browse this video of ingredients, with some mild shouting.
Leah
: Let's set up the equipment. A massive pot with a rack, for sanitizing and sealing the jars. A wide, shallow sauce pan, for cooking the tomatoes down to jam. And a bunch of weird specific tools, like a jar lifter and funnel. But, if you don't want to invest in anything fancy, you don't need to: a stockpot lined with a clean dishtowel to serve as an ersatz rack, any old cooking pot, clean jars, and a spoon are all you really need.
Peter
: OK, I've cued up
Space Jam
, some obscure Michael Jackson song called "Jamming," and "Toxic."
Leah
: Why "Toxic"?
Kelsey
: Botulism. If jams aren't sealed and stored properly, there's a slight risk of bacterial growth; in very rare cases, botulism, which can be deadly. When making jam at home, you should follow
FDA guidelines
carefully if you plan to store your jams at room temperature. Use high-acid foods, like fruits. Sealing jars simultaneously kills any bacteria and removes all air. Be sure to use safe recipes from a trusted source, and be careful when substituting. It can throw off the acid levels and create an unsafe finished product. Scroll down for links to more information. That said, you can keep most jams in the refrigerator safely for months.
Peter
: Duh, that's why I chose "Toxic."
Leah
: I'm scared!
Kelsey
: Shut it, both of you. Let's chop these 5 pounds of tomatoes.
Click here for the full tomato jam recipe
, adapted from
Food in Jars
by Marisa McClellan.
Leah
: We've got all the ingredients in the pot and it looks like...tomato sauce. The tomatoes are so chunky and watery. When does it become jam?
Kelsey
: Depends on the fruit. We'll reduce the mixture until it's thick and jammy. Drag a spoon through the pot: if it leaves a trail, it's done. If it immediately fills in, keep cookin'.
Peter
: So hungry. So so hungry. To distract from my hunger pangs, I took a
vine of the tantalizing fumes
.
Kelsey
: Whilst we cook the jam, we're heating up our massive pot of water. The jars are in there, so they'll be sterile and piping hot when we fill them with delicious jam.
Peter
: I'm suddenly overwhelmed by a compulsion to wash my hands.
Kelsey
: Great instinct, Peter. It's looking pretty jammy now. Everyone wash their hands!
Leah
: Now, we lift the jars from the water with a tong-like device and carefully pour the water back into the pot. We fill each jar with the aid of a funnel and spoon, being careful to leave ¼" headspace in each jar.
Kelsey
: Then we lift each flat lid from a bowl of hot water—which was softening the seal—and fasten them to the jars until they're fingertip tight. That'll let the air escape during processing.
Peter
: Is "processing" your way of saying "eating"?
Kelsey
: We'll place each jar back into this big pot of boiling water, leaving at least an inch between them and making sure they're covered by at least an inch of water. Bring the water back to a boil and THEN start the timer.
Leah
: Too bad I don't have central air.
Warning: do not attempt this sideways, as we did.
Peter
: During the interlude, we inhaled the jam left in the pan. It was so worth the wait. As rich as I remembered, not quite as sweet, with a stronger hint of lime.
Leah
: Nom. This would be delicious with cheese, on a burger, and just generally in my craw.
Kelsey
: After 20 minutes, we remove the jars and set them on the counter. Hear the pop? That's the sound of seals forming. The jars need to sit undisturbed for 12 hours to be sure that the seals stick. After they're cool, test the seals by pressing on the lid's "button." If it pops, the jar has not sealed; put it in the fridge and use it stat. If it doesn't move: congratulations, the jar is sealed. You can also double-check this by gently lifting the jar by the lid; if the lid stays on, it's sealed.
Peter
: How do we open them?
Kelsey
: We just did all that work to seal them, and they'll be shelf-stable for a year. We can't just open them and eat them right away!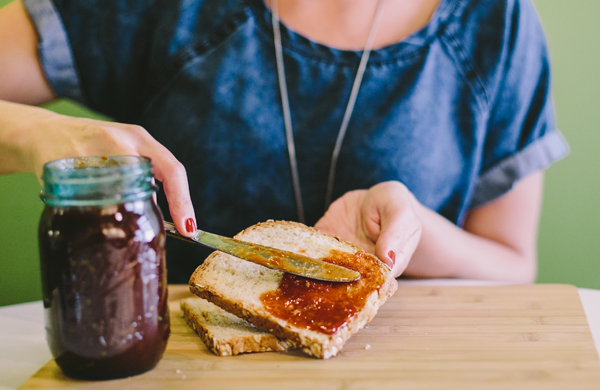 Weeks later, the jams still contained in their jars like pioneer candy, we joined together to reflect on the experience.
Kelsey
: Every time I jam, I'm completely exhausted by the end. All that chopping and boiling is hot in the middle of the summer. I line the jars in my pantry and think: never again. And then the next weekend I come home from the farmer's market with a 30-pound crate of tomatoes from Dotson's Farm (Beecher, IL) and a deranged grin.
Leah
: Exactly. I was so inspired after that first foray into jamming that I chatted with Andrea at
The Chopping Block
(Lincoln Square and the Merchandise Mart) to learn more. She told me that their preserving classes are gaining in popularity. When I asked why, she gave me her thoughts on canning's appeal: "Your produce will taste so much better when you purchase it during its peak growing season. You can buy it from a local farm or farmer's market and help support sustainability." Back home, I made another batch for immediate consumption. I didn't do the long, sweaty canning process, because…it's a pain. And I knew it would be gone within the month. Anyways, Peter, what did you learn?
Peter
(with a sigh): As a young man with a healthy appetite, preserving in person seemed like a waste of time. They sell jam for $3 at the store. But sometime during that hot, sweaty afternoon of jamming, I had a revelation. Preserving isn't just about forcing your friend to go hungry when he could be eating the jam bubbling on the stove. It's about connecting yourself to ancient traditions. And looking ahead to future appetites. Preserving, when done right, is about sticking it to Time and Rot and Famine. And it's about having pretty things on your shelf.
ADDITIONAL RESOURCES AND JAM KNOWLEDGE:
Remember, readers, jam joyfully and can safely. Detailed info can be found in the
FDA canning guidelines
and at the
National Center for Home Food Preservation
. To find out where to pick up your own 30-pound crate of tomatoes, look over this list of
Chicago farmer's markets
.
The Chopping Block
(Lincoln Square and the Merchandise Mart), a kitchenwares shop and school, hosts an ongoing class series that covers canning and other seasonally themed topics. For the fall, the chef recommends preserving tomatoes, carrots, peppers, cauliflower, Jerusalem artichokes, garlic, brussels sprouts, fresh figs, apples, and pears.
Photo: © Stephanie Bassos, Groupon
BY: Kelsey Mueller, Leah Nuetzel, and Peter Papachronopoulos
Kelsey Mueller, Leah Nuetzel, and Peter Papachronopoulos