How to Confuse a Belgian Monk
BY: Shannon Jewitt |
Mar 28, 2014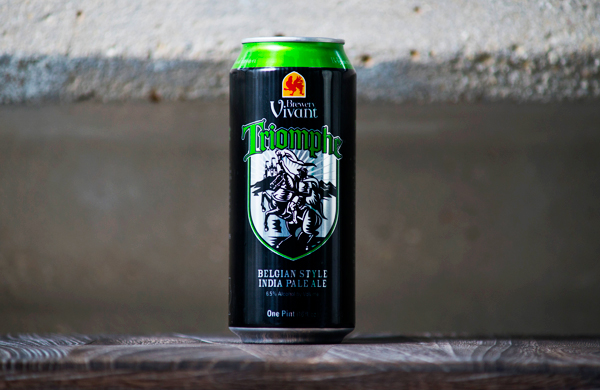 There are almost 3,000 craft breweries in the United States. In this edition of Beer Stalker, we investigate Brewery Vivant's Triomphe, a beer that blends a Belgian-style yeast strain with a "smackdown" of American-grown hops in a unique transcontinental brew.
The beer:
Brewery Vivant
's Triomphe
Style:
Belgian-style india pale ale
Hops:
Amarillo, Simcoe, and Centennial
Color:
A dark golden hue, like a piece of amber that hubris-filled scientists might use to reincarnate dinosaurs
Is this a common beer style?
The crew at Brewery Vivant specializes in Belgian- and French-inspired beers, so they regularly blend Belgian yeast flavors with American ingredients, including spices and fruits. However, styles such as the Belgian IPA are only now emerging from other breweries. "It's starting to get some traction because the results are interesting. It just didn't occur to people to meld those styles before," owner Jason Spaulding said.
What are some other Belgian IPAs to try?
Prior to opening Brewery Vivant, Spaulding toured France and Belgium with his wife. While there, he visited La Chouffe and became a big fan of its Houblon Chouffe. He also recommended Stone Brewery's Cali-Belgique IPA.
What would a Belgian monk think of Triomphe?
"Why in the world would you put that much hops in a beer?" Spaulding imagined the Belgian old guard would ask. "To Belgians, they traditionally wouldn't expect that much bitterness in a beer. They probably would be taken back at first," he said.
What food pairs well with Triomphe?
Although Spaulding loves to see restaurants and chefs pair the brewery's beers with creative dishes, he prefers to pair Triomphe with uncomplicated food reminiscent of his stay in Belgium. He suggests enjoying the everyday brew with simple, high-quality foods, such as sharp cheddar, hard salami, and a fresh baguette.
What is this beer's environmental footprint like?
Vivant's sustainability efforts began in 2011 when it renovated a more than 80-year-old funeral chapel into the first microbrewery in the country with a LEED Silver certification. "We continue to use those principles in our day-to-day operations as well," Spaulding said. The brewery has an ambitious
list of sustainability goals
and works to meet them in a variety of ways, including revising packaging choices, using a grain silo instead of grain bags, and tracking utilities and water usage. Although these are all important and beneficial, Spaulding said, "A lot of the stuff we're doing is kind of the unsexy stuff."
Where you can find it around Chicago:
Maria's Packaged Goods and Community Bar
(Bridgeport | 960 W. 31st St.)
Gale Street Inn
(Jefferson Park | 4914 N. Milwaukee Ave.) Golden Leaf Liquors (Irving Park | 3652 W. Irving Park Rd.)
Photo credit: Timothy Burkhart, Groupon