How to Dress Like Edith in "American Hustle"
BY: Kelly MacDowell |
Feb 26, 2014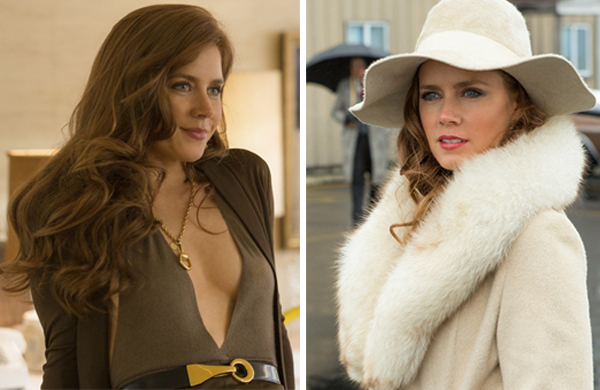 It's not just Amy Adams's Oscar-nominated performance that steals scenes—it's also her character's glam wardrobe.
For all intents and purposes, Amy Adams plays two characters in
American Hustle
. First, she's Sydney Prosser, a former stripper slinking around a pool party in a crochet swimsuit. It's there she meets con man Irving Rosenfeld (played by Christian Bale), who, thanks to a closet of forgotten treasures at his dry-cleaning store, transforms her into a big-haired glampot. To help Irving with his loan schemes, Sydney invents a new identity as English heiress Lady Edith Greensley, the faux-British Bonnie to Irving's Clyde. As Edith, she successfully swindles money from countless men, charming them in a series of necklines that plunge nearly to her navel. Her signature look is a bit much for everyday affairs, but we couldn't resist attempting a (slightly) subtler take on her '70s style.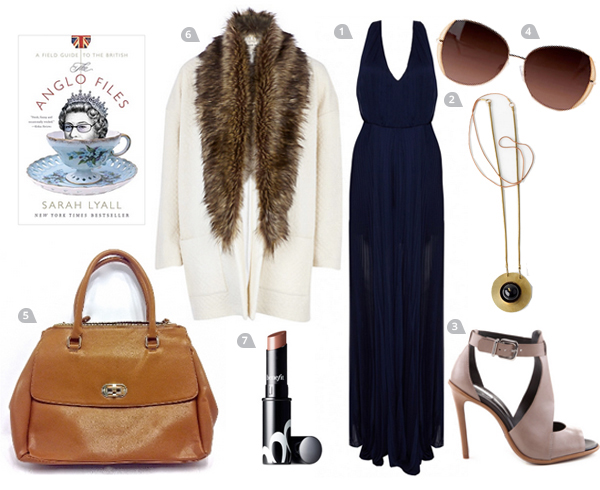 The Look
Though it bears a striking resemblance to the Halston gowns popular during the era, this halter-topped piece—whose neckline is more modest than anything Edith wore—is actually a wide-leg jumpsuit. Edith preferred full furs, but this neutral-toned coat with a faux-fur collar is a bit less ostentatious. A pinkish-nude lip pulls the look together, and reading Sarah Lyall's lighthearted memoir about assimilating to English culture just might help you get into character. 1.
Carter pleated halter jumpsuit
; Alice and Olivia ($495) 2.
Brass disc and bowl necklace with onyx by Cities in Dust
; Penelope's ($95) 3.
Nelaura pumps
; Schutz ($240) 4.
Willow sunglasses
; Francesca's ($14) 5.
Brown faux-flap satchel
; Piper Boutique ($62) 6.
Cream faux-fur collar jacket
; River Island ($90) 7.
Silky-Finish Lipstick in Skinny Dip
; Benefit Cosmetics ($18) 8.
The Anglo Files: A Field Guide to the British by Sarah Lyall
; The Book Cellar ($15.95)
BY: Kelly MacDowell
Kelly's first concert was Fleetwood Mac and her first career was in the beauty industry. Now a style and music writer, she loves Project Runway and her dog, Watson.