How to Eat and Drink Your Way Through the Chicago Food Film Festival
BY: Nathalie Lagerfeld |
Nov 18, 2013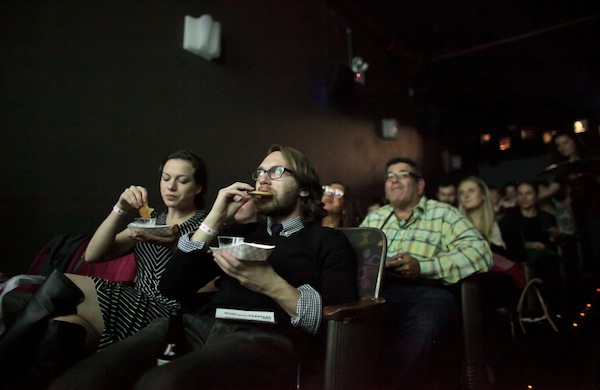 The
Food Film Festival
has what sounds like a simple goal: screen movies about food, then let viewers taste what they see on the screen. The actual logistics of that are more complicated. "It's running a food fest and a film fest at the same time," jokes Executive Producer Seth Unger, "which nobody in their right mind would do." The fest begins in Chicago this week, and each event will feature four to 11 food-themed films, selected with a corresponding menu in mind. During or after each screening, Seth and his staff coordinate serving 200-250 guests delicacies such as compost cookies flown in from NYC's Momofuku Milk Bar (
Wednesday night
) or an authentic low country shrimp boil (
Saturday night
). No finger foods here—each night is designed to be a complete, multi-course meal. "We make sure everyone goes home full," Unger said. We caught up with him to get a taste of things to come.
Click here for tickets and more information about the fest, which runs from November 20–23 at Kendall College in River West.
HOW IS THE FOOD SERVED?
SETH: There are different service styles we use depending on what the needs are. Sometimes we serve it to you right in your seat; sometimes it's at the after-party. [When food is served in the theater,] you're trying to serve a hot dish of food to a specific frame in a film. When the audience sees it onscreen, and they say, "Wow! I wonder what that tastes like," boom! You want to hand it to them right there. What you would see there is very choreographed, almost like a ballet. Imagine people sitting in the theater. You'll see two lines of servers walk down the aisle. They'll pass the tray down the aisle. Each person takes one and passes it down. Then they pick up the tray. If it works right, it happens in 20 seconds. You don't even know they were there.
WHAT ARE THE AFTER-PARTIES LIKE?
SETH: We do the after-party right down the hall [from the theater] in this room they have called the Skyline, which has big windows. You can see the city, and it's a big party space. And we have a DJ who travels with us from New York,
DJ Keili
from Brooklyn. She comes with us and spins at every event.
HOW ARE THE FILMS SELECTED?
SETH: The competition is open to films of any length…The only requirement to be in the festival is that it has to be about food or drink. There's a selection committee that picks the films that will be screened, and then the judging panel chooses the awardees… It is true that most of the event ended up being a series of shorts. Just because when you're trying to give people many different flavors, you want different things.
HOW DID THE FEST GET STARTED?
SETH: George Motz, who you might know—he's a host on the Travel Channel—he made a film way back about hamburgers called
Hamburger America
. It did really well. There was a book deal, and he quickly became—without even wanting to—America's hamburger expert. That's how he ended up with the Travel Channel show [
Burger Land
, which premiered in April of this year]. When they were going to premiere the film [in 2004], they said, "Why don't we make some of the hamburgers from the film?" And they did that, and they served them while [people] were watching. Everybody flipped out. And they said, "This is great! why stop at burgers? Let's do everything." And that's how it was born.
WHAT'S IT LIKE WORKING WITH KENDALL COLLEGE?
SETH: Kendall College is an amazing partner. We've used venues all over the country, even in Europe, and nobody treats us like Kendall does. They have their whole facilities and staff, and they love having us there. And we love them.
SETH'S RECS
Food: The original ramen burger by Keizo Shimamoto
Film pairing: Biting into the Ramen Burger (Wednesday)
The idea is simple: a burger with two disks of compressed ramen noodles in lieu of buns. Ever since Keizo Shimamoto premiered his ramen burger in Williamsburg this summer, the trendy dish has spawned countless imitations, such as the version served up by
Buzz Bar
(1935 W. Irving Park Rd.) in North Center. Still, there's nothing that tastes as good as an original. "When he went to L.A. for the first time, there's this great video of thousands of people who lined up in the cold to wait 6-8 hours to get one," Seth said.
Food: Compost cookies from Momofuku Milk Bar
Film pairing: What Goes Into a Compost Cookie? (Wednesday)
"Another thing you can't get in Chicago on any other night," Seth said. Christina Tosi, the pastry chef at the dessert-shop outpost of NYC's Momofuku, sent over some of her compost cookies, the pastry featured in the documentary of the same name.
Drink: Speculoos milkshake from Edzo's Burger Shop (Wednesday)
This off-menu special from the Evanston/Lincoln Park eatery incorporates a Dutch delicacy: speculoos, a sweet cookie that's ground up into a peanut-butter-like paste. "It's a cult favorite," Seth said.
Drink: Maison Chapoutier Wines (Thursday)
Film pairing: Fac et Spera (Hope and Do)
Though the festival gets many wine-themed film submissions every year, Seth said very few of them make the grade. This "amazing" documentary about Rhône Valley vintner Michel Chapoutier was the exception to the rule. "They're sending all of his wines to be featured throughout the night," Seth said. "Anybody who's into wine is really going to dig this one."
David Rosengarten
, former host of the Food Network's award-winning show Taste, will emcee the event.
The Chicago Food Film Festival takes place Wednesday, November 20 through Saturday, November 23 at Kendall College. Single-event tickets cost $55–$95; a festival-wide VIP pass costs $285.
Photo courtesy of Food Film Festival