How to Get Healthy Food In Your School
BY: Nathalie Lagerfeld |
Mar 19, 2014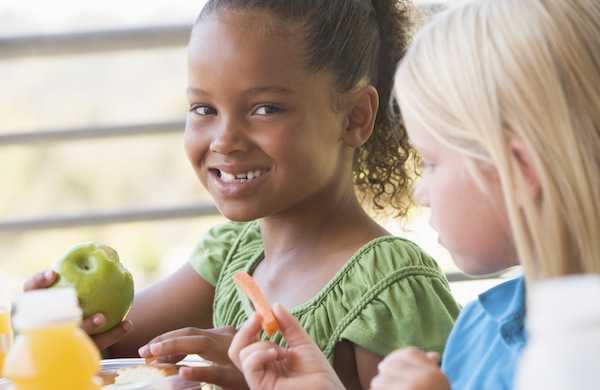 "10 years ago, the attitude was [that] school food is a rite of passage—it should be nasty," said Rosa Ramirez of the
Healthy Schools Campaign
at a workshop at the
Good Food Festival
last Saturday. With the passage of legislation like the
Healthy Hunger-Free Kids Act
of 2010, Ramirez said, times have changed. Schools now have a mandate to serve quality food that can help lower rates of childhood diabetes and obesity. Ramirez and her fellow workshop panelists—drawn from the nonprofit, education, and food-service worlds—all agreed that parent advocates can be a vital force for changing school menus for the better. Here is some of the advice they shared in the session.
1. Know your wellness policy
The USDA requires every school district participating in the National School Lunch Program to enact a
Local School Wellness Policy
. This document defines nutritional standards for all food served within schools, from cafeteria lunches to classroom snacks. Teachers and administrators aren't always familiar with its rules, Ramirez said, so concerned parents should read them closely. There, they may find support for health-related requests from banning artificial sweeteners to limiting how many school celebrations involve cupcakes. One parent-advocacy group Ramirez organized even used a wellness policy to get their school to stop serving pizza at breakfast. "It's a pivotal point for you to make change," she said.
2. Build a coalition
A K–6 charter school located on the South Side of Chicago, the
Academy for Global Citizenship
(4647 W. 47th St.) is a model of healthy and eco-friendly eating. For only 50 cents per child per day over the normal cost of food in public schools, an in-house organic chef prepares the students' breakfast, lunch, and snack. The ingredients for each meals are sourced from local farms or the school's onsite garden, which students help maintain. Finally, a strict school-food policy bans artificial sweeteners and red meat—for adults as well as students. For this comprehensive policy to work, the Academy has to build support among parents, said Development Associate Katherine Elmer-DeWitt. "It takes a village to raise a child who loves kale chips," she quipped. The Academy staff hosts regular meetings to explain their sustainability initiatives to parents, many of whom have chosen the school for its high test scores rather than its social responsibility. For healthy-food advocates who encounter resistance from other parents, Elmer-DeWitt advises coming together to discuss policies as a group. "Other parents might feel attacked because this [less healthy food] is what they serve at home," she said. "Meetings can pull out where those negative feelings might be coming from" and help advocates address those concerns.
3. Make a healthy-eating curriculum
One of the biggest stumbling blocks for healthy-eating initiatives is that they're just a lot of work. Building and maintaining a school garden, for instance, takes teachers' time away from lesson planning and other academic tasks. The solution, said Janet Hawkes of E.A.T. (Education, Agriculture, and Technology), is to make the garden part of lesson planning. "It's not an add-on, it's an instead-of," she said. Hawkes pointed to schools in New York that use their onsite gardens to grow maize, squash, and beans: the "Three Sisters" crops grown by the area's original Native American inhabitants. That ties in nicely with New York state's local-history curriculum requirements, and goes a long way to convincing administrators that the gardens are worth the upkeep. Though teachers ultimately decide what to teach in their classrooms, parents can help out by tracking down resources for them. One such resource is food-service company
Gourmet Gorilla
, which, besides serving local, organic lunches in 90 Midwestern schools, also provides food-related lessons. In one program, called Taste It Friday, students taste new foods every week along an educational theme—for instance, dishes from different regions of Africa. Cofounder Jason Wheedon said that his company's involvement in schools often begins with parent advocates. "Sometimes parents call and say 'we'll get you in there once a week—at first,'" he said.
BY: Nathalie Lagerfeld
Guide Staff Writer
Nathalie is a writer and editor on the Guide's food team. Originally from Virginia, she now lives in Chicago, where she regularly indulges her love of tortas, bibimbap, and Cheez-Its. Follow her on Twitter @maviswillsaveus.