How to Heal with Hot Pot
BY: Naomi Bishop |
Sep 26, 2013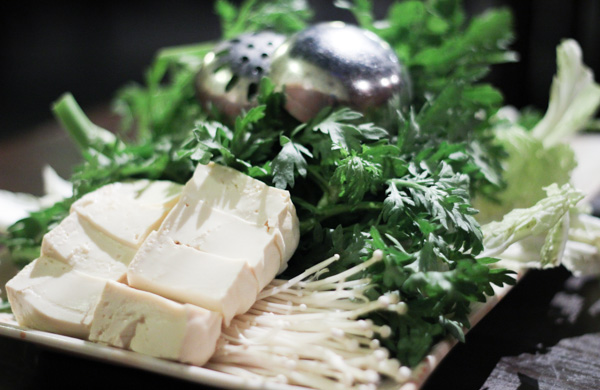 Chinese hot pot is one of the world's most curative foods. Perhaps not by any scientific measure, but those who have experienced the bug-squashing spice, congestion-clearing steamy broth, and soul-comforting swish of meat through soup, they know. A hot pot meal begins with a tureen of bubbling liquid coming to the table. Most places offer a variety of flavors—with plain traditional and spicy Sichuan being the most common—from which a table selects one or two. Then, depending on the restaurant, servers will either ask for preferences or simply bring a parade of all-you-can-eat meats, noodles, seafood, and vegetables. Diners can simply swish the food through the broth (as with thinly-sliced meats) or leave it to soak in the broth (recommended for heartier green vegetables and offal). As fall cold season comes to town, here's a list of a few great places to cure any ills.
Little Sheep Mongolian Hot Pot
Nobody likes to recommend a chain restaurant, but this is an outlet of a well-known, well-respected Chinese hot pot restaurant, and it has an order-by-item menu with all the standard items, as well as a few that might seem weird—frozen sponge tofu, anyone?—but work amazingly in hot pot. It's a great place for first timers to the dish: servers and menus help explain how to eat it, and booths offer a little privacy, so no need to worry about looking silly.
Gourmet Noodle Bowl
Gourmet Noodle Bowl is an easy option for upscale, high-quality hot pot. Portions are smaller because meats are more nicely sliced and marbled, but it's all-you-can-eat, so patience and a waitress are all that's needed to make the portions larger. The initial selection is fairly small—just the basics—but there is a menu of good, if expensive, add-ons.
Sichuanese Cuisine
On rainy nights, most of central Seattle seems to be crammed into this tiny treasure of a restaurant. Those in the know will have the tell-tale burner on the table, dipping into the bowl of broth. The dipping selection is small at Sichuanese Cuisine, but it's a reasonably-priced, all-you-can-eat option and the motherly Chinese women bustling around to bring more meat are as comforting as the Sichuan peppercorn-infused broth. And when asked nicely, they'll bring out the "thick noodles," which, alone, are worth having to park in the city's tiniest, most aggravating parking lot, located in front of the restaurant.
Hong Kong Bistro
Late night hot pot cravings, be gone! This cavernous, plain Chinatown spot not only serves up a huge variety of oddities and organ meats (this is advanced level hot pot eating), but does so until the wee hours of the morning. The menu comes on a checklist, where diners can check off pork livers or tofu puffs, fish balls or what's listed as sausage. Don't be fooled: there's no fancy charcuterie or bratwurst here—that's a run of the mill hot dog. All the usual suspects are on offer, but everything