How to Hide a Cute Lunch Note in Food That's Not a Fortune Cookie
BY: Nathalie Lagerfeld |
Apr 14, 2014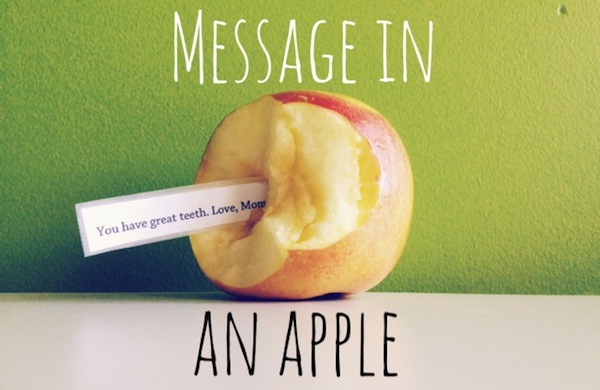 It's hard to surprise a kid whose lunch you pack every day. But this simple project lets you hide a midday greeting where they least expect it. Just core the apple and stash a note inside. (Make sure to waterproof the paper first by sealing it between two strips of tape.) Then, slice off both ends of the core to make two plugs: one for each end of the hole. Pop them in and, voila! Or, to put it pictorially: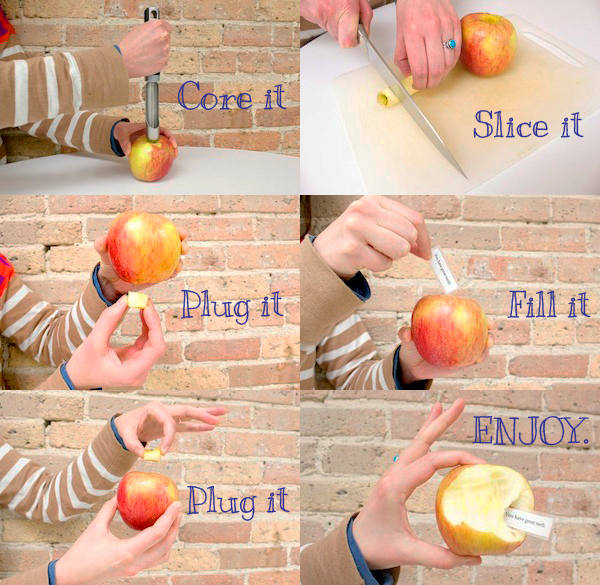 At the end, the apple's returned to its original shape, with a message sealed inside for the eater to discover. What are your favorite ways to get creative with lunchtime eats?
Shop for apple corers and other kitchen necessities on Goods
.
BY: Nathalie Lagerfeld
Guide Staff Writer
Nathalie is a writer and editor on the Guide's food team. Originally from Virginia, she now lives in Chicago, where she regularly indulges her love of tortas, bibimbap, and Cheez-Its. Follow her on Twitter @maviswillsaveus.