GROUPON GUIDE TO WASHINGTON-DC
Tips on How to Ice Skate from Champion Figure Skater Max Aaron
BY: Sarah Gorr |
Dec 23, 2014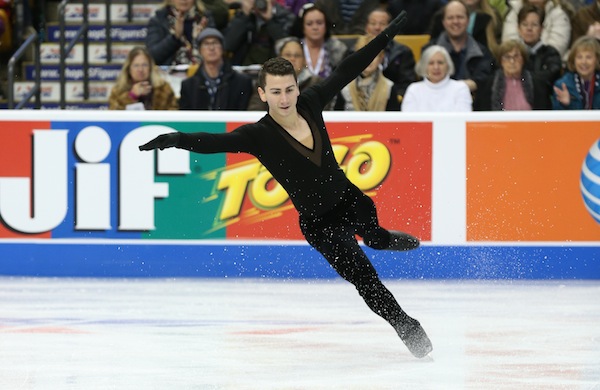 Max Aaron's career is something of an anomaly. Most ice skaters have to make the tough choice between hockey and figure skating early on, but Aaron arrived at a different conclusion when he learned how to ice skate: why not both?

A hockey player since the age of 3 and a figure skater since age 9, Aaron has competed extensively in both sports. Only after a back injury in 2008 did he decide to turn his full attention to figure skating, where he went on to become the 2013 US champion, 2014 US bronze medalist, and 2016 US silver medalist.

Aaron has spent most of his life in skates, so it's no wonder that he feels so comfortable on the ice. We asked him for five ice skating tips to get amateur skaters moving—and, just as important, stopping—with something resembling grace.
1. Forget What Mom Says—Don't Stand Up Straight
"Skating is more complicated than people think," warns Aaron. Many newcomers get the idea that they can simply walk on the ice, but that couldn't be further from the truth. When we walk, our legs stay straight and our knees lock—a terrible formula for ice skating.

Instead of standing up straight, crouch into an athletic stance. Keep your knees bent in order to lower your center of gravity and increase your chances of staying upright. You'll find your balance better this way, even when attempting more adventurous moves such as the single-leg glide, in which the temptation to straighten out is greater.
2. Wear Layers on Top of Layers
Indoors or out, it's important to bundle up on the ice. That means hats, gloves, scarves, and even snow pants, depending on the weather. As Aaron puts it, "if you're warm, you're staying safe." If you're worried about losing your balance under the weight of all those layers, don't. According to Aaron, "as long as you keep your athletic stance, you'll be alright."
3. It's Okay if Those Skates Pinch Your Toes
Whether you're renting skates at the rink or buying a pair, fit is key. With younger skaters, parents often size up to allow kids time to grow into their skates. But when it comes to adults, a loose fit is a big no-no. "You don't want your toenails falling off," says Aaron, but you do want a tighter fit than you might be used to.
---
"The falls and sliding across the ice—it's always a challenge, but enjoy the journey you're on!"
---
4. When Stopping, Imitate a Snowplow
Stopping might be the toughest thing to learn about skating for beginners, but it's actually not too tricky. "Keep your knees bent and slowly push your feet out," advises Aaron. "As you start to skid, point your toes in a little bit and keep your heels out, and you'll slowly come to a complete stop." This maneuver is known as a "snowplow stop" because the scraping of the blades on the ice will create a spray of snow.
5. If You Have to Fall, Fall Face First
When learning how to ice skate, you should expect to fall. But while you shouldn't actively try to land on your face, falling on your butt might be a worse option than falling forward. When skaters lean back too far on either blade, they'll often put their hands behind their backs, resulting in what Aaron calls "the most dangerous thing I've seen." When you fall backwards, you're more likely to hyperextend your arms. Plus, you'll likely be unable to catch yourself, which can lead to bigger bruises and more serious injuries.

Fortunately, Aaron even has a graceful technique to prevent falling. As soon as you start to wobble, "quickly touch your knees to bring your weight back over your toes." Most importantly, don't let fear get in the way of fun. "The falls and sliding across the ice—it's always a challenge," says Aaron, "but enjoy the journey you're on!"
Photo courtesy of U.S. Figure Skating (2014 Prudential U.S. Figure Skating Championships).