GROUPON GUIDE TO WASHINGTON-DC
How to Make Grown-Up Boozy Snow Cones
BY: Nathalie Lagerfeld |
Feb 19, 2014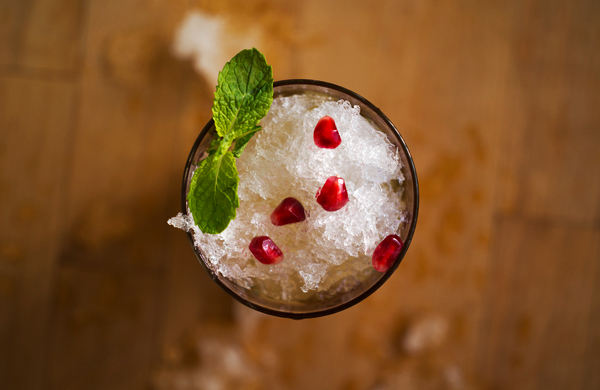 Summer is snow-cone season for Jo Snow Syrups founder Melissa Yen. During the warmer months, you can spot her at festivals and fairs all over Chicago, drizzling piles of shaved ice with her carefully crafted artisanal syrups. She has even plied her cool, sweet wares at a children's circus festival, offering flavors like cardamom rosewater and tangerine lavender honey.
In winter, Jo Snow Syrups are more often tasted in hot teas and coffee drinks. (A former coffee-shop owner, Yen actually originally designed many of her syrups to flavor cappuccinos and lattes.)
We convinced Yen to pull her vintage Japanese ice shaver out of storage to show us a few ways to make tasty snow. (If you don't have one of those in the back of your closet, you can always crush some ice or scoop up clean, real snow to make any of these recipes at home.)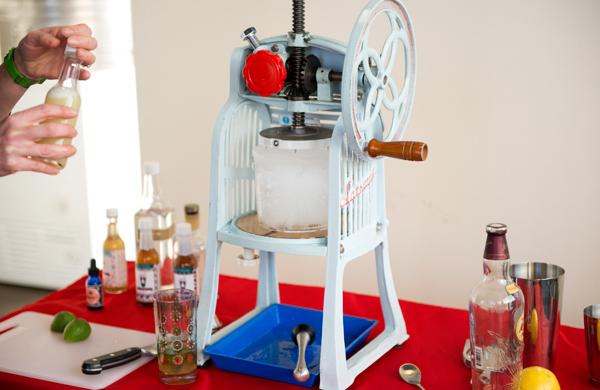 For a grown-up twist, Yen based each snow-cone recipe on a classic cocktail, picking ones that are usually served with crushed ice. The operation was a cinch for Yen, who said mixology has been a part of Jo Snow from the very beginning.
"Most cocktail recipes have a simple syrup in them ... so I started doing them right away," she said. "It was just a natural progression."
Raspberry Rose Ramble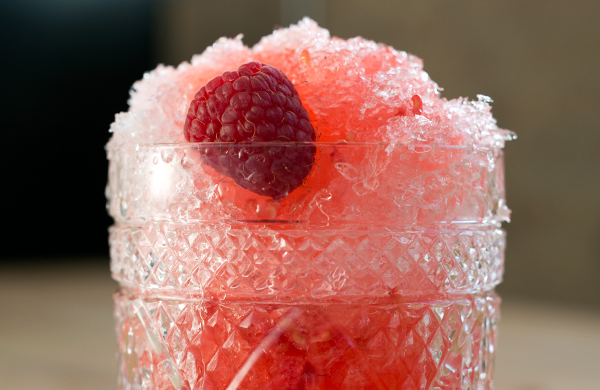 Making a classic cocktail at home can be an expensive proposition, especially when the recipe calls for obscure or rarely used liqueurs. "You use a quarter ounce of something, and you just spent $40!" Yen said. With a little experimentation, however, it's often possible to swap in a cheaper ingredient—like, say, a flavored syrup—for an expensive one.
In this recipe based on the Bramble, a blackberry cocktail invented in the mid-1980s, Yen swaps out Crème de Mûre blackberry liqueur in favor of her Cardamom Rose Water syrup and some fresh raspberries. The result is a brightly colored aromatic drink that won't break the bank.
What you need:
2 oz. Letherbee Original Label Gin




1 oz. fresh lemon juice




1/2 oz. Jo Snow Cardamom Rose Water syrup




4–6 raspberries




A cocktail shaker



In a cocktail shaker, muddle the raspberries. Add ice and shake together the ingredients. Strain into a rocks glass filled with crushed ice, mounded high. Garnish with a raspberry.
Basil Black Pepper Smash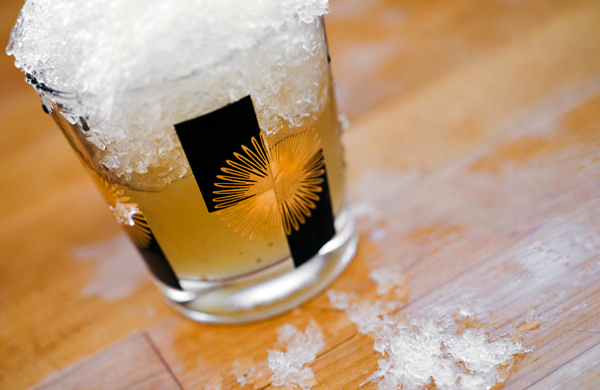 The Fig Vanilla Black Pepper syrup used in this recipe came about almost by accident. Yen needed a sixth flavor to complete her initial line and came up with a Mediterranean-inspired pairing of figs and vanilla. Since black pepper is one of Yen's favorite flavors—she sometimes carries a spare grinder in her purse—she decided at the last minute to throw a little of it in, too. "I was like, 'I don't care if anybody likes it,'" Yen said. "But [now] this and the tangerine lavender honey are the two most popular flavors."
Based on a whiskey smash, the cocktail Yen invented swaps out more common mint for basil, giving the classic drink a savory twist.
What you need:
2 oz. Journeyman Distillery Featherbone Bourbon




3 sprigs of fresh basil




1/2 oz. Jo Snow Fig Vanilla Black Pepper syrup




1/4 lemon, cut into 2–3 pieces




A cocktail shaker



Muddle the basil and lemon in a shaker. Add the syrup, bourbon, and ice, then shake vigorously. Strain over crushed ice.
Snow Swizzle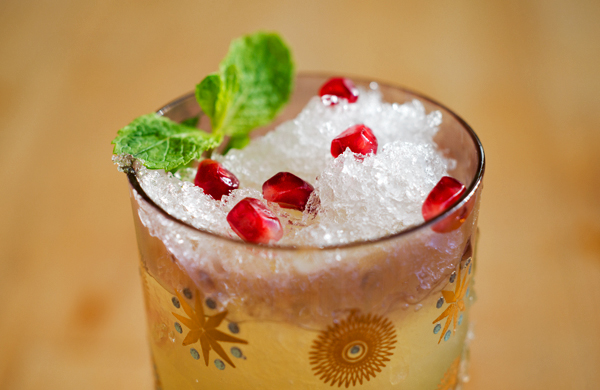 When crafting new syrup flavors, Yen often looks to other cultures for inspiration: her first syrup, Café de Olla, was based on the molasses-infused Mexican coffee drink of the same name. This cocktail recipe has similarly international roots. It was inspired by a historical 1870 recipe for a Guyanese swizzle made with demerara rum—then one of the South American nation's biggest exports. Here, Yen tosses in some of her Ginger Ginger syrup as well as a dash of bitters from her fellow artisans at Milwaukee-based Bittercube.
What you need:
3 oz. aged rum




1/2 oz. Jo Snow Ginger Ginger syrup




1/2 oz. fresh lime juice




2 dashes Bittercube Jamaican #2 bitters




8–10 mint leaves




Pomegranate seeds (optional)




Crushed ice




A swizzle stick or bar spoon



Place mint leaves in a highball glass and gently muddle. Add remaining ingredients and fill with crushed ice. Use a bar spoon to swizzle—gently twirl the spoon between the palms of your hands—until frost forms on the outside of the glass. Top with additional ice if needed. Garnish with a mint sprig and pomegranate seeds, if available; serve with a straw.
Order Jo Snow Syrups at the online shop or pick them up at a number of Chicago shops, including Southport Grocery and Cafe (3552 N. Southport Ave.), Publican Quality Meats (825 W. Fulton Market), and The Beer Temple (3185 N. Elston Ave.).
Photos by Andrew Nawrocki, Groupon