GROUPON GUIDE TO WASHINGTON-DC
How to Make Healthy, Homemade Vegan Bao
BY: Nathalie Lagerfeld |
May 1, 2014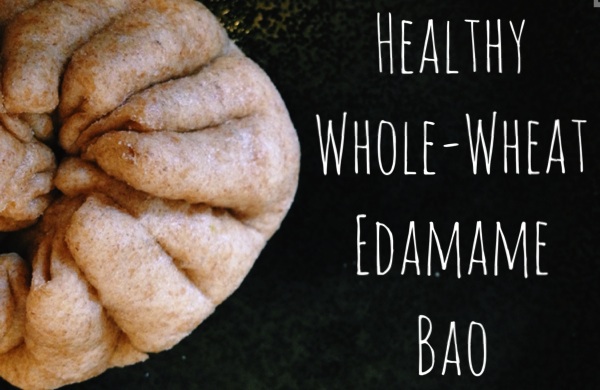 When I used to work downtown, the edamame bao at
Wow Bao
were one of my go-to lunch foods. Meat-free and mild, they were a good alternative when I wasn't in the mood for (usually delicious) grease and spice. When my office moved, I went into mild veggie-bao withdrawal, without any obvious cure. (They don't serve this stuff at dim sum.) I had always assumed there was some sort of magic ingredient that went into bao, so for a long time I shied away from making them myself. Little did I know, bao dough is one of the simplest things in the world to make: a little flour, a little sugar, a little yeast. So recently, I decided to lean into the packed-lunch lifestyle and make my own version of Wow Bao's treat at home. Here are the results—which I brought into work with me as a packed lunch the very next day.
Whole-Wheat Edamame Bao
What you need to make about 8 bao
The dough
(Based on
this recipe
from Serious Eats)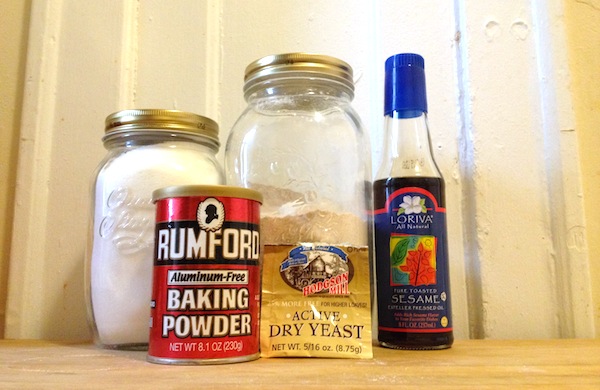 1 cup whole-wheat flour ½ tsp active dry yeast ½ tsp baking powder 2 tbsp sugar ¼ cup water 1 tsp sesame oil, plus a little extra Plain white flour for kneading
The filling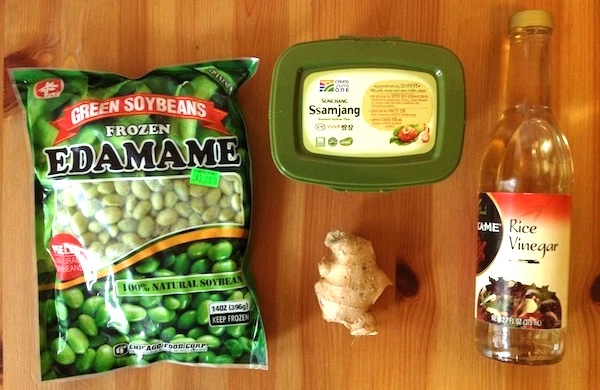 1 cup edamame beans 1 tbsp minced fresh ginger 1 tsp ssamjang* ¼ cup water A sprinkling of salt A drizzle of rice vinegar *If you don't have any of this delicious Korean fermented-bean condiment, then a tablespoon of soy sauce, some chili flakes, and a minced clove of garlic will do.
What to do
1. Mix together the dry ingredients (whole-wheat flour, yeast, baking powder, and sugar) in a medium bowl. Drizzle in the sesame oil, then the water, and continue to mix. You should end up with something like this: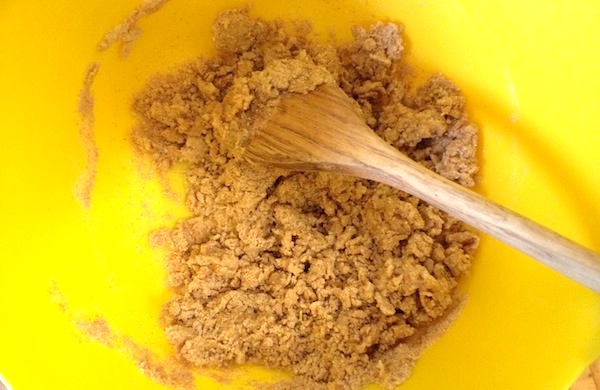 2. Empty the bowl's contents onto a floured surface and knead for about five minutes. Then cover and put into an oven or microwave to rise. That should take about 30 minutes.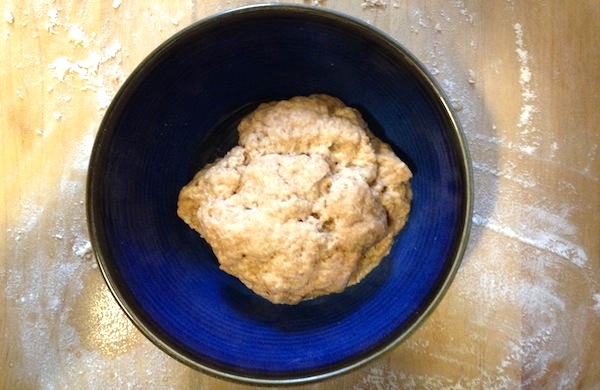 3. Meanwhile, prepare the filling. Cook the edamame beans according to the instructions on the package. Then throw 'em in a blender with the rest of the ingredients (minced ginger, rice vinegar, salt, water, and ssamjang).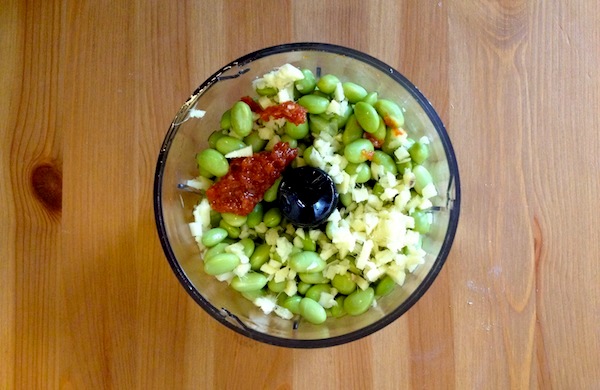 I left my mix a little chunky: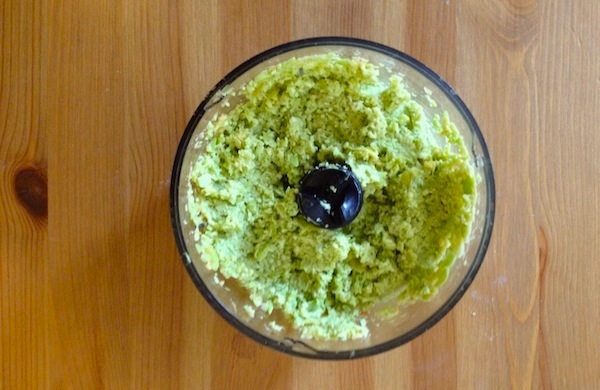 …but you can add more water and a little oil and keep blending till it's smooth. 4. Now, take the dough out of the oven. If you've used good yeast, the dough will have doubled in size; if you're me, and used leftovers from the last time you made pizza, it'll just look slightly bloated. That's fine. You can still roll it out into a long log, and then slice it into equal pieces. (Only four shown here—if you follow this exact recipe, you should have eight.)
Roll each piece into a ball and then set them under a warm towel to rise for 10 minutes.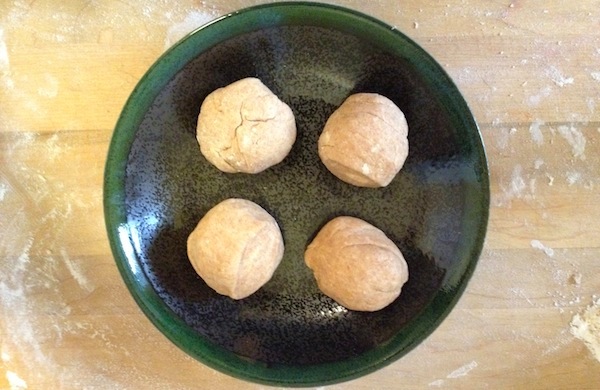 5. Now, it's time to shape the bao. Roll each ball out into a thin, flat circle. Then put about a tablespoonful of filling in the middle of each one. Now comes the hard(ish) part: you've got to crimp the edges of the bao so that they make that nicely folded pattern you're used to seeing at dim sum. When I do it, it looks kind of like my pointer and middle finger are two legs taking a stroll along the edge of the dough. Like this: 6. Now that you've got your bao, prepare the steamer. Fill a pot, pan, wok, or skillet with about 3 inches of water and bring it to a simmer. Line the basket of the bamboo steamer (if you're using one) with lettuce or cabbage leaves or parchment paper, and tuck the bao inside. My steamer fit about four bao at a time.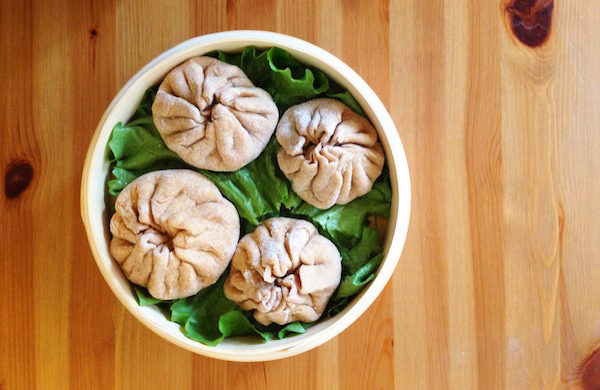 Then sit the steamer inside the pot/pan/wok/skillet and leave to cook for about 15 minutes.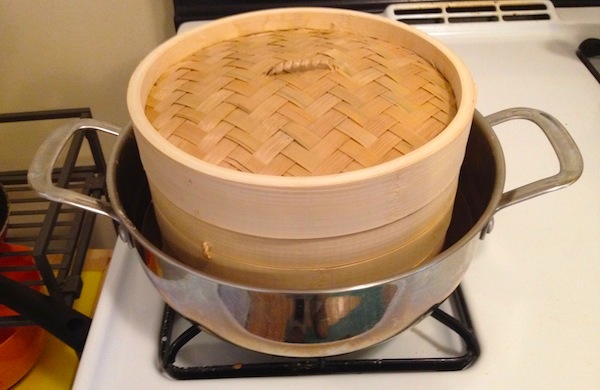 7. And voila—healthy edamame bao!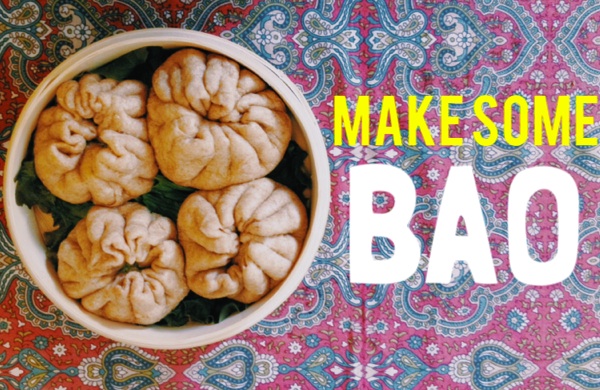 Possible variations
The day after I made these bao, the Wow Bao food truck came to my office, and I was able to taste the original. Their buns are both prettier and daintier than mine. Their filling is a lot savorier and saucier than I remembered, with big chunks of stir-fried vegetables like carrots and broccoli. I still like my mild version, but I might throw in some extras next time I make these.