How to Make Homemade Beef Stock
BY: Nathalie Lagerfeld |
Jan 6, 2014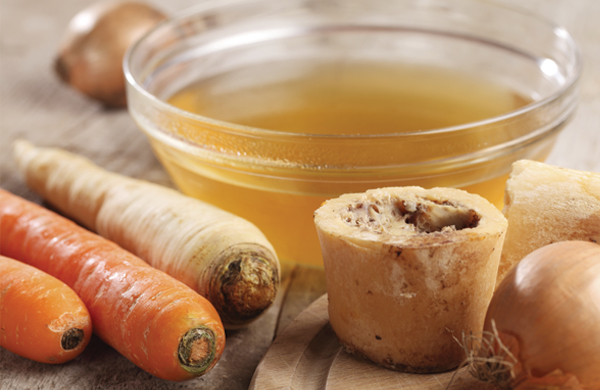 Some tasks are best reserved for a cold winter day. Making beef stock is one of them, according to Dru Melton, co-owner of Soupbox and one of the authors of The Soupbox Cookbook. The entire process, from roasting the thick bones to reducing the liquid, can take four or more hours. So it's best to try when you're going to be at home for a while—trapped indoors by record low temperatures, for instance.
The scent of simmering pre-soup has the added advantage of cheering up a cold winter day. The last time Melton undertook the task at home, he was up early with his kids on Christmas. "By 10 a.m., I had [the stock] up on the stove and it just cooked for the afternoon," he said. "It smells up the house great."
Here's how to cook up a pot of beef stock (and some great beef smells) à la Melton, if you can bear to come out from under your pile of blankets today.
1. Buy some beef bones.
Find a good butcher (Chicagoans should try Paulina Meat Market or The Butcher & Larder) and get a couple of pounds of bones. Soup bones and marrow bones work fine, but Melton prefers oxtail, because "they've got a little more meat and a little more fat on them."
2. Then start roasting.
This is what makes your dish beef stock and not beef broth. (The two are used interchangeably in cooking, but Melton prefers to work with stock, which generally tastes richer and more complex.) Throw the bones in a stovetop-safe pan with some celery, carrots, and onions tossed in canola oil, and roast for 45 minutes at 400 degrees.
3. Add some wine.
When the bones are done, place the pan on top of the range and pour in a bit of red wine. (Water also works in a pinch.) This helps dissolve the fond—which is "a French word for all of the brown, crackly stuff that's at the bottom of the pan," Melton said.

4. Switch to a pot.
After they've sat in the red wine a while, transfer the bones to a stock pot and carefully scrape all of the fond in there, too. Don't neglect this "really important" step, Melton said—it's key to the flavor of the final brew.
5. Finish with some water.
Add water to the stockpot and bring to a simmer over medium-low heat. Periodically skim away any foam that appears at the top, which will help maintain the stock's clarity. Melton considers the stock ready when it has been reduced by half, usually about two to three hours. (If you kept reducing it indefinitely, the liquid would eventually thicken into the rich brown demi-glace sauce often used in classic French cooking.)
6. Store the leftovers.
At home, Melton generally makes about 2 quarts of stock at a time, and divides them into 16-ounce containers for freezing or use in cooking. As for recipes, he suggests beef stew or beef barley soup, but says you can use beef stock in "almost anything."
"We have a tomato florentine that uses beef stock with shell pasta and fresh spinach," he said. "[The beef] just adds another layer of flavor."
BY: Nathalie Lagerfeld
Guide Staff Writer
Nathalie is a writer and editor on the Guide's food team. Originally from Virginia, she now lives in Chicago, where she regularly indulges her love of tortas, bibimbap, and Cheez-Its. Follow her on Twitter @maviswillsaveus.