GROUPON GUIDE TO WASHINGTON-DC
How to Make Vinyl-Record Bookends Without Burning Your Delicate Craft Hands
BY: Jess Snively |
Mar 11, 2014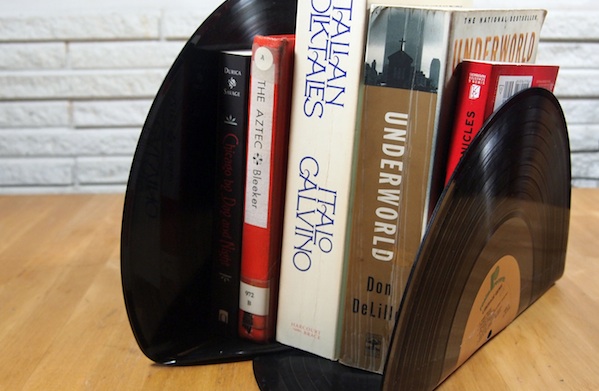 One day, I will make this couch that pulls out into a bed. But it's a bit too complex and expensive for me right now—until I become a skilled carpenter with an excess of burlap, I have to rely on simpler projects to spruce up my apartment.
Enter these vinyl-record bookends. They're a fun, easy project that pretty much anyone can complete in 30 minutes. To prove it, I've recruited two friends who identify as non-crafters to make them with me.
Meet the Crafters:
Colleen describes herself as not even a little bit crafty. She's worried that she's going to burn all the things.
Jeremy is handy with household projects and cars but does not consider himself a crafter.
I'm Jess, and I run a business making candles (Milton and Margie's Soy Wax Candles). I'm a self-proclaimed avid crafter, and my projects range from sewing to painting to needle felting.
What You Need:
Two vinyl records




A flat-bottomed, heat-resistant container (a cake pan worked well for us)




A flat wood surface (we used a cutting board)




A pot for boiling water




Oven mitts



What You Do:
1. Heat a large pot of water to a low boil. All three crafters nailed this step on the first try.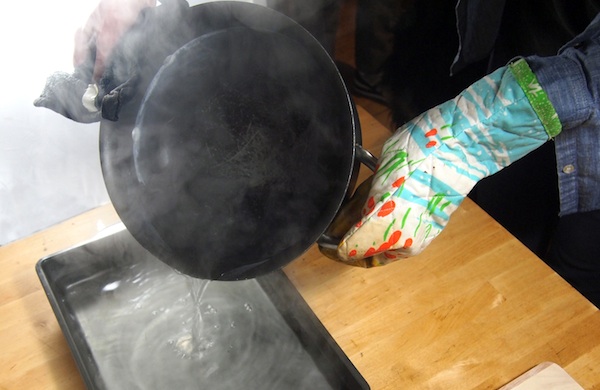 2. Pour the boiling water into the pan. This is where burn risks come into play, so be sure to wear oven mitts. We also recommend putting the pan in the sink. (We did not, and we sloshed boiling water all over the floor, which was scary and messy.)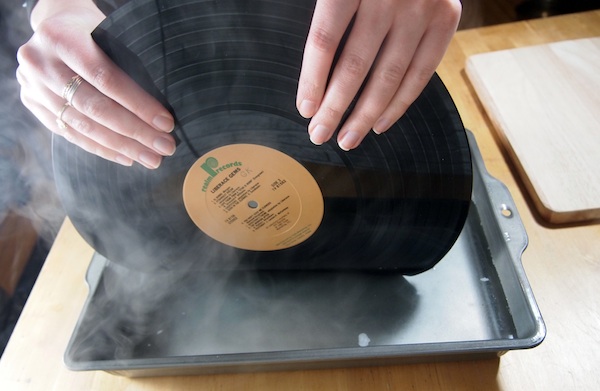 3. Dip the record partially into the boiling water. At this point, you can choose whether you want your bookends to be the same height or different heights—take note that achieving exactly equal heights is difficult—and submerge them accordingly. The record will quickly become malleable, and when it does, you should remove it from the water.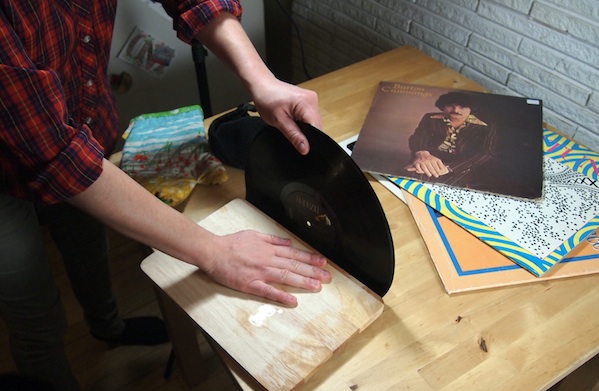 4. Using your wood block, shape the soft part of the record into a 90-degree angle on a kitchen counter or table. Make sure to smooth out all the ripples before it dries, or the bookend will have trouble standing upright. This is the most difficult step, but all three of us produced lovely results.
Some Tips:
Don't have any records that you're willing to sacrifice?

Bric-A-Brac Records

(3156 W. Diversey Ave.) has a dollar bin where we found Liberace's

Liberace Gems

, Hot Tuna's

First Pull Up, Then Pull Down

, and Burton Cummings's self-titled release (Jeremy's favorite of the bunch).




Buy a few extra records in case you make mistakes. Our bookends got progressively better with each try. Colleen, the least crafty of the bunch, made the best ones!




Once it's done, it's done. Jeremy found that the bookends won't turn out well if you try to reheat and rebend the records.




Ironically, record bookends are not sturdy enough to hold up a record collection.



Photos by Jessica Duff, Groupon