GROUPON GUIDE TO WASHINGTON-DC
Zombie Race Tips: How to Outrun (or Join) the Undead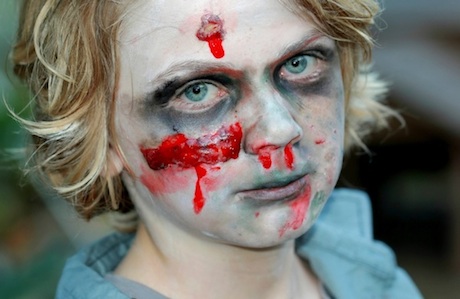 Zombie or survivor? That's the central question underpinning the recent cultural phenomenon of the zombie apocalypse. It's a trend with origins that trace back to George A. Romero's 1968 horror classic 
Night of the Living Dead,
the film which spawned the modern zombie genre. In the late 70s, there was a brief resurgence with the release of
Dawn of the Dead,
Romero's brilliant satire on mall culture. And then in the early 2000s, there was another uptick in interest, in film as well as print (
World War Z, Pride and Prejudice and Zombies, 
and 
The Walking Dead 
comics come to mind). However, it wasn't until AMC premiered its adaptation of 
The Walking Dead
 in 2010, that the undead went mainstream.
These days, zombie-centric events—races, walks, pub crawls, and conventions—are commonplace. And event planners have certainly embraced the fact that portraying the staggering ghouls can be as thrilling as fleeing them.
But racing through mud pits and obstacles differs dramatically from shambling around with fake blood all over your face. We spoke to Chuck Riley, organizer of
The Running Dead Chicago
, 
for tips on how to make the most of either situation.
Tips for Survivors (AKA Runners)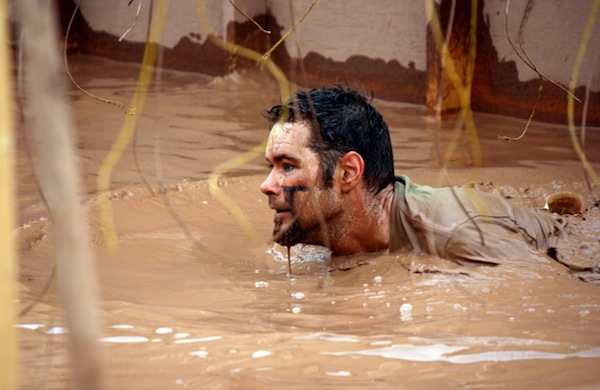 Team Up
While some survivors choose to go solo, Riley advises forming a team and running in a cluster. Depending on what type of symbolic zombie bite "infects" individuals (it could be a touch, or losing flags to a zombie), team members can run interference for each other. Plus, even if your teammates aren't noble enough to create a distraction while you make a narrow escape, there's a good chance at least a couple of them of them are slower than you.
Know the Course
Unlike most fun runs, zombie races often incorporate elements of the post-apocalyptic landscape. Past incarnations of The Running Dead have featured hanging body bags, a zombie-covered bridge, and a treacherous maze. ("That's the one I'm proudest of," Riley said.) Doing a little research on both the basics of your course (length, terrain) and its unique obstacles can help you physically prepare for unusual maneuvers. When you'll be climbing in an out of windows and scuttling over fences, it pays to practice. For additional physical training, Riley recommends bench-pressing your home stash of canned goods.
Get in Character 
Watching every episode of The Walking Dead would be "perfect" mental training, according to Riley. He also recommends a few views of
World War Z
in 3D because "our zombies are a hybrid between the stumblers and the runners."
Tips for Zombies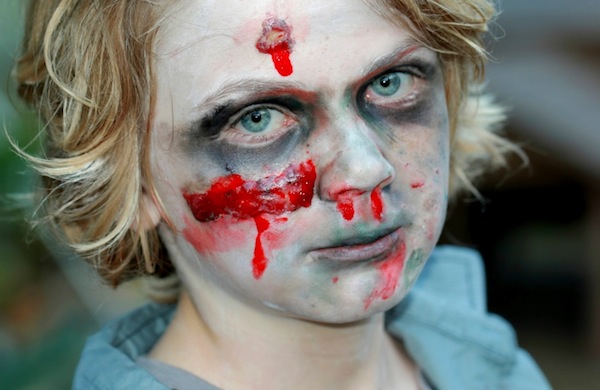 Plan Your Makeup
When it comes to outfitting the undead, some zombie runs are purely DIY affairs. Others might go the extra mile with an on-site makeup artist. If that's the case with your event, be sure to arrive with a "look" in mind. At The Running Dead, it takes about 20 minutes for makeup artist
"Zombie" Alan
to transform each zombie; clear communication helps process the entire horde more efficiently. If you're doing your own make-up, take a page from Alan's playbook. He and his team generally rely on simple latex to achieve most of their gnarly effects. The material, painted with blood and festering wounds, is easy to put on and take off.
Get Creative with Your Theme
Riley recommends some easy fallbacks, such as military, cheerleader, and athletic uniforms ("don't bring a racket, though—you might get hurt"). But he also encourages zombies to use their imaginations. "Doctors are very popular. Zombie chefs? A little less expected." Creativity aside, Riley cautions: "The costume [you wear] will dictate how mobile you'll be." Zombie Marie Antoinettes, you've been warned.
Be Scary (Not Aggressive)
While there are no rules on how fast or slow a zombie should shamble, safety is always the priority. "Zombies can be physical to a point," says Riley, but "don't hit, don't tackle. Don't go knocking anybody down." Zombies should tap runners gently or grab only at flags. In other words, no matter how in character you get, actual biting is never allowed.