How to Reinvent the Burger Week After Week at Rockwell's Neighborhood Grill
BY: Kevin Moore |
Sep 11, 2013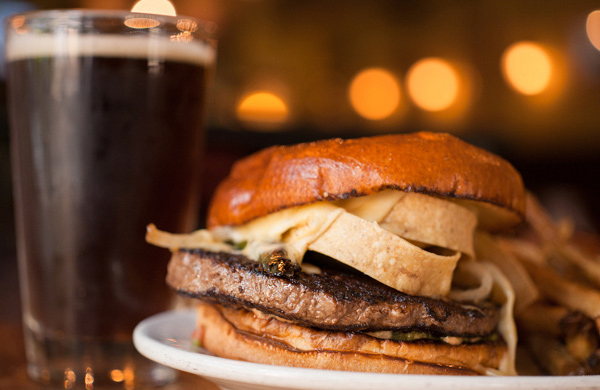 Every Monday, three people meet in a room half a block beyond the Rockwell Brown Line stop and finish designing a brand-new hamburger. The bun and the half-pound patty of freshly grilled beef are just a blank canvas, providing limitless opportunities for experimentation and innovation with one of America's classic comfort foods. Simply recreating the classics is too easy though, so the three sequestered burger mavens at
Rockwell's Neighborhood Grill
(4632 N. Rockwell St.) decided to subvert their diners' expectations by routinely reinventing the hamburger. I spoke with Brad Zeller—a Rockwell's manager and one of the three members of the secret committee—about the inspiration behind this ongoing undertaking. "We see the same people so often and burgers are what we're known for," he explained, "but how do you keep people excited about the burgers?" He and his fellow managers found an answer about 10 months ago: introducing the Burger of the Week. Over those last 10 months, Zeller has tinkered with more than 40 different creations. He told me that it's impossible to pick a favorite, although some memorable specials from past weeks include a burger with a bison patty as well as one with all the fixings of a Chicago hot dog, which sounds like equal parts blasphemy and genius in my opinion. No matter how successful a special is though, it only gets seven days on the menu before being replaced. No exceptions allowed. When I asked Zeller if he's ever been tempted to make one of the weekly specials a permanent fixture on the menu, he didn't even hesitate: "That would mean booting off one [of the burgers] that's already on there." His tone made it clear that this is not an option, although it did make me wonder what happens to the disavowed recipes. It wouldn't surprise me to learn that they get tossed into the same kind of incinerator that the CIA uses to dispose of its own top-secret sandwich recipes. Every burger begins as a nugget of an idea, and Zeller and his two fellow managers are more than willing to accept flashes of inspiration from others, including the grill's servers, cooks, and bartenders. However, he emphasized that an idea is just a starting point. From there, the culinary triumvirate will gather (In a secret back room? Underground bunker lit by a single light bulb? I wish I had asked.) and work out all of the practical details. Employees aren't the only sources though. Since the Burger of the Week special was invented to keep patrons invested in the grill, it only makes sense that listening to suggestions from customers would be a natural step. When I visited the grill, its featured special was the Nate Burger: a standard half-pound patty loaded with Cincinnati-style beef and bean chili, finely diced onions, and grated cheddar cheese. From the name to the toppings, everything about this obviously Skyline-inspired burger seemed like an inside joke, so I asked Zeller for the story. Two regulars with strong Cincinnati ties—"Nate and his wife/girlfriend/fiancée?" Zeller apologetically offered—had originally suggested this idea months ago, although it ended up on the back burner. With Nate's birthday approaching, the "wife/girlfriend/fiancée?" reached out again in secret and asked if the burger could be included on the menu as a surprise present. The timing was just too perfect to ignore. This was the first burger that Rockwell's has dedicated to a patron, although Zeller said that "while it is definitely something we're open to doing again in the future, it's not something we plan on doing regularly." Under normal circumstances, I would highly recommend the Nate Burger, but it no longer exists. It won't be back either. Zeller and his fellow managers are too busy thinking of new ways to transform a classic hamburger into something delightfully unexpected. They probably have some interesting ideas, but we won't learn what they are until Monday.
Photo: © Andrew Nawrocki, Groupon
BY: Kevin Moore
Iowa-born, Arizona-raised, and Illinois-tax-paying writer who can answer any Trivial Pursuit question about wine or snakes.