GROUPON GUIDE TO WASHINGTON-DC
Beat the Heat: Top Tips for Summer Hair (Sans Flower Crown)
BY: Hollie Smith Conroy |
Jul 23, 2015
Gone are the days of chlorine-green hair styled by hours spent doing laps in your neighbor's above-ground pool. Well, they're gone for most adults, save for the unlucky few (cough, me) who take on at-home hair-dying tasks that have decidedly algae-like consequences ... more on that below.
If swamp hair and Coachella-esque flower crowns aren't your thing—you're in luck. I'm here to bring you some summertime hair ideas that will keep you lookin' cool, even when the heat index is in the 100s. I've also broken down when it's worth it to shell out extra bucks for some professional help, and when its better to save some green (both in your wallet and on your head).
Let's get into it!
Save ... your hairspray and heavy-weight products for cooler, less-humid months.
OK, I'll admit it: I'm obsessed with hair products. When I'm not slathering LA Looks Mega Hold hair gel into my curly hair (I've been swearing by it since 1999, why stop now?), I'm spraying so much glue-like hairspray over the finished product, I should seriously consider wearing some sort of respiratory protection.
For the most part, this works for me. I'm even willing to bet my curly girls out there are nodding their head in agreement on this. But summertime calls for a different style routine, no matter your hair type.
Splurge ... on Oribe texturizing spray for volume, a beautifully packaged gift from the heavens.
The day I discovered Oribe Dry Texturizing Spray is one I'll never forget, because it seriously CHANGED MY HAIR AND LIFE. Some folks use it as a dry shampoo alternative—a must in the summer when heat and humidity make hair heavy and lifeless—and people with curls or kinks can use the texturizing spray as a hairspray alternative to rope in some long-lasting volume that actually moves in the summer breeze. It's pricey, but a little bit does go a long way.
The best part is that people with all hair textures can use it and enjoy Oribe's splendor … and the unbelievable smell. Seriously, you're going to want to skip the perfume and douse yourself in only this, forever.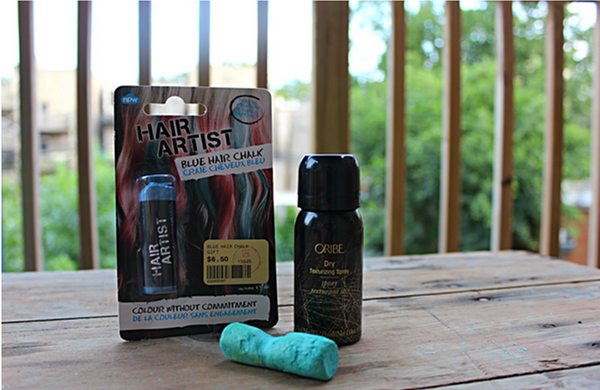 Splurge … on a professional dye job, especially if you're going for a fun color.
I don't know about you guys, but my Pinterest boards have been dominated by purple ombre hair-spiration this summer. Every time I see somebody on the street rocking purple (or teal, or blue, or pink) hair, I make a vow to myself that this will be the summer I break out and go hair-crazy. Well, temporarily, of course, because those fun colors are mostly hair stains that wash out after a week or two and require major color upkeep.
Save … yourself the heartache of being asked "Did you dye your hair green on purpose?" at least 100 times a day.
Trust me on this, I'm speaking from experience.
Because I don't have a patient bone in my body, I took matters into my own hands three weeks ago and gave myself a teal ombre 'do using hair chalk I bought on clearance at some secondhand store. Quick note: none of those words (DIY, hair chalk, clearance, secondhand store) should ever go together. Today I'm left with bright green highlights that won't wash out. JOKER GREEN. So green, in fact, that I'm asked almost daily if I did it to myself on purpose.
Cry.
Take my advice: some hair chalk won't wash out after one day, even if it says so on the package. And some teal hair chalk actually goes on lime green. Avoid all of this. Go to a salon. I mean it.
Save … your boring old ponytail for the gym.
Splurge … on summery braids and styles that get heavy hair off your neck.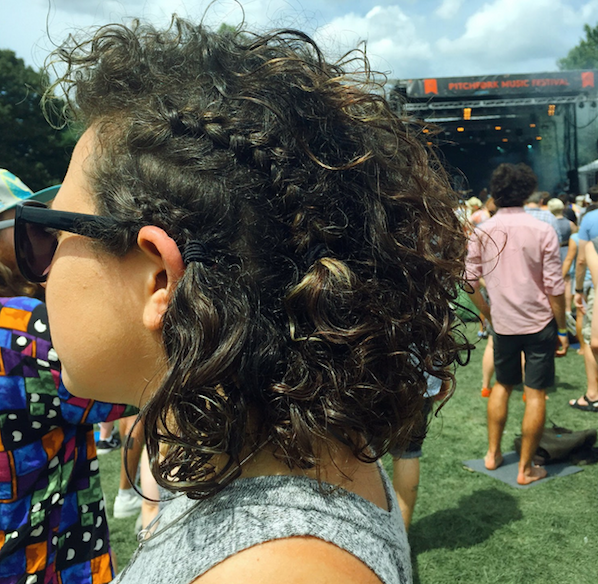 I tried learning how to french braid on an American Girl doll in grade school, and not only was I terrible at it, my efforts mangled Molly's already pretty braids. Thankfully, knowing how to braid isn't necessary to rock cool styles on humid days—most salons will do the dirty work for us, sometimes free at sponsored events or for a small fee after our regularly scheduled cut and style! Pro tip: Invest in a terrycloth-lined shower cap and a bit of dry shampoo, and you'll be able to sleep on those braids for days.
I don't know about you guys, but I am all about a bargain braid … even if my hair is green. There are few things worse than feeling your hair product melt off your hair and slide down your neck, right?
We want to hear your favorite summertime hair tips and splurges! Do you have a product you can't live without? Is there a salon you want to shout about from the rooftops? Just no hair chalk tips, please—I learned that lesson the hard way.
Top image: Messy rope braids by Meagan Tintari under CC BY 2.0