How to Set the Table Like You're in a Wes Anderson Movie
BY: Amelia Buzzell |
Dec 18, 2013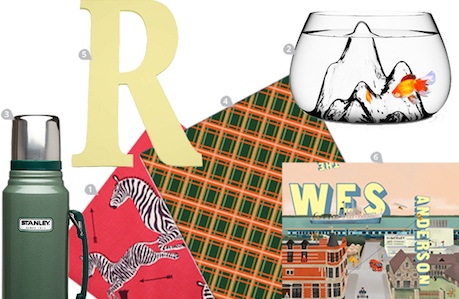 This tablescape (inspired by recent book
The Wes Anderson Collection
) will have your guests lamenting that they "always wanted to be a Tenenbaum." 
When
The Wes Anderson Collection
came out in October, fans of
The Royal Tenenbaums
,
Moonrise Kingdom
, and
Bottle Rocket
were giddy about the chance to explore the unpublished photos and artwork splayed across its pages. But if you find it's not enough to simply admire Anderson's whimsical world, why not bring a piece of it to life by creating a dining-room table fit for a film set?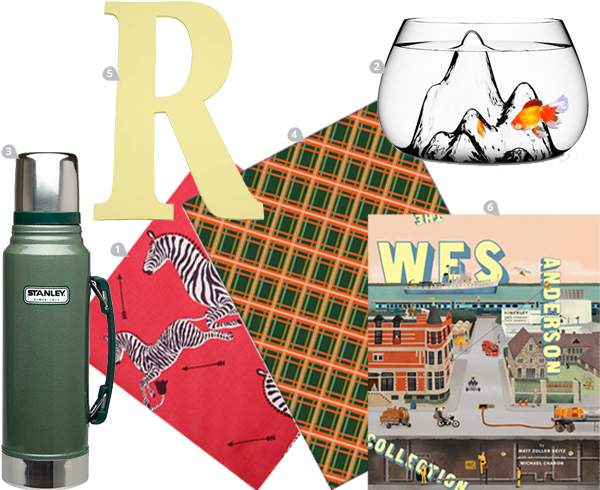 Echo the director's signature saturated color scheme and offbeat style with clashing-yet-complementary patterns, such as plaid wrapping sheets (used as placemats) layered over a zebra-fabric tablecloth (which mimics the zebra-patterned wall in the Tenenbaum house). Next, set the mood with an Artie Shaw record—à la Rabbit's piano playing at Mr. Fox's dinner party—and mix drinks in a Khaki Scout–approved camp thermos. A fishbowl centerpiece will delight Zissous, as will standalone yellow letters reminiscent of Anderson's signature credits. And, as the party rages on, scribble down your friends' best bon mots in notebooks inspired by the book
Moonrise
's Suzy Bishop steals from her parents' house. Once you've done that, the only thing left is to wait for the first guest to depart, then clink your glass and inform everyone that she was your Rushmore. 1. Zebras fabric,
Scalamandre
2. Glasscape fishbowl;
Aruliden
($140) 3. Vacuum bottle;
Stanley
($38) 4.Holiday plaid wrapping;
Rifle Paper Co.
($8.50 for three sheets) 5. Mini Harper yellow letter;
Pottery Barn Kids
($29) 6.
The Wes Anderson Collection
;
Unabridged Books
(3251 N. Broadway) ($40) Not pictured:  
Coping with the Very Troubled Child
;
bestplayever on Etsy
($10.09)
BY: Amelia Buzzell
Guide Staff Writer
Amelia is a Senior Writer who owns about 600 houses' worth of housewares. She daydreams about throwing parties and amassing more housewares.