How to Sew Curtains in Less Than Two Hours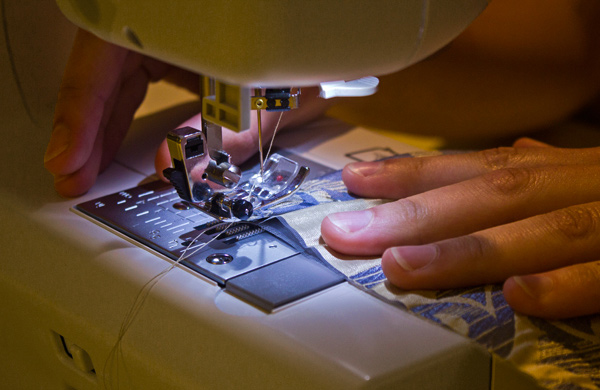 On more than one occasion, I've found myself drooling over a set of curtains in Anthropologie, only to realize they're priced at $200. It's at this point that I must abandon my Maria von Trapp–inspired fantasies and head for the exit. But necessity truly is the mother of invention. Moments like this have motivated me to find a window-dressing solution that doesn't involve forking over a hefty amount of dough or hanging colorful beach towels from the windows. With some basic sewing skills and an afternoon to kill, you can transform your living room or bedroom by sewing your own rod-pocket curtains. Not only is this project super simple and inexpensive, it also gives you the freedom to choose the exact fabric you want.
Note:
If you're a novice sewer, consider enrolling in some beginner (or refresher) classes from a local sewing store. In Chicago, the staff at Northcenter's
The Needle Shop
hosts a range of courses, including Sewing 101. And they'll even let you use their machines if you don't have one or don't feel like lugging yours around town.
What You'll Need:
Iron and ironing board Pins Measuring tape Sewing machine (or a needle and thread if you have a lot of patience) Scissors Thread Fabric
What To Do: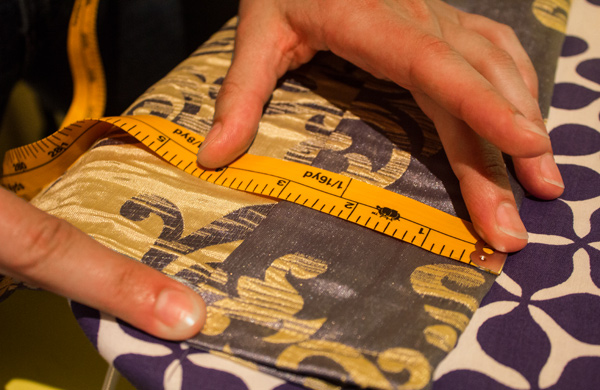 1. Measure
Determine how much fabric you'll need. When in doubt, err on the side of getting extra fabric. For the length, measure from the top of the curtain rod down to where you'd like the curtains to fall. Add 9" to account for the rod pocket and the bottom hem. This is your yardage, the length that will be cut from the fabric bolt. For the width, measure from one end of the curtain rod to the other. To attain fuller curtains, you're going want to to add some extra inches—anywhere between 1.5–3 times the actual measurement. The formula for determining total width is as follows: (Actual Width x Fullness Factor) + 2" (for side seams) = Total Width For instance, let's say the width measures 36" across. Because we're making two panels, cut this number in half to get 18", then multiply by 1.5 (the fullness factor) to reach 27". To account for side seams, add 2" for a total of 29". So for two panels, that makes a total of 58". Most fabric bolts come in 45"–60" widths—double check the width of the fabric bolt before determining if you need more than one cut of fabric.
TIP:
If your fabric is machine washable, wash and dry it before measuring in case the fabric shrinks.
2. Cut
Before you cut, it's always a good idea to iron the fabric thoroughly to smooth out any wrinkles leftover from its life on the bolt. If your fabric has a selvage edge, make sure to cut that off to prevent the fabric from puckering. Using the measurements from step 1, cut the fabric with a sharp pair of sewing scissors. Once the fabric is cut, turn it wrong-side up.
3. Finish the Edges
Iron down ½" of the raw edge along the entire length as you go. Then, fold the fabric another ½" and iron that down along the length. Pin this edge down, placing pins perpendicular to the fabric every 5" or so. Sew a straight stitch about ¼" from the inner fold all the way down the length. Repeat this step on the other side.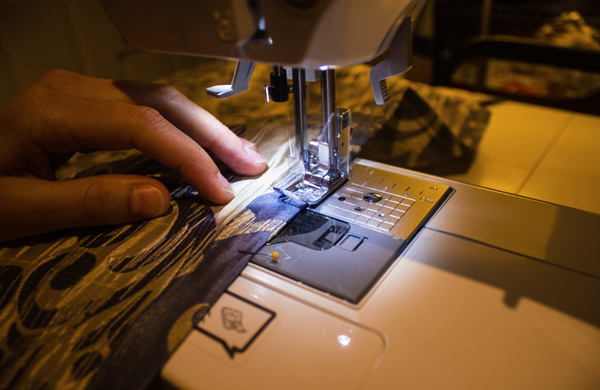 4. Make a Pocket for the Curtain Rod
Still working on the wrong side of the fabric, begin by ironing down ½" of the raw edge along the width on one side of each panel. Then fold down another 3". Make sure to measure at both sides so your rod pocket is even. Iron that down, and pin in the same manner as you did with the side seams. Sew a straight stitch about ¼" from the inner fold to create the pocket.
TIP:
Remember to backstitch on both ends to prevent the seams from unraveling.
5. Hem
To form the bottom hem, follow the above rod-pocket steps, except after ironing down the ½" raw edge, fold and iron down 5" (instead of 3"). Then pin and sew, backstitching again to prevent your curtains from falling apart. Snip off any leftover thread. Repeat this same process to create the other panel.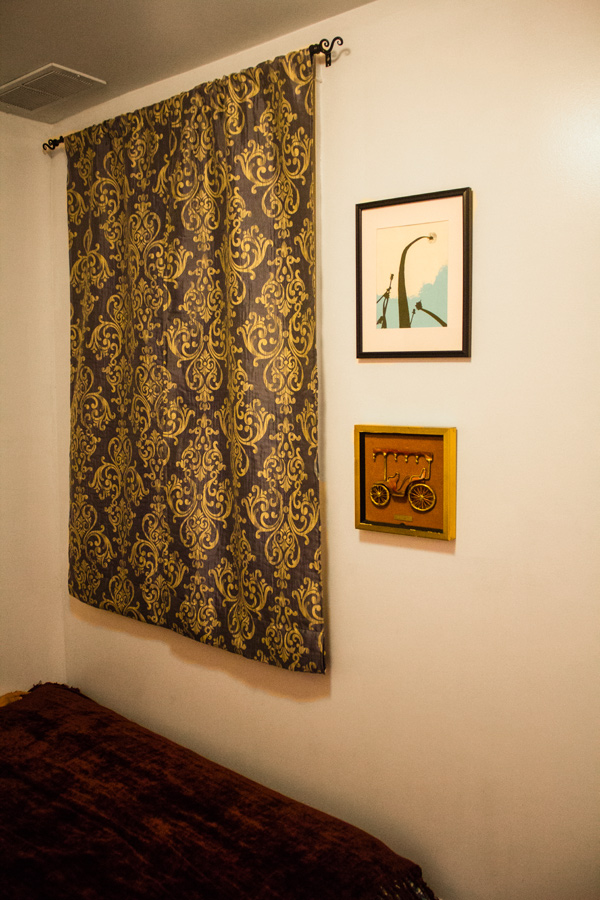 6. Hang your curtains, and admire your handmade work!