How to Wear a Jumpsuit
BY: Editors |
Mar 6, 2015

When jumpsuits first resurfaced in the late 2000s, they seemed primed for a short shelf life, a quick, nostalgic nod to '70s fashion. Instead, those that really know how to wear a jumpsuit have turned them into a mainstay, particularly with fashion-forward celebs—Kristin Stewart and Emma Stone have rocked them on the red carpet and Solange famously wore one to her own wedding.
Part of the appeal is in their ease: throw one on, grab some shoes, and you're dressed. But knowing how to wear a jumpsuit isn't always so simple. They show off your figure more than the average garment, so fit is of the utmost importance. Here, we've combed through an impressive collection of jumpsuits for women to find one to suit almost any body type.
If your main concern is ...
Your bust: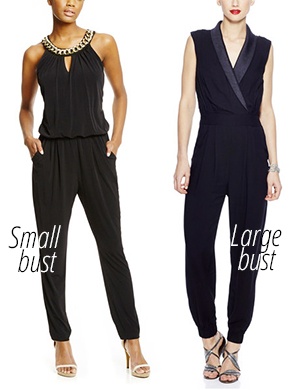 With a smaller bust, you can try one of two approaches. Divert the eye elsewhere on the upper body with a statement neckline (pictured here) or an open back, or add volume to your top with a pattern or looser cut.
As with any type of garment, a V-neck will play down a large bust. To balance out a smaller bottom half, try a loose-fitting pant leg (if you're taller) or a patterned bottom with a plain-colored top (if you're shorter).
Your curves (or lack thereof):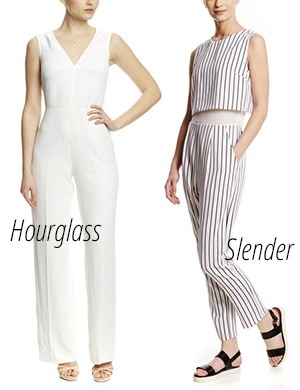 If you have an hourglass shape, congratulations! Jumpers were basically invented for you. Let your figure show with a clean, curve-hugging silhouette that hits the natural waist, and feel free to experiment with color, print, and strapless designs.
A layered piece like the one at right gives slender gals more volume. A tie waist or peplum can also create the illusion of a curvier figure.
Your height: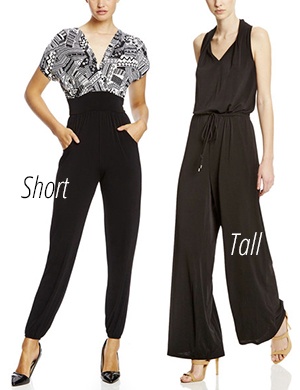 A high waist can make a short woman look like she has longer legs. Opt for a tapered leg over a wide one, as extra volume could swallow you up. A bold, head-to-toe print can also be overwhelming on a smaller frame.
Conversely, tall girls can get away with wearing more fabric. You're more suited to handle a super-wide leg than anyone, and halters and racerbacks beautifully complement a longer neck and torso.
Your torso: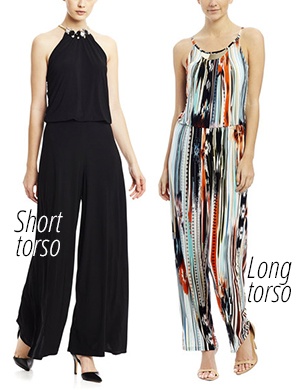 A high neckline (especially with an eye-catching embellishment like the one pictured here) and a drop waist will elongate a shorter torso. If you're tall enough to handle a wide leg, that will also draw the eye down.
For a long torso, first look for a print, as this will distract the eye from your natural waist. Also, look for a straighter silhouette (or leave a drawstring tied more loosely) to leave your natural proportions more of a mystery.
Balancing your proportions: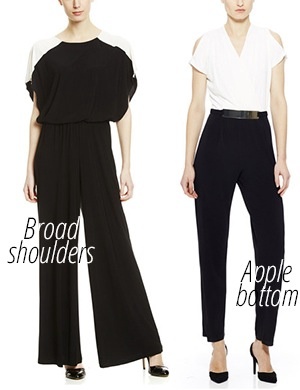 It might sound counterintuitive, but choosing a jumpsuit with an embellished shoulder can help minimize the size of broad shoulders. Try colorblocking with a lighter hue, or softening the curve with a fine mesh inlay. Again, if you're taller, a wide leg can balance out your bottom half.
Colorblocking is also helpful for balancing out wider hips or a larger bottom. A dark leg is slimming, and when paired with a lighter top will draw the eye up. A cinched waist and flowy top can also help create a more hourglass shape.
And two last tips for everyone ...
1. Wear heels or wedges.
Unless you are very tall, long garments such as jumpsuits can actually make the body look shorter. Go with heels or wedges to look as long and lean as possible.
2. Boldly accessorize a classic black jumpsuit outfit.
Think bright, bold heels and eye-catching statement necklaces.