How to Wear a Tiara and Still Look Like a Grownup
BY: Stephanie McDaniel |
Apr 7, 2014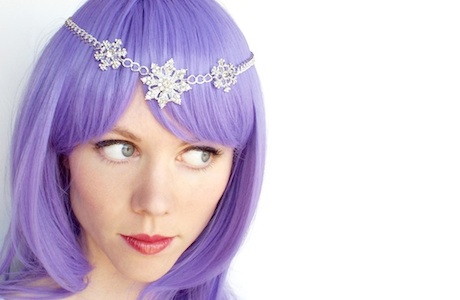 Can a person not named Kate Middleton really wear a tiara without looking like a Disney character come to life? Four Etsy artists say yes—and show us how.
Tiaras appear to be having a moment, and not just on
Game of Thrones
or
Downton Abbey
either. Earlier this year, Kate Middleton caused a
commotion
when she attended a state event wearing a diamond- and pearl-studded tiara—the first bejeweled headpiece she's donned since her wedding. Royals aren't the only ones driving the trend: designer
Vivienne Westwood
has been known to wear a coral tiara of her own design on bike rides around London, and
Lupita Nyong'o
's sparkle headband at the Oscars added a regal touch to her elegant Prada gown. And lest you think the craze is just for eccentric fashion icons or movie stars, remember that Gatsby-style headbands and boho flower crowns are essentially variations on the traditional tiara. Of course, plopping a sparkly crown on your head and running around town is liable to earn you a few sideways glances, unless you know how to do it right. Below, four Etsy artisans—and tiara makers—provide tips on how to pull off the trend without looking like a fairy princess, using their own creations (which we've ordered from subtlest to boldest) as inspiration.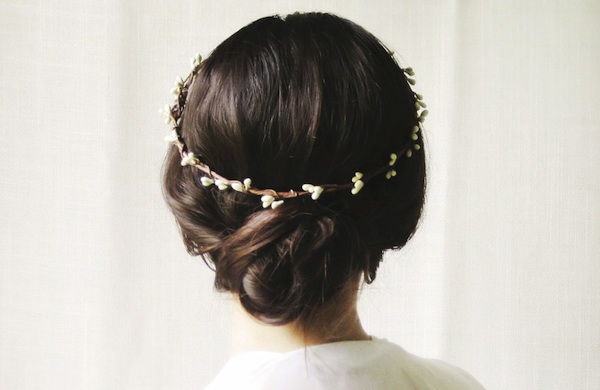 The Flower Crown
Rustic Berry Circlet by Felicite from Noon on the Moon
This berry flower crown is one of Felicite's simpler designs, which makes it easy to wear with any kind of outfit. "I personally love it paired with a creamy peasant blouse, some skinny jeans or cute cuffed shorts, and a pair of chunky sandals for a bohemian look," Felicite says. "It also looks great with a flowing maxi dress and some beaded flip-flops." Another tip: size matters. "The trick to wearing a crown casually is to keep it small. An oversized wreath may look great on Pinterest, but wearing it around town will be a bit of a challenge. A smaller headpiece with dainty flowers is a great way to add that whimsical touch…while staying comfortable and not being too costume-y."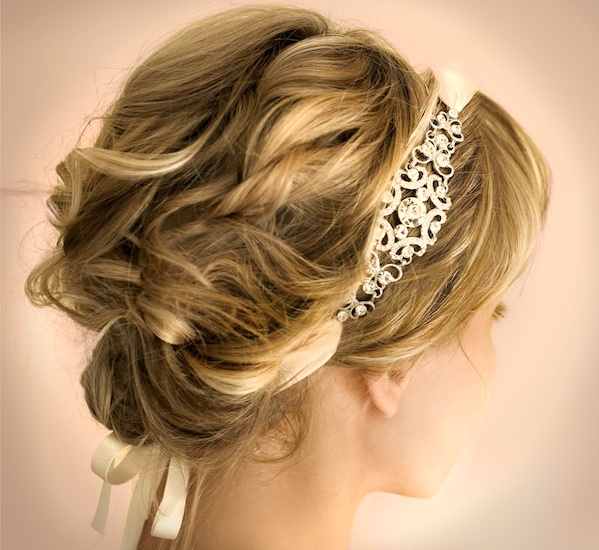 The Flapper-Style Headband
Gracie Headband by Jaymie Senga from Lottie-Da Designs
Senga—who decided to go into the accessories business after making her own wedding jewelry—embraces an aesthetic that's less fantasy, more flapper. "My designs are all vintage inspired. This year's collection is reminiscent of the 1920s art-deco era using feathers, crystal, lace, vintage netting, and ribbon as my main materials," she says. For this '20s-style headband, she suggests hair be worn "wavy, in a loose, low bun or chignon off to one side with a few wavy pieces framing your face." To avoid costume territory, she'd style it with a "white denim jacket, blush-colored top with an above-the knee, A-line flowy skirt, and a pair of great pointy flats." She advises keeping "your outfit simple…and your other accessories understated. Let the headpiece frame your face and be the focal point." It's also probably a good idea to steer clear of any flapper-inspired clothing, i.e. anything featuring beadwork, fringe or a giant feathered boa.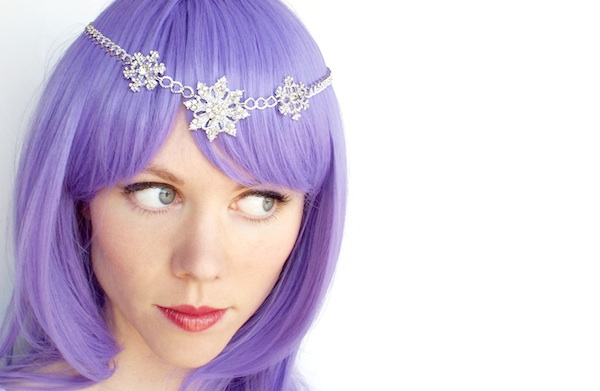 The Crystal Circlet
Elsa Snowflake Circlet by Jennifer Beasley from Beasley's Wonders
To style this simple, sparkly circlet, Beasley recommends "white skinny jeans and a flowing blue shirt with cutouts on the shoulders." Her inspiration: the movie
Frozen
. "I'm just so obsessed with
Frozen
. I've got more snowflakes than I know what to do with right now," she jokes. For those who fear the Disney influence, no matter how subtle, she also has other suggestions. "Try the natural look with a bronze circlet and wear loose clothes in earthy tones. Remember to keep your hair relaxed, either flowing free or in a messy ponytail or braid."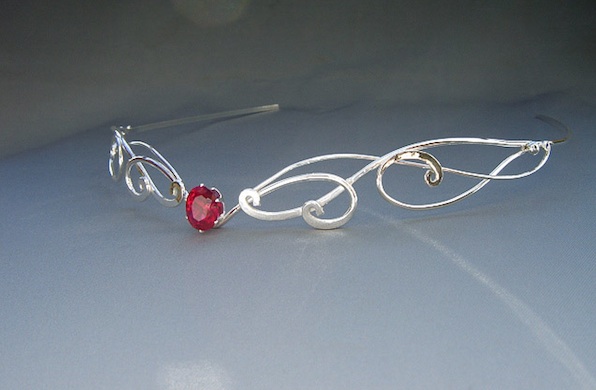 The Medieval-Inspired Tiara
Forever My Heart Headband by Elnara Niall from Medieval Bridal Fashions
Like most, Niall's love of tiaras was born in childhood. "I've always had a passion for all things princess," she says. "I played with dolls until the age of 21. I used to dress them up in fantasy medieval stuff. I used to make dresses out of napkins and stuff like that." As you might expect, her designs evoke an ethereal feel, made from precious metals, semiprecious stones, and some lab-grown stones, blended together with silversmithing techniques. To avoid a costumey look, she typically recommends headpieces that don't come to a point in the middle, since those are more fantasy inspired. She also recommends wearing them as a headband, instead of across the forehead. As for an outfit, she remembers one of her customers wore this tiara with a "really puffy white cable-knit sweater and scarf that looked fantastic."
Photos (from top) courtesy of Felicite, Jaymie Senga, Jennifer Beasley, Elnara Niall
BY: Stephanie McDaniel
Stephanie McDaniel is a political theorist-turned-novelist from South Carolina. On the rare occasion she's not writing, she spends her time folk dancing, singing, and adding sea salt to Lake Michigan.