How to Wear Concealer
BY: KELLY MACDOWELL | 10.16.2013 |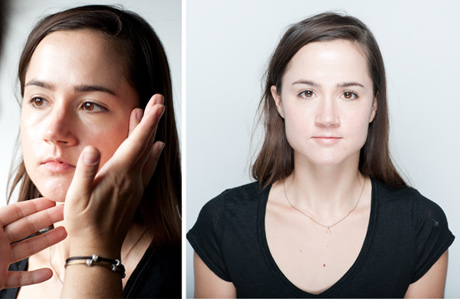 You wake up in the morning, look in the mirror, and there it is: a newly surfaced blemish, a fresh patch of redness, or heavy under-eye circles from staying up until 3 a.m. You pull open your makeup drawer and dig around for some concealer. And for many women, it's tempting to pile it on until the troublesome area is caked into nonexistence.
But to professional makeup artist Jackie Jozwiak, this is one of the cardinal sins of cosmetics application. "Sometimes you think something is a lot more visible than it really is," she says. "My philosophy is, always use the least amount that you have to. You want to keep everything as natural as possible and use the lightest amount of coverage. You don't want to go out and look cakey or really, really made up."
She likens her technique to another beauty-related misstep: applying too much nail polish. "When you think about makeup, it's just like doing your nails. If you do the first coat of nail polish nice and thin, it dries quick, then everything goes on nice afterwards. If you layer it on really thick, it never dries underneath and you'll get dents and dings." Here, she uses her less-is-more approach to disguise three common complexion issues.
Amanda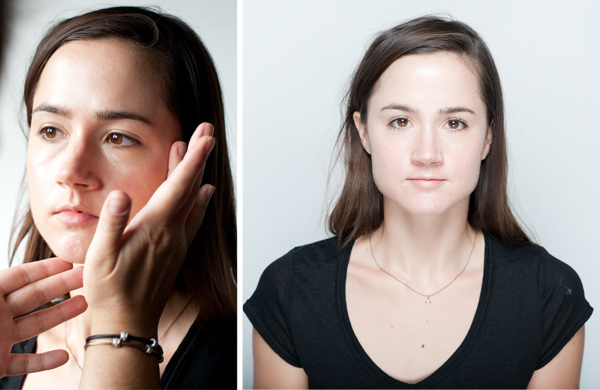 Issue: Ruddiness
Tools used: Clé de Peau refining fluid foundation in O10, Clé de Peau Correcteur Visage concealer sticks in Beige and Ochre, a dry makeup sponge
The process: First, Jackie used the sponge to apply foundation all over Amanda's face. The dryness of the sponge is important—it provides the most coverage when moisture-free. Jackie says, "When you've got ruddiness in a larger area, like the cheeks or through the middle of the face where you've got most of your blood vessels, you're going to want to use a foundation, because it's going to typically be thinner in consistency," which she feels gives a truer, more even finish than trying to apply concealer all over. "[This way] you also see how much coverage you're getting out of your foundation...and then you don't need quite as much concealer."
Next, she went back and gave extra coverage to the reddest areas by mixing the two concealer shades to perfectly match Amanda's skin tone (for any complexion, Jackie recommends using a product with a golden undertone to quiet redness or pinkness). Jackie dotted the concealer on with her ring finger, then tapped it lightly into Amanda's skin until it blended in.
Pro tips: Always put the foundation on first. "If you put your concealer on first...what's going to happen is you're taking part of it off when you put something else on top of it." Also, double-check your concealer before leaving the house. "Once the concealer warms to your body temperature it is going to find every little fine line that you have because it kind of melts into the skin," Jackie says. "So, just give it a little bit of time and then go back with your ring finger and tap it into your skin, and you're all set."
Shannon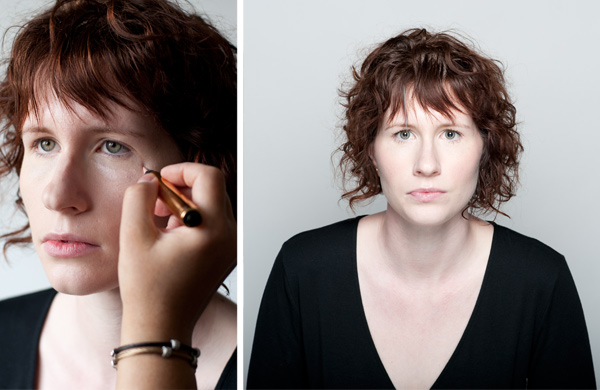 Issue: Under-eye circles
Tools used: NARS Radiant cream compact foundation in Siberia, Yves Saint Laurent Touche Éclat highlighter pen in 1 Luminous Radiance, La Prairie Anti-Aging Eye and Lip Perfection A Porter, a dry makeup sponge
The process: As with Amanda, Jackie used a dry sponge to apply foundation on Shannon's skin first. Next, she used a pair of light-reflecting products to detract from the darkness under Shannon's eyes. Because Shannon's complexion is so fair, Jackie opted for the YSL highlighting Radiance pen over a traditional concealer. She brushed the pen's built-in brush across Shannon's under-eye area in small strokes, then used her ring finger to lightly blend it into the skin. She augmented the effect with a light application of the La Prairie eye cream, which also reflects light and has a little silicone to help fill in fine lines (Jackie calls this product her "hangover helper").
Pro tip: If you have dryness under your eyes (as many women do), putting concealer directly onto your skin will only exacerbate the crepiness. To avoid this issue, Jackie recommends mixing your concealer with a small pump of hydrating serum, like Guerlain's Super Aqua-Serum. After applying this mixture, let it sink into the skin for a few minutes before putting any other products over it.
Nathalie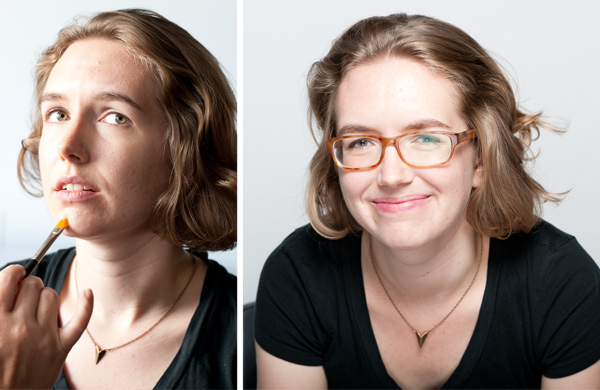 Issue: Acne spots
The tools: Clé de Peau Correcteur Visage concealer stick in Beige, a concealer brush
The process: Because Jackie needed to use a fair amount of concealer, which has a denser consistency than foundation, she skipped foundation entirely. She didn't want Nathalie to look overly made up. She liked the Clé de Peau concealer for Nathalie because it has green-tea extract, which can help tone down redness and hyperpigmentation found in acne or acne scars. She swiped color off the stick with the concealer brush, patting it onto problem areas until it was evenly blended.
Pro tips: To get acneic skin in concealer-ready condition, Jackie advocates using a moisturizer. "One of the biggest things people do with oily skin is...never put moisturizer on," which Jackie says "makes skin more oily" because it kicks oil production into overdrive to make up for the lack of hydration. Also, she swears by always using a concealer brush with synthetic bristles. Natural-bristle brushes can harbor bacteria, and your fingertips are loaded with natural oils, neither of which should be making contact with active blemishes.
Click here to read more about Jackie's tips for concealer shade selection, application, and which pieces of makeup are worth investing in.
Photo: © Andrew Nawrocki, Groupon
BY: Kelly MacDowell
Guide Staff Writer
Kelly's first concert was Fleetwood Mac and her first career was in the beauty industry. Now a style and music writer, she loves Project Runway and her dog, Watson.