How to Wear Red Lipstick
BY: Kelly MacDowell |
Apr 1, 2016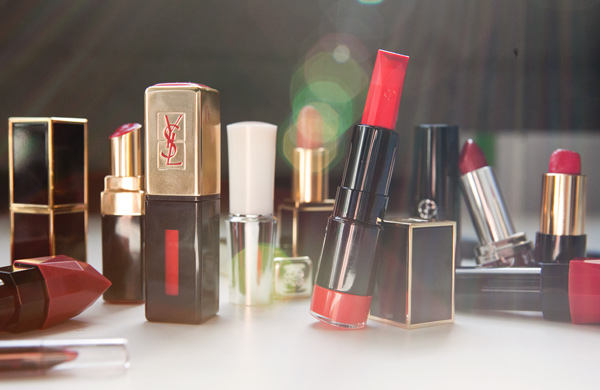 Let's start by making one thing completely clear: everyone can wear red lipstick. It's a bold choice, sure, but it's also a classic one. Cleopatra was likely one of the first people to wear it, Queen Elizabeth I popularized it, and even after thousands of years, it's still a go-to cosmetic accessory for women around the world.
Over time, however, the selection of lipstick hues has grown exponentially, making it complicated for some to figure out which shade to choose. But according to professional makeup artist Jackie Jozwiak, who has more than a decade of experience to her credit, finding the right color isn't terribly complicated. She largely looks to just two factors: complexion and personality.
"It's mostly about skin tone," Jackie says. "But it also depends on your comfort level. You need to feel comfortable in [the lipstick], because if you don't feel good in it, you're not going to wear it."
Here, she uses those simple guidelines to help a diverse group of women (some of whom don't even wear makeup) select their most complementary red from a broad range of tints and finishes.
Fair Skin Tones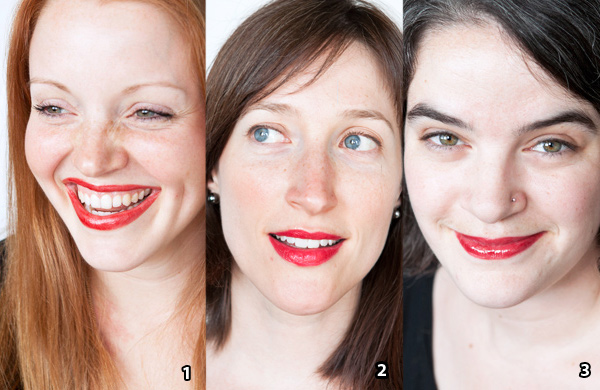 1. Christie | Rouge G De Guerlain Jewel Lipstick Compact in Geisha 23
Christie rarely wears makeup and never wears lipstick. Prior to this shoot she was convinced that, as a redhead, she couldn't wear red lipstick. Jackie admits that hair color comes into play more for redheads than it does for other women but says that it's simply an issue of creating contrast between the hair and the lip color. Jackie played off the light, strawberry hue of Christie's hair with a saturated ruby shade that also amplified the green in her eyes. Although it depends on the vibrancy of their hair, Jackie generally advises that redheads opt for orange-reds or true reds over blue-based reds, which could make them look sickly.
2. Anna | Tom Ford Beauty Jasmine Rouge Lip Color in Slander
Like Christie, Anna is also averse to lipstick, which is a shame: her combination of features (medium-brown hair, blue eyes, fair skin) makes for a uniquely versatile canvas. She's pictured wearing a blue-based fuschia that complements her eyes and cool skin tone, but Jackie says she could also pull off a deep burgundy in winter or a classic fire-engine red, such as NARS Velvet Matte Lip Pencil in Dragon Girl.
3. Allison | Clé de Peau Extra Rich Lipstick Velvet Finish in 306 with Chanel Lèvres Scintillantes Glossimer in 04 Spark
Though Allison says she doesn't wear lipstick as often as she would like, she is a singer, so she does embrace a bolder look when performing. To that end, Jackie experimented with two looks for her. First, she applied the Clé de Peau lipstick by itself, which has a rosy, pinkish hue that played up Allison's green eyes but is soft enough to wear as an everyday color. Then, she layered on the Chanel gloss (pictured), which introduced a sultry style more appropriate for the stage.
Light to Medium Skin Tones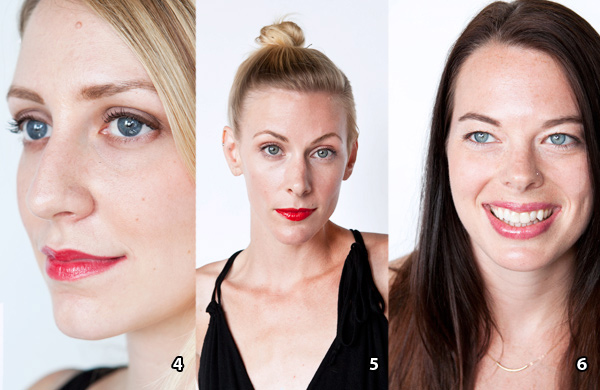 4. Colleen | Chanel Rouge Coco Shine in 84 Dialogue
Colleen is used to wearing MAC lipsticks, which are known for their highly saturated tones. Jackie decided to switch things up and use something a bit tamer to balance Colleen's bronzy, lined eyes. This shiny red makes her blue eyes pop without competing for attention with her eye makeup. The pinkish hue also plays off Colleen's rosy complexion.
5. Jenni | Yves Saint Laurent Rouge Pur Couture Vernis à Lèvres Glossy Stain in 9 Rouge Laque
Jackie liked this color for Jenni because it is "more of a true red, which can really go with any coloring," but is particularly flattering for the blond-haired, blue-eyed set. When working with a stain, Jackie advises always using the applicator, not a brush or a finger. "These applicators give you the best finish because they're kind of like a sponge," which will ensure a truly even application of pigment.
6. Emmy | Chanel Lèvres Scintillantes Glossimer in 04 Spark
Emmy generally opts for glosses rather than lipsticks, so Jackie used this rosy lip gloss. "I think anybody can wear Spark," says Jackie, who once gifted this particular product to her blond sister-in-law. "This is the perfect color for people who really don't wear red. It's a stepping stone. After you get used to seeing this color on your lips, you can fill in your lips with a brighter liner underneath and then put this [gloss] over it to give you still more color."
Darker Skin Tones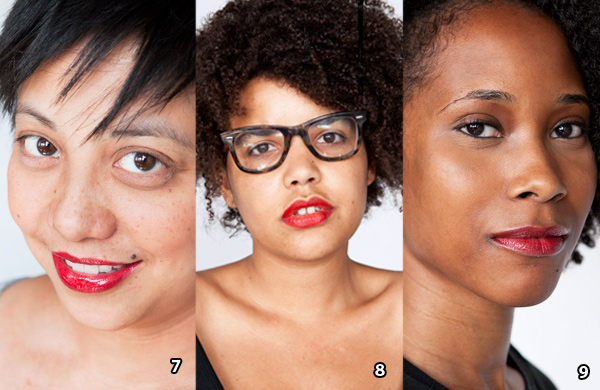 7. Aimee | Laura Mercier Lip Lacquer in Laque Rouge
Aimee rarely wears makeup, so Jackie decided to create a French-inspired look. "French women often leave the house wearing only lipstick," she explains. For this photo, Jackie applied just the lip lacquer and a bit of bronzer on Aimee's cheeks. Her edgy haircut, face shape, and prominent features allow her to pull off this bright scarlet, as does her outgoing, playful personality (Aimee's outtakes were full of blown kisses and stuck-out tongues). As Jackie notes, this shade isn't for the timid.
8. Morgan | Clé de Peau Extra Rich Lipstick Velvet Finish in 311
Morgan confessed straightaway to being obsessed with red lipstick, so Jackie didn't shy away from using a bolder shade. The golden tones in this crimson color drew out the warmth in Morgan's skin, and the matte texture ensured maximum opacity. "Blue-based reds will also make your teeth look whiter," Jackie notes.
9. RaShawn | Tom Ford Beauty Jasmine Rouge Lip Color in Reckless
Like Morgan, RaShawn also has a golden undertone to her skin. But because her complexion is darker, she can handle this deeper magenta shade. The metallic sheen brings out the golden flecks in her eyes and complements the warm glow of her skin. Jackie also notes that shades like this are a great alternative for women intimidated by very bright lip colors.
Once You've Chosen a Shade ...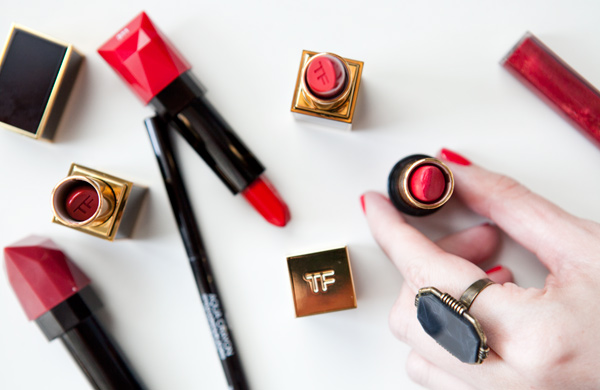 Because red lipstick is a bold choice, you want to make sure it plays well with the rest of your look. "When you wear red lipstick, you need to keep everything else simple," Jackie says. "Generally your red is going to take center stage, so you don't want anything else to interfere with it. It's kind of like when you're getting ready for the evening, you either wear [statement] earrings or a necklace, not both." To keep the eye minimal, she suggests a sheer gold shadow for younger women and a lighter, flesh-tone shadow for more mature women. If you're going to wear eyeliner, she recommends keeping it light but says you can be a bit more generous with applying mascara.
As far as the actual application process: "If you're pretty steady with your hand, just go for it," Jackie says. Women can also use a lip brush to facilitate the application, as opposed to just putting color on straight out of the tube.
For thinner lips, Jackie recommends using a liner to make them look fuller (this can also help prevent bleeding for those with fine lines around the mouth). By going just outside the natural lip line with a color as close to your lipstick shade as possible, that extra step can add plump to your pucker. Alternatively, women with larger lips can use this same technique, but instead go just inside their natural lip line to trim them down a bit.
Jackie also finds that lipstick is just like clothing: darker colors will make lips look slimmer, whereas brighter, glossier shades will add volume.
"You can have a wardrobe of red lipsticks," Jackie says, encouraging women to find various shades and finishes that they feel comfortable with. "Red lipstick will be like your classic black pumps: something that you can always go to that'll look great with anything."
Photo: © Michelle Klosinski, Groupon
BY: Kelly MacDowell
Kelly's first concert was Fleetwood Mac and her first career was in the beauty industry. Now a style and music writer, she loves Project Runway and her dog, Watson.