Could You Survive the Hunger Games? There's Actually a Way to Find Out.
BY: Stephanie McDaniel |
Jul 23, 2014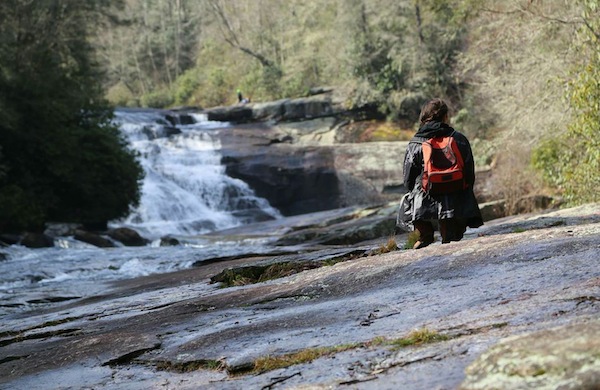 Have you ever wanted to shoot arrows with Katniss-like accuracy, build your own forest shelter, or take down a dictator with a handful of berries? If you're a fan of the Hunger Games books and movies, you've probably fantasized about jumping into that world of winner-takes-all competition.
But what once was mere fantasy is now very much a possibility, thanks to Hunger Games Unofficial Fan Tours and guide Leigh Trapp. An award-winning producer of immersive, fan-based experiences, Leigh leads small groups on tours of Atlanta and sites in North Carolina where The Hunger Games was filmed. If you've ever wondered if you have what it takes to survive the film's titular death match, her trips offer the best chance to find out. The day trips include archery lessons and other fan workshops, while the weekend trips culminate with a so-real-it's-scary Hunger Games simulation, in which groups put the survival skills they've learned to the test. (Both trip types are available on Groupon for a limited time.)
We recently asked Leigh what it really takes to survive the Hunger Games. She offered five survival skills to help you take home the ultimate prize: your own precious life.
1. Archery
In Leigh's opinion, the most important skill you'll need is archery. Luckily, her tours teach all the essentials, including "how to grab your bow, string your arrow, aim, and shoot in seconds." Fans don't practice shooting one another with dangerous arrows, of course. Instead, they take aim at a pig with an apple in its mouth and further hone their skills in games of archery tag that use foam-tipped arrows. Although nobody's in danger of getting hurt during these matches, Leigh has noticed how fighting against others makes "you realize how quick and agile you've got to be to survive."
2. Camouflage
The tour also teaches fans how to camouflage themselves, just as Peeta did in the first movie. Leigh said this skill is essential, since you never know when you'll have to "camo your arm to look like a tree." She uses a special-effects makeup airgun to do the trick, and she hinted that one of the best ways to survive the mock Hunger Games is to disguise yourself as a rock in DuPont State Recreational Forest.
3. Ziplining
In the first Hunger Games film, Katniss and her younger friend Rue spend a few nights hiding in the trees. Rue's great strength is being able to travel through the canopy undetected, and Leigh suggested you emulate her skill by practicing nighttime ziplining. She often leads her own training sessions at night, which have resulted in some unexpected surprises. Once, the zipliners spotted a herd of goats following them from tree to tree.
4. Shelter Building
Some of Katniss's most relaxed moments in the Games come when she is holed up inside a cave with Peeta. Though sleeping under the stars is fun, it's better to be protected from the rain and cold. Leigh's shelter-building workshop teaches you how to protect yourself from the elements using only the landscape and flora close at hand. She'll even leave you with something to eat: "Goat cheese wrapped in basil—just like Prim gave to Katniss when she went hunting."
5. Fire Starting
Building a fire out of whatever you can find is a useful skill, whether you're hiking through Appalachia or hiding from murderous youth in the arena. In the first Hunger Games book, Katniss recalls a game in which most of the tributes died from hypothermia. Leigh warned not to let that happen to you. She teaches her charges how to kindle flames using wood and scraps of local material. Once you master that, you'll have "a chance to truly walk in the footsteps of [your] favorite characters." Without, you know, dying.
Check out Groupon's deal for Hunger Games Unofficial Fan Tours, or discover other fun things to do in Atlanta.
BY: Stephanie McDaniel
Stephanie McDaniel is a political theorist-turned-novelist from South Carolina. On the rare occasion she's not writing, she spends her time folk dancing, singing, and adding sea salt to Lake Michigan.