Hunting Down a Story in Hyde Park's Bookshops
BY: Mel Kassel |
Apr 1, 2013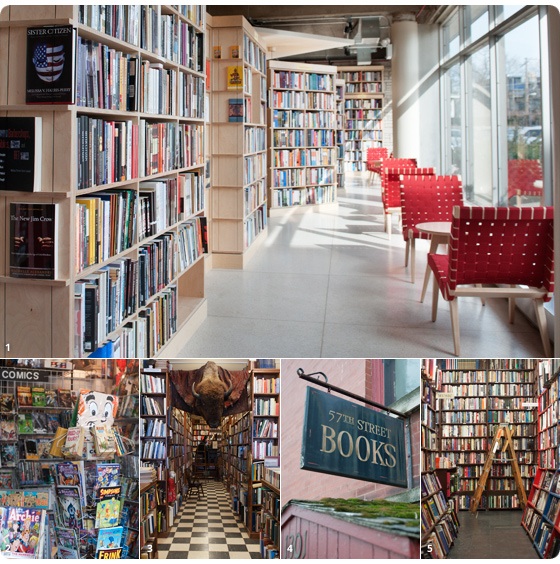 Every year, the University of Chicago hosts one of the world's largest scavenger hunts, sending students after "items" such as live tigers or an appendix in a jar. The surrounding neighborhood of Hyde Park, however, offers one of the oldest and most perpetual scavenger hunts of all time: the pursuit of a good book. From ancient texts bound in monastic vellum to the latest issue of an X-Men spinoff, the hunt's prizes are just as varied as the stores that hold them.
1. The Scholar's Oasis: Seminary Co-op Bookstore
5751 S. Woodlawn Ave.
The
Seminary Co-op Bookstore
puts a price on wisdom: $30, the cost of three shares in the business. Its list of more than 50,000 investors includes Barack Obama, Harold Washington, and hundreds of authors, but even if you don't join the club, you're still welcome to browse its academic and general-interest titles. Here, the
Chicago Tribune
reports, you're just as likely to bump into a Nobel Prize winner as you are a confused college freshman.
2. The Hideout for Heroes and Gamers: First Aid Comics
1617 E. 55th St.
As the functioning head of Hyde Park's comic-book community, owner James Nurss stocks
First Aid Comics
with series requested by his regulars. He also plans a slew of gaming events, such as Dungeons & Dragons sessions on Wednesday nights and Magic: The Gathering tournaments.
3. The Museum of Textual Marvels: O'Gara & Wilson, Ltd.
1448 E. 57th St.
You're never alone inside
O'Gara & Wilson
: a life-size wax figure of a monk, Jerome, sits between the bookcases. Some of the tomes that he guards date back to the 16th century, and others comprise libraries on topics from poker to theology. The store fosters a sense of serendipity, tempting guests to crack open dusty volumes that they didn't know they wanted.
4. The Fiction-Friendly Hotspot: 57th Street Books
1301 E. 57th St.
A more casual partner to the Seminary Co-op,
57th Street Books
brims with mystery and sci-fi tales, as well as fiction classics and cookbooks. Visitors use the store as both a quiet reading space and a place to mingle—its popular events range from Wednesday-morning children's stories to an ice-cream social held in honor of H.P. Lovecraft.
5. The Used-Book Behemoth: Powell's Bookstore
1501 E. 57th St.
The
Chicago Reader
speaks to the size of
Powell's Bookstore
, whose history section is so comprehensive that it has categories for different Civil War generals. More than 250,000 used books roost on the main floor, occupied by sprawling medieval and literary-criticism divisions. Often, the management will save space by leaving bins of free books on the sidewalk.