Hunting for Ghosts in Five Chicagoland Graveyards
BY: Stephanie McDaniel |
Oct 25, 2013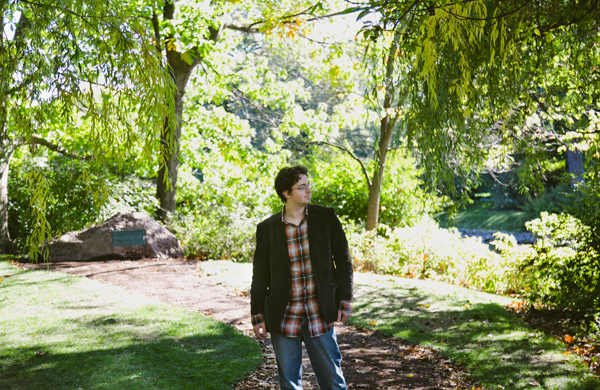 Graceland Cemetery is the kind of place where one can easily get lost. The Victorian-era graveyard stretches across 119 acres of Uptown, its landscape stubbled with tombstones and imposing mausoleums. But it's hard to wander too far astray when Adam Selzer is your guide.
As a guide for the Chicago Hauntings ghost tour and the author of The Ghosts of Chicago, a definitive history of the city's supernatural phenomena, Selzer is intimately acquainted with the afterlife. He traces his interest in ghosts back to his childhood. "For me, it was Scooby Doo. I liked the idea of spending my life in a van, driving around [and] solving mysteries." The tour bus he now travels in is close enough. "It's not quite the Mystery Machine," he says, "but it breaks down less."
We asked Selzer to show us around Graceland and some of his other favorite graveyards. Some live up to their spooky reputation, while others he enjoys for their scenic walking paths and general sense of quietude.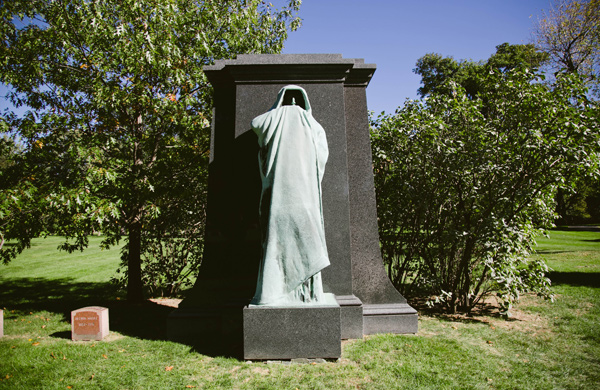 Selzer talks about Graceland as if it were a public park and not one of the largest graveyards within Chicago's city limits. He describes the Uptown cemetery as "incredibly peaceful" and attributes this quality to the "gorgeous old monuments and beautiful old statuary." Graceland does in fact look and feel like a park, thanks to its abundance of trees and scenic touches such as the pond and island where famed architect Daniel Burnham is buried. "It's one of those places where it just always seems like it's autumn," Selzer explains. "Even on the hottest day of summer."
The most famous spot in Graceland is the Getty Tomb. With one look, it's easy to see why. Designed by Louis Sullivan, this imposing structure is decorated with an intricate pattern of octagons and starbursts. Just across the path from the Getty Tomb is the tomb of a man named Ludwig Wolff. Carved into the side of a hill, this underground vault resembles a Hobbit hole—albeit one much creepier than Bilbo's. "There's a story going around that it's guarded by a green-eyed ghoul," Selzer explains. Though he's never seen the ghoul himself, "it's not for lack of looking."
Chicago City Cemetery | Lincoln Park
Wedged between North and Fullerton Avenues in Lincoln Park, Chicago City Cemetery is the only graveyard stop on Selzer's Chicago Hauntings tour. The cemetery was outside the city's limits when it was built in the 1800s, and it was later abandoned to make way for new housing.
One tomb, however, still stands at the south end of the park. Selzer describes the Couch family tomb as "massive…the kind you'd see in an old horror movie." But since the land around it no longer resembles a cemetery, "people drive by it every day and don't have any idea what it is." Adding to the tomb's mystery is the fact that nobody knows quite how many people are buried inside. Selzer once tried to find out by inventing a device he called the "Tomb Snooper 500" (an iPhone taped to a wire hanger). He stuck this gadget under a crack in the door and got some pictures, only to find that behind the door was another door. Alas, the mystery continues.
Oak Woods Cemetery | Woodlawn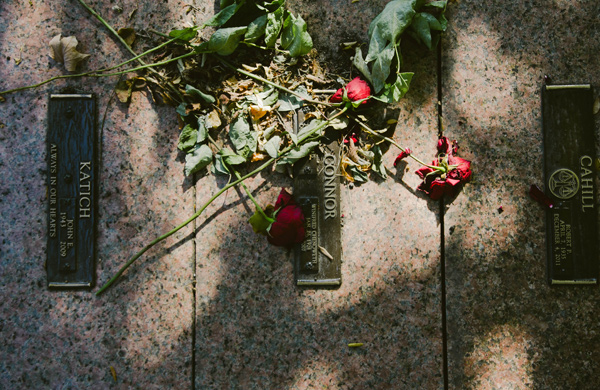 If there's one cemetery in the city that consistently terrifies Selzer, it's Oak Woods. Whenever he ventures through its gates, he can't shake the feeling that he's "being followed [through] this endless graveyard that could go on forever and ever." Far enough south that Chicago's skyline is merely a blip on the horizon, Oak Woods can give one the feeling of total isolation.
Of course, you might not be alone. Deep in the cemetery is the tomb of Big Jim Colosimo, one of the earliest gangsters in a city that would become notorious for them. Selzer advises visitors to look inside the tomb's door, which got "bent all out of shape when somebody apparently tried to break in." Adding to the tomb's intrigue is the fact that whoever carved the tombstone got Colosimo's date of death wrong. It says he died in 1919, instead of 1920. "Imagine the guy carving it," Selzer says, shaking his head. "You know how you still sometimes write 2012 on your checks?"
Oak Woods might send shivers up your spine, but Bachelor's Grove is the place to go if you really want to witness the supernatural. The abandoned cemetery is famous among ghost hunters for its high level of paranormal activity. The fact that it's surrounded by the spindly trees of the Rubio Woods Forest Preserve certainly doesn't help matters.
It's best to visit Bachelor's Grove during the day—and not only so you aren't scared out of your wits. Police officers patrol the cemetery at night, scanning the scattered gravestones for would-be vandals. In the 1960s and '70s, Selzer explains, groups of unusually morbid teenagers often snuck in at night to dig up the graves.
Rosehill Cemetery | Edgewater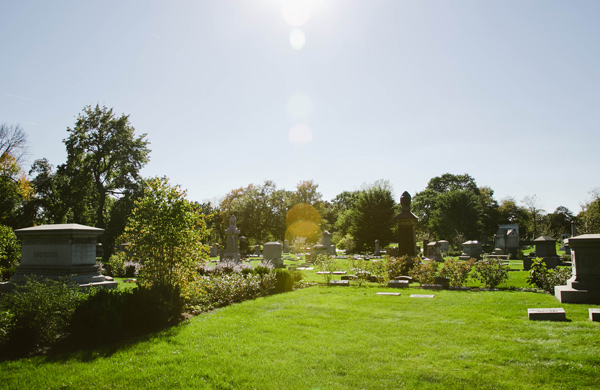 The entrance to Rosehill looks like a castle façade carved from Joliet limestone. Inside, visitors will find the city's largest cemetery at 350 acres. They'll also find gravestones marked with prominent names such as Long John Wentworth, Oscar Mayer, and Montgomery Ward.
One thing Selzer likes best about wandering through cemeteries is the likelihood of coming across something unexpected. There's a rush of excitement, he explains, "[when] you suddenly stumble on the grave of somebody famous, somebody that you've heard of." One spot he always enjoys visiting is the Rosehill Mausoleum, the massive Romanesque structure in which Richard Sears is interred. "It's always quiet and solemn there," he explains. For a man who's made a career out of wandering through graveyards, Selzer's love of peace and quiet should come as no surprise.
Other Chicagoland cemeteries worth exploring include Bohemian National Cemetery of Chicago and Mount Carmel Catholic Cemetery, where Al Capone is buried. To learn more about local hauntings, check out Selzer's recently published book, The Ghosts of Chicago (Llewellyn Worldwide).
Photos by Stephanie Bassos, Groupon
BY: Stephanie McDaniel
Stephanie McDaniel is a political theorist-turned-novelist from South Carolina. On the rare occasion she's not writing, she spends her time folk dancing, singing, and adding sea salt to Lake Michigan.